Km To Miles Converter (Kilometers To Miles)
Enter the length in kilometers below to get the value converted to miles.
Results in Miles:
1 km = 0.621371 mi
---
How to Convert Kilometers to Miles

The fastest and easiest way to convert km (kilometers) to miles is use this simple formula:
miles = kilometers × 0.621371
The distance in miles is equal to the distance in kilometers multiplied by 0.621371. Since one kilometer is equal to 0.621371 miles[1], that's the conversion ratio used in the formula.
For example, here's how to convert 10 kilometers to miles using the formula above.
10 km = (10 × 0.621371) = 6.21371 mi
Thus, if you're running a 10k, the distance is actually 6.21371 miles.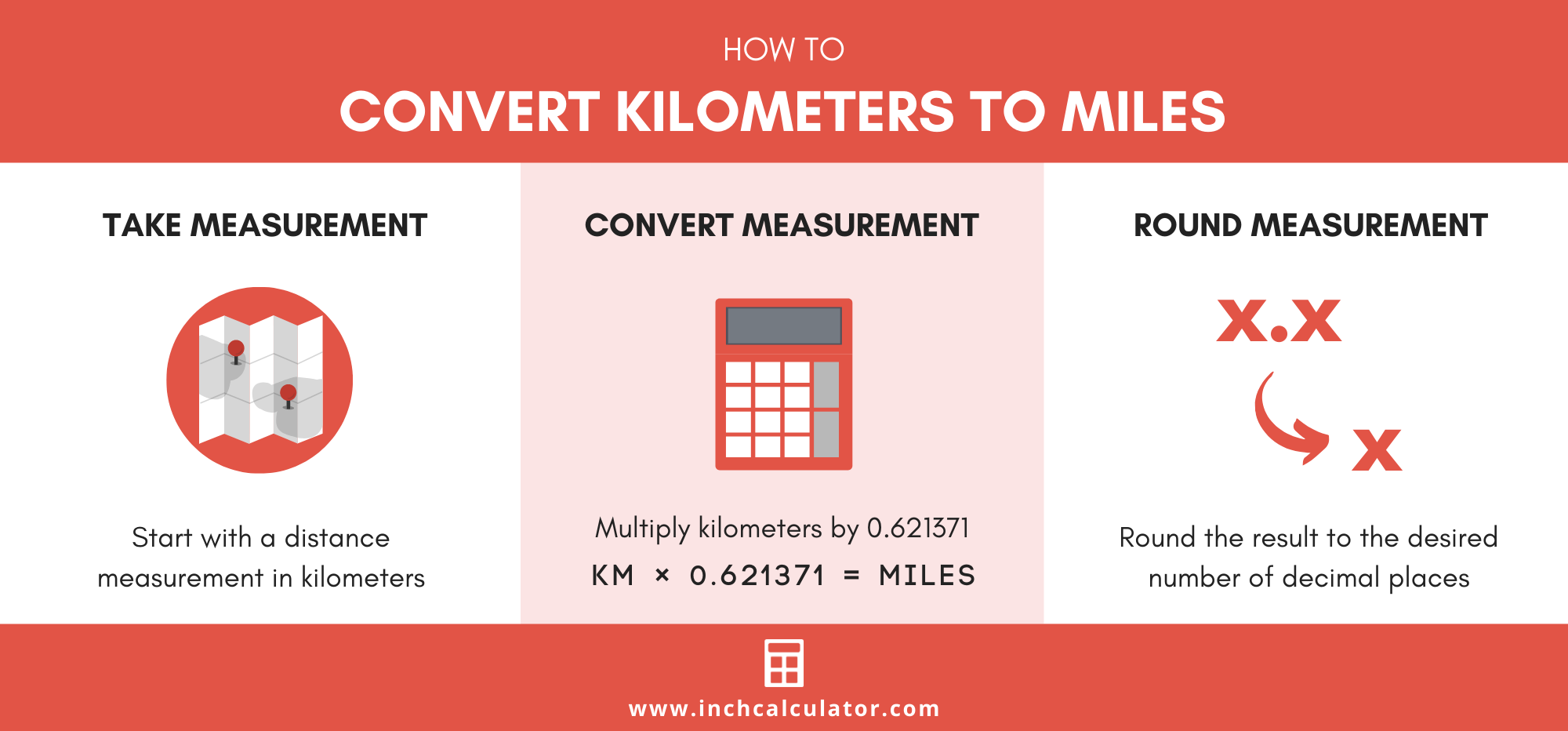 Kilometers and miles are both units used to measure distance or length. Keep reading to learn more about each unit of measure.
One kilometer is equal to 1,000 meters, which are defined as the distance light travels in a vacuum in a 1/299,792,458 second time interval.[2]
The kilometer, or kilometre, is a multiple of the meter, which is the SI base unit for length. In the metric system, "kilo" is the prefix for 103. Kilometers can be abbreviated as km; for example, 1 kilometer can be written as 1 km.
The mile is a linear measurement of length equal to exactly 1,609.344 meters. One mile is also equal to 5,280 feet or 1,760 yards.
The mile is a US customary and imperial unit of length. Miles can be abbreviated as mi, and are also sometimes abbreviated as m. For example, 1 mile can be written as 1 mi or 1 m.
Kilometer to Mile Conversion Table
Kilometer measurements converted to miles

| Kilometers | Miles |
| --- | --- |
| 1 km | 0.621371 mi |
| 2 km | 1.2427 mi |
| 3 km | 1.8641 mi |
| 4 km | 2.4855 mi |
| 5 km | 3.1069 mi |
| 6 km | 3.7282 mi |
| 7 km | 4.3496 mi |
| 8 km | 4.971 mi |
| 9 km | 5.5923 mi |
| 10 km | 6.2137 mi |
| 11 km | 6.8351 mi |
| 12 km | 7.4565 mi |
| 13 km | 8.0778 mi |
| 14 km | 8.6992 mi |
| 15 km | 9.3206 mi |
| 16 km | 9.9419 mi |
| 17 km | 10.56 mi |
| 18 km | 11.18 mi |
| 19 km | 11.81 mi |
| 20 km | 12.43 mi |
| 21 km | 13.05 mi |
| 22 km | 13.67 mi |
| 23 km | 14.29 mi |
| 24 km | 14.91 mi |
| 25 km | 15.53 mi |
| 26 km | 16.16 mi |
| 27 km | 16.78 mi |
| 28 km | 17.4 mi |
| 29 km | 18.02 mi |
| 30 km | 18.64 mi |
| 31 km | 19.26 mi |
| 32 km | 19.88 mi |
| 33 km | 20.51 mi |
| 34 km | 21.13 mi |
| 35 km | 21.75 mi |
| 36 km | 22.37 mi |
| 37 km | 22.99 mi |
| 38 km | 23.61 mi |
| 39 km | 24.23 mi |
| 40 km | 24.85 mi |
References
Wisconsin Department of Transportation, 2019 Standard Specifications, https://wisconsindot.gov/rdwy/stndspec/ss-99-30.pdf
Ambler Thompson and Barry N. Taylor, Guide for the Use of the International System of Units (SI), National Institute of Standards and Technology, https://physics.nist.gov/cuu/pdf/sp811.pdf