Miles To Km Converter (Miles To Kilometers)
Enter the length in miles below to get the value converted to kilometers.
Results in Kilometers:
1 mi = 1.609344 km
---
How to Convert Miles to Kilometers

The fastest way to convert miles to km (kilometers) is to use this simple formula:
kilometers = miles × 1.609344
The distance in kilometers is equal to the distance in miles multiplied by 1.609344. Since one mile is equal to 1.609344 kilometers[1], that's the conversion ratio used in the formula.
For example, here's how to convert 5 miles to kilometers using the formula above.
5 mi = (5 × 1.609344) = 8.04672 km
How Many Kilometers are in a Mile?
There are 1.609344 kilometers in a mile, which is why we use this value in the formula above.
1 mi = 1.609344 km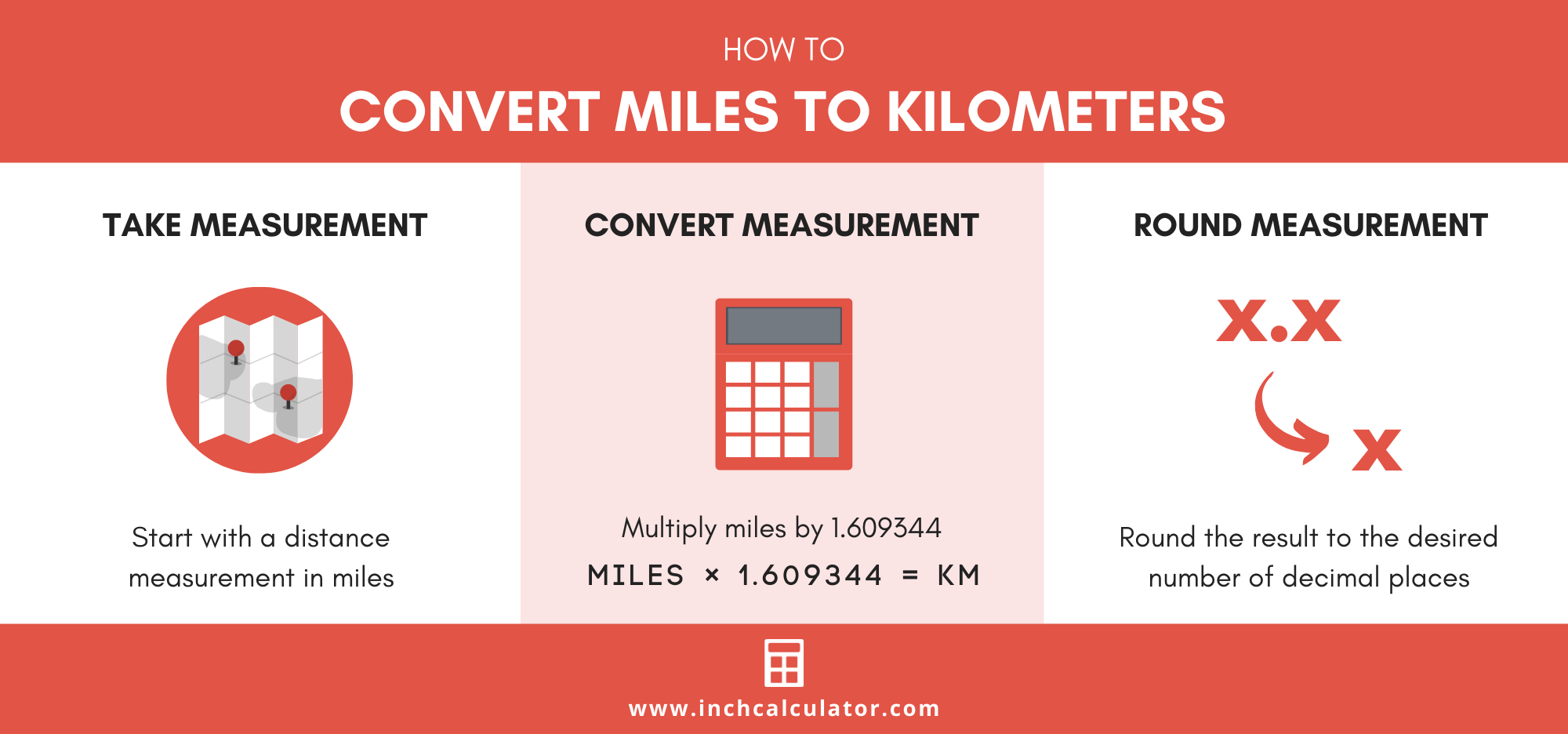 Miles and kilometers are both units used to measure distance or length. Keep reading to learn more about each unit of measure.
The mile is a linear measurement of length equal to exactly 1,609.344 meters. One mile is also equal to 5,280 feet or 1,760 yards.
The mile is a US customary and imperial unit of length. Miles can be abbreviated as mi, and are also sometimes abbreviated as m. For example, 1 mile can be written as 1 mi or 1 m.
One kilometer is equal to 1,000 meters, which are defined as the distance light travels in a vacuum in a 1/299,792,458 second time interval.[2]
The kilometer, or kilometre, is a multiple of the meter, which is the SI base unit for length. In the metric system, "kilo" is the prefix for 103. Kilometers can be abbreviated as km; for example, 1 kilometer can be written as 1 km.
Mile to Kilometer Conversion Table
Mile measurements converted to kilometers

| Miles | Kilometers |
| --- | --- |
| 1 mi | 1.6093 km |
| 2 mi | 3.2187 km |
| 3 mi | 4.828 km |
| 4 mi | 6.4374 km |
| 5 mi | 8.0467 km |
| 6 mi | 9.6561 km |
| 7 mi | 11.27 km |
| 8 mi | 12.87 km |
| 9 mi | 14.48 km |
| 10 mi | 16.09 km |
| 11 mi | 17.7 km |
| 12 mi | 19.31 km |
| 13 mi | 20.92 km |
| 14 mi | 22.53 km |
| 15 mi | 24.14 km |
| 16 mi | 25.75 km |
| 17 mi | 27.36 km |
| 18 mi | 28.97 km |
| 19 mi | 30.58 km |
| 20 mi | 32.19 km |
| 21 mi | 33.8 km |
| 22 mi | 35.41 km |
| 23 mi | 37.01 km |
| 24 mi | 38.62 km |
| 25 mi | 40.23 km |
| 26 mi | 41.84 km |
| 27 mi | 43.45 km |
| 28 mi | 45.06 km |
| 29 mi | 46.67 km |
| 30 mi | 48.28 km |
| 31 mi | 49.89 km |
| 32 mi | 51.5 km |
| 33 mi | 53.11 km |
| 34 mi | 54.72 km |
| 35 mi | 56.33 km |
| 36 mi | 57.94 km |
| 37 mi | 59.55 km |
| 38 mi | 61.16 km |
| 39 mi | 62.76 km |
| 40 mi | 64.37 km |
References
Kenneth Butcher, Linda Crown, & Elizabeth J. Gentry, The International System of Units (SI) – Conversion Factors for General Use, National Institute of Standards and Technology, https://nvlpubs.nist.gov/nistpubs/Legacy/SP/nistspecialpublication1038.pdf
Ambler Thompson and Barry N. Taylor, Guide for the Use of the International System of Units (SI), National Institute of Standards and Technology, https://physics.nist.gov/cuu/pdf/sp811.pdf