Bathroom Renovation 2023 Cost Guide and Project Calculator
Are you planning a bathroom renovation? Estimate the price of your upgrade using our bathroom remodel price calculator or continue reading to learn more about the cost to remodel a bathroom below.
Bathroom Renovation Cost Calculator
Configure your project below to estimate the cost using 2023 price data. Continue reading below to learn more about what to expect for a bathroom renovation project.
---
---
How Much Does a Bathroom Remodel Cost?
The best approach to a bathroom renovation is to decide what you want to do, list out what each item will cost, and then look at your budget. This will allow you to adjust the scope of your project, if necessary.
Remember, however, that a bathroom renovation could result in a substantial return on investment (ROI) at resale. In fact, Remodeling magazine's most recent Cost vs. Value report indicates that homeowners are seeing a 60% – 67% return on investment for bathroom remodels.[1]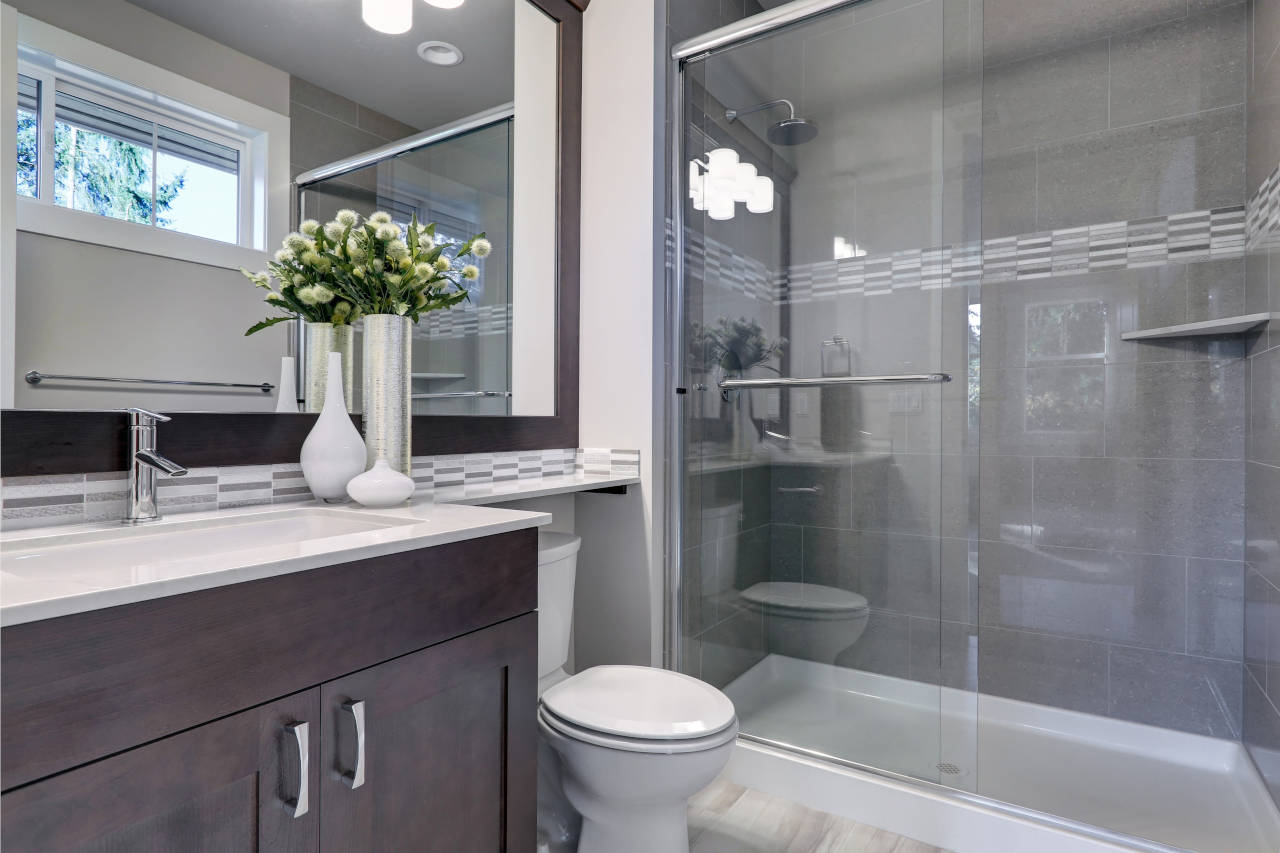 The National Kitchen and Bath Association (NKBA) put the national average for a bathroom renovation at $16,000.[2] Replacing fixtures, faucets, adding a new vanity, or shower door or tub surround could cost $2,000 to $4,000.
However, a total remodel of a master bathroom or upgrading a half bath to a full bath could cost $10,000 to $30,000.
Looking at a few of the expense factors will give us a better understanding of why nearly one-third pay $30,000 for a bathroom remodel.
Location – The location of the renovated bathroom in the home will affect the price. Upgrading a second-floor bathroom will require more plumbing than that of a bathroom on the first floor.
Plus, taking the old fixtures out and bringing the new products up to the second floor will take longer and require more personnel.
The same might be true of a mother-in-law suite in the basement or over the garage. Keep in mind, the bathroom for a mother-in-law suite should be wheelchair accessible, have safety rails, and skid-proof floors.
Plumbing and Electrical – Making significant changes to existing plumbing and electrical systems will require more work and effort from skilled trades to complete the work.[3] In addition, the work required to relocate pipes might also require significant repair work to other areas of the home.
Size – A half bath will cost much less than a full bathroom to remodel. Converting a half bath into a full bath could require additional plumbing, more lights and fixtures, a bigger exhaust fan, a new vanity, new tub, shower, or combination, and repairs to walls and ceilings.
Materials – Although building materials vary slightly in cost from location to location, your choice of materials can make a huge difference when you choose marble or quartz tiles and countertops over ceramic or porcelain. A jetted, whirlpool or walk-in tub will cost a lot more than a standard tub.
One method to save significant money on materials is to comparison shop and wait for sales on large, high-quality items like the tub, toilet, or vanity.
Labor – Where your home is geographically located will affect labor costs. What's more, the expense of worker salaries will make up 45 – 65 percent of your project's total budget.
Even small projects you can DIY will affect labor costs significantly. For instance, if you could design your renovation yourself, you could save $250 – $500, especially if you are proficient with design software.
Let's take a look at the various projects, how much each cost, and what's involved. Then you can decide whether to DIY or hire professionals.
Our estimated prices will also help you decide on which estimates are reasonable. Another consideration is that each of these projects considered separately typically costs more than as a bundle.
Tile & Flooring Costs
A great place to start is our tile calculator where you can input your dimensions, and the program will figure how many tiles and supplies you need and an estimated price.
Of course, the estimated cost will depend on the tile you choose. Before deciding, consider reading our bathroom tile flooring cost guide, which will give you ideas on what tiles you could use and where.
Plus, if you want to add a heated floor, the average price is $585, typically $5.00 and $8.00 price per square foot.
You could use the same type of tile on the walls and in the shower as on the floor. However, it would be best if you did not use glass or porcelain tiles on the floor. Those are too delicate for the weight. Moreover, slip-resistant tiles should be used on the floors.
Walls & Ceiling Costs
When upgrading from a half bath to a full bath, you will likely need framing and drywall, regardless if you will paint, add texture, or tile. Use our drywall calculator to determine how many sheets and supplies you will need for the walls and ceiling.
Depending on the size of the upgrade, plan about $500 – $1,500 for studs, drywall, labor, and supplies.
Bathtub & Shower Costs
Although the average cost for installing a new shower is $3,000, our shower price calculator can help narrow in the cost for your project. The cost of a shower is generally the plumbing, framing, waterproofing, tile or fiberglass surround, and glass door.
Installing a shower & tub combination or a fiberglass shower stall is averages around $1,200 to $1,500. A custom tile shower, on the other hand, ranges from $1,500 to $3,500.
Fixtures usually run $200 to $400, and a glass door can range from $550 to $1,300.
If you're considering adding a separate bathtub, plan on spending around $2,500, depending on the type. Using a shower/tub combination can reduce your costs. However, when you choose a whirlpool or jetted tub, it could drive your cost even higher.
Toilet Costs
A new or replacement toilet will average $475 with installation. However, the toilet is not a place to cut corners. Installing a cheap toilet will just lead to leaks and repair costs.
The price of a toilet increases if you choose a self-cleaning commode, tankless, or corner toilet.
You should estimate about $1,500 or more for additional plumbing, especially if you are moving the toilet, or adding a shower or tub.
Vanity, Countertop, & Cabinets Costs
Most bathroom designers recommend allotting 20% – 25% of your budget for the vanity, cabinets, and countertops. Bathroom vanities can range from $250 to $3,500 or more depending on the grade.
A stock retail grade vanity without a sink might be on the lower end of the spectrum, while a custom-built hardwood cabinet will be on the higher side.
Countertops are sometimes included with the vanity, but often they are selected and installed separately. A small countertop and sink might run a few hundred dollars, while a large double vanity granite countertop with sinks might be $3,000 or more.
Lights, Vents, & Electrical Receptacles Costs
Electrical for the bathroom consists of a GFCI receptacle, lighting, and a ventilation fan.
A new ventilation fan costs about $375 installed, but when you add a light and heater, it could cost you another $100. There are even some fans with integrated speakers so you can listen to music in the shower.
Electrical receptacles need to be ground-fault circuit interrupter (GFCI) outlets, which is required by code. An outlet costs about $200 installed.
Recessed lights are an inexpensive option in the bathroom, though many prefer LED strip lights around the mirrors to eliminate shadows for makeup application and shaving.
DIY Savings
How much you DIY will depend on your skills and time. When you only have one bathroom, you won't want to wait the months it might take to complete a renovation on nights, weekends, and holidays if you don't have the vacation time.
To save money, you might let a general contractor do the majority of the work and leave you some small projects you can do at your leisure.
Getting Renovation Estimates
With so many skills required for a successful renovation, it is often best to hire a general contractor who works with plumbers, electricians, tile installers, and other specialties.
Many of these tasks will need to get subcontracted. A contractor knows the people who do the best work in these areas and will be responsible for the entire project.
Make sure to discuss who will get the building permit. You don't want the renovation delayed because no one gets the permits; which usually cost $20 – $200 or more from the building inspector's office.
Whichever you choose, DIY, contractor, or a combination, make sure you have a plan for a bathroom if there is only one in the house or plan the project while you are away on vacation.
All pricing information on this page is based on average industry costs, and is subject to variance for project-specific materials, labor rates, and requirements.
References
Remodeling, 2019 Cost vs Value Report, https://www.remodeling.hw.net/cost-vs-value/2019/
National Kitchen and Bath Association, Real-World Budgeting for Bathroom Remodeling, https://nkba.org/info/2012/10/real-world-budgeting-bathroom-remodeling/
Building Pros, 5 Factors that Affect the Cost of a Bathroom Remodel, https://bldgpros.com/5-factors-that-affect-the-cost-of-a-bathroom-remodel/