Cost to Install Heated Bathroom Flooring – 2023 Prices
Tile or stone floors in the bathroom look stunning. And while all tile floors are technically room temperature, they can feel cold underfoot, especially on cold mornings or when you step from a warm shower.
When this happens, it can be a shock to your system. That's one of the reasons homeowners are adding radiant heat to their bathroom floors.
Use our calculator to estimate the price of a heated floor, or continue reading below to learn more about the cost of installing various heated flooring systems.
Bathroom Heated Flooring Installation Cost Calculator
Enter the size of your project and select the material and services you're interested in to estimate the cost of the project using 2023 price data. Continue reading below to learn more about what to expect for a bathroom heated flooring installation project.
---
---
How Much Does Heated Bathroom Flooring Cost?
Radiant heat warms what it touches, rather than the air, so it's more efficient at warming you than other heating systems. It's also less costly to run.
There are many types, but for bathrooms, the most common method is to use electric underfloor heating. Costs can vary by type and the size of the room and complexity of the installation.
Heating elements in the floor used to be costly. However, now the average cost to add heat to a bathroom floor is $175 to $420 for a 50 sq. ft. bathroom. Typically, homeowners pay between $8 and $15 per square foot.
If you want to install the heated flooring in wet areas, this will increase the cost to between $15 and $20 per square foot to include the waterproofing membrane.
Therefore, the size of your bathroom, choice of electric or hydronic heat, and the cost of labor in your area will determine how much you will actually pay to add warm floors to your bathroom.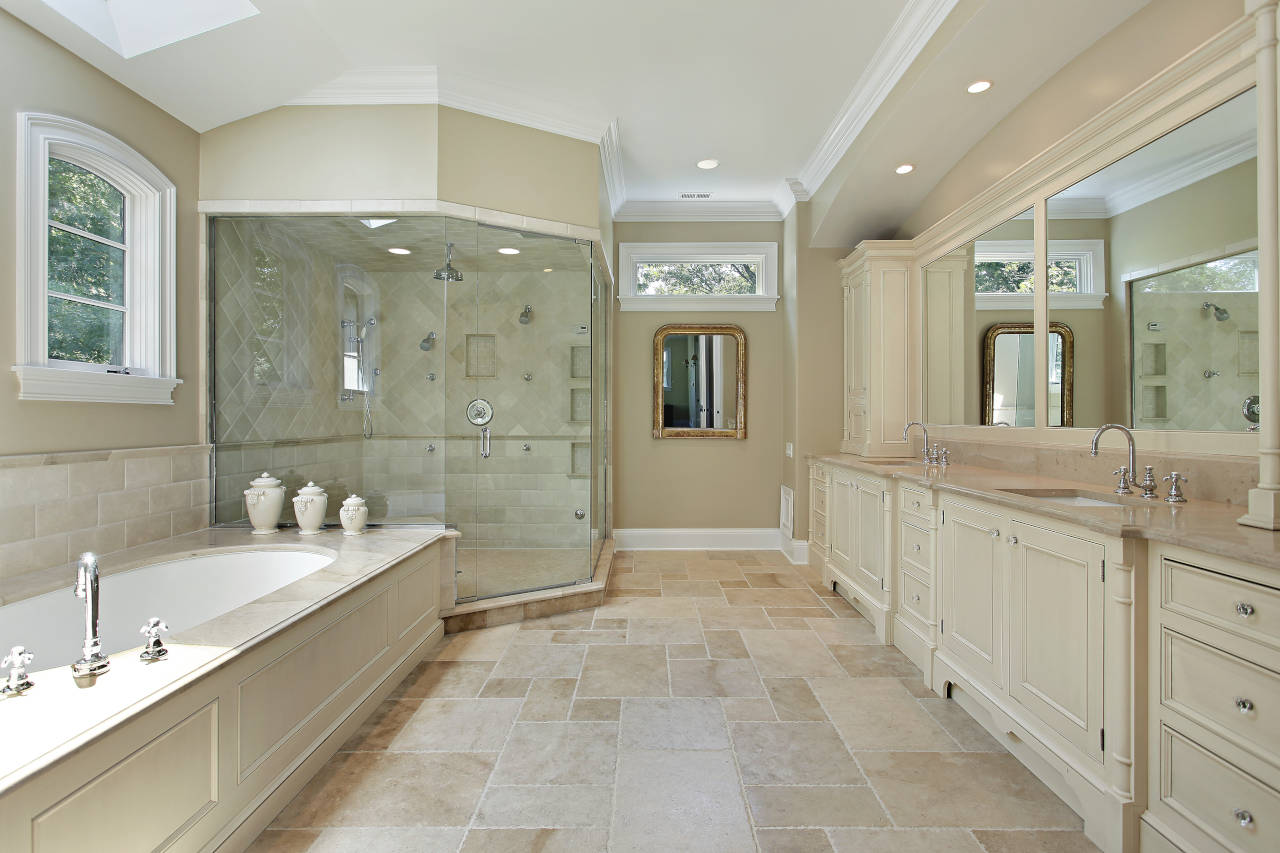 Heated flooring is often installed as part of a larger bathroom renovation or installation. Learn more about the costs associated with a bathroom remodel.
Electric Radiant Heat Average Costs
One of the most common forms of radiant heat for the bathroom is using an electric system. This system is usually used with a tile floor by embedding electric coils or mats in the mortar under the tile, but this system can be used with other flooring types as well.
Many heating, ventilation, and air conditioning (HVAC) installers are trained and able to install either electric or hydronic radiant heat, and an electrician can also do the install.
Electric in-floor heating mats often cost $5 to $12 per square foot. They are popular due to the lower cost and ease of installation.
Hydronic Radiant Heat Average Costs
The term hydronic comes from the use of heated water that runs through hoses or tubes. Over the pipes is a thin concrete layer that gets covered with tiles, stone, linoleum, or whatever floor covering gets used.
Hydronic heat works best in homes with boilers. However, when you add it to a home without, the installer can use clever means of heating the water with a dedicated small boiler.
Hydronic radiant heating systems generally cost from $7 to $22 to install and might cost more if a boiler is needed. This type of installation is more invasive because tubing needs to be run to the floor, so both material and labor will be higher.
DIY Bathroom Floor Heat
For the talented homeowner with DIY skills, time, and tools, outfitting a bathroom with radiant heat could be an excellent DIY project. Installing the tubes or heating elements in the floor can usually be done by one or two people over the weekend.
Keep in mind that you will need to tear out your old flooring and install new flooring over the heating system once it's installed as well. This can make the whole project take three to five days for the layperson.
Once you decide whether you will use electric or hydronic, you will then need to decide on a heat source. The electronic source will require hiring an electrician. Electricians typically charge $50 to $250 per hour; see our electrical work cost guide to learn more.
The heat is controlled by a designated thermostat on the wall and is often programmable so it can turn itself on before you wake up. Hydronic systems will use the water in your boiler in a closed system.
This is more efficient if you are running it throughout your home. Otherwise, you may need a separate water heater just for the bathroom.
Because the system is closed, it will constantly recycle the same water back to the boiler. Due to the nature of the system, on-demand or tankless systems cannot be used with in-floor heating.
Hiring a Radiant Floor Heating Professional
If you already use an HVAC service in your area, ask them if they install radiant heat in bathroom floors. Plumbers and electricians might also do the entire project, although they will need to work with a tile or other flooring professional.
The old flooring must be removed first before the heating system can be installed. Once the system is in place, new flooring is installed over it. Therefore, if you are familiar with a professional in either field, you should check with them before hiring someone you don't know.
Some tile installers are also knowledgeable about installing in-floor heating mats; they can coordinate with an electrician for the final hook-up.
However, if you haven't worked with a local HVAC technician, plumber, or other professional, try our free contractor locator to get hassle-free estimates from radiant heating professionals in your area.
Before you decide, check their license, certification, insurance, and references. Then either you or the contractor will have to get a work permit from the municipal building inspector's office.
A warm floor in your bathroom can be a valuable addition to your home and add plenty of equity when you get ready to sell.
All pricing information on this page is based on average industry costs, and is subject to variance for project-specific materials, labor rates, and requirements.