Cost to Install Heated Bathroom Flooring – 2023 Cost Calculator
Tile or stone floors in the bathroom look stunning. However, when you walk on these cold floors with your bare feet, it can be a shock to your system. That's one of the reasons homeowners are adding radiant heat to their bathroom floors.
Use our calculator to estimate the price of a heated floor or continue reading below to learn more about the cost of installing various heated flooring systems.
Bathroom Heated Flooring Installation Cost Calculator
Enter the size of your project and select the material and services you're interested in to estimate the cost of the project using 2023 price data. Continue reading below to learn more about what to expect for a bathroom heated flooring installation project.
---
---
How Much Does Heated Bathroom Flooring Cost?
Heating elements in the floor used to be costly. However, now the average cost to add heat to a bathroom floor is $585. Typically, homeowners pay between $10 and $15 per square foot.
Therefore, the size of your bathroom, choice of electric or hydronic heat, and the cost of labor in your area will determine how much you will actually pay to add warm floors to your bathroom.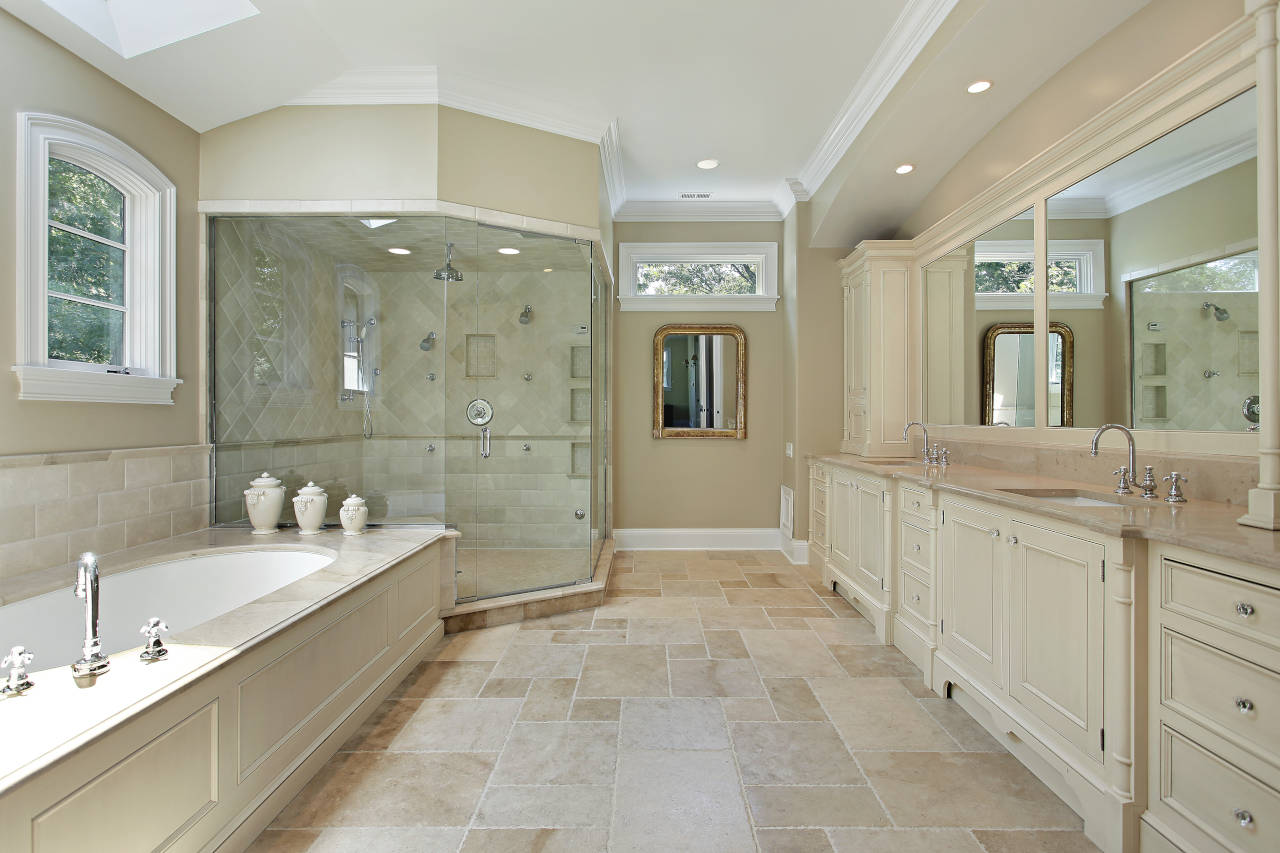 Heated flooring is often installed as part of a larger bathroom renovation or installation. Learn more about the costs associated with a bathroom remodel.
Electric Radiant Heat Average Costs
One of the most common forms of radiant heat for the bathroom is using an electric system. This system is usually used with a tile floor, by embedding electric coils in the mortar under the tile.
Many heating, ventilation, and air conditioning (HVAC) installers are trained and able to install either electric or hydronic radiant heat, and an electrician can also do the install.
Electric in-floor heating mats often cost $8 to $12 per square foot. They are popular due to the lower cost and ease of installation.
Hydronic Radiant Heat Average Costs
The term hydronic comes from the use of heated water that runs through hoses or tubes. Over the pipes is a thin concrete layer that gets covered with tiles, stone, linoleum, or whatever floor covering gets used.
Hydronic heat works best in homes with boilers. However, when you add it to a home without, the installer can use clever means of heating the water with tankless water heaters or other methods.
Hydronic radiant heating systems generally cost from $10 to $15 to install and might cost more if a boiler is needed.
DIY Bathroom Floor Heat
For the talented homeowner with DIY skills, time, and tools, outfitting a bathroom with radiant heat could be an excellent DIY project. Installing the tubes or heating elements in the floor can usually get done by one or two people over the weekend.
Once you decide whether you will use electric or hydronic, you will then need to decide on a heat source. The electronic source will require hiring an electrician. Electricians typically charge $50 – $100 per hour, see our electrical work cost guide to learn more.
Hiring a Radiant Floor Heating Professional
If you already use an HVAC service in your area, you should ask them if they install radiant heat in bathroom floors. Plumbers and electricians might also do the entire project. Therefore, if you are familiar with a professional in either field, you should check with them before hiring someone you don't know.
However, if you haven't worked with a local HVAC technician or plumber, try our free contractor locator to get hassle-free estimates from radiant heating professionals in your area.
Before you decide, check their license, certification, insurance, and references. Then either you or the contractor will have to get a work permit from the municipal building inspector's office.
A warm floor in your bathroom can be a valuable addition to your home and add plenty of equity when you get ready to sell.
All pricing information on this page is based on average industry costs, and is subject to variance for project-specific materials, labor rates, and requirements.