Cost to Hire an Electrician – 2023 Average Prices
Are you planning to install a new light fixture or add a new receptacle? There are many reasons you might need to hire an electrician, and the cost will vary by project. We'll explore common electrical projects and the cost for each in detail below.
2023 Electrician Costs
Calculate local project costs by entering your zip code.
National Average Price
$

300

Typical Price Range (per hour)
$

50

- $

100
Get free estimates from contractors near you.
---
---
How Much Does an Electrician Charge?
Although the average cost for an electrician to visit your home is $300, there are plenty of variables you should consider before making an appointment. The two primary considerations for the cost of your project are the material and supplies necessary and labor.
The national average hourly rate charged by electricians is $50 to $100 per hour. This rate varies geographically and could easily be more or less depending on where you live.
However, do not assume every electrician in your area will charge the going rate. Those with a solid reputation are busier and may charge more.
The type of work being done and other factors for the project will also impact the amount of time it takes to complete the job, and can impact the materials needed.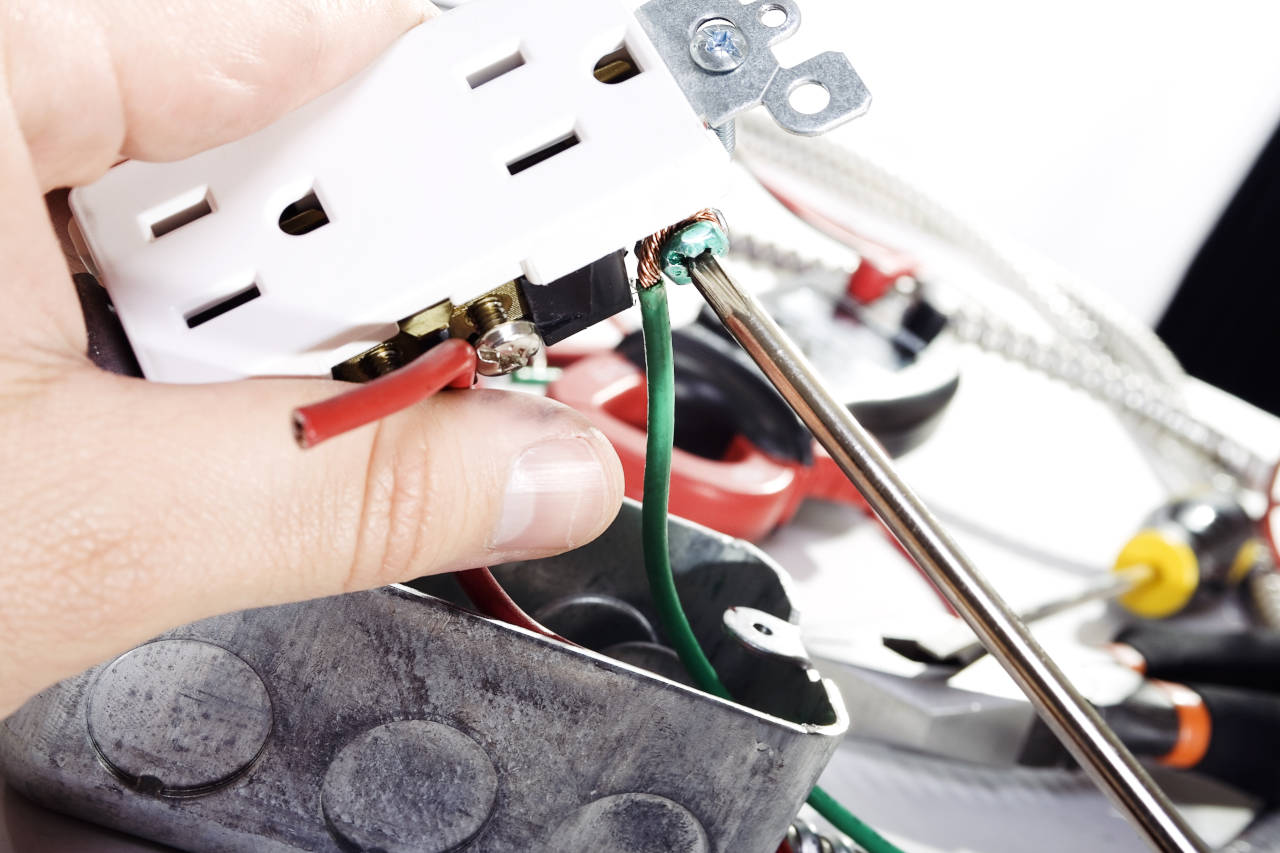 There are many reasons you may need to hire an electrician such as installing new wiring during a renovation or moving a light switch. Keep reading to learn more about the average prices of each project.
New Wiring and Circuits
The cost to install new wiring will largely depend on the number of receptacles, light switches and fixtures, and size of the project. On average, new wiring costs $6 to $8 per linear foot to install.
Another way to estimate the cost for a new wiring project is to estimate by the count of receptacles, fixtures, and switches. On average, each new receptacle, switch, or fixture will cost $100 to $200 when they are a part of a larger project.
In most major renovations, the cost of electrical work is usually $1,000 to $1,500 for the project.
Rewiring an existing home, on the other hand, might cost a bit more. On average it costs about $3,000 to $8,000 to rewire an existing home, mostly due to the complexity of the job and the drywall and plaster repairs that are necessary with this type of project.
Circuit Panel Upgrade
The primary considerations of an electrical circuit panel are how many amps it will support and how many circuits it can support. Many older homes have an obsolete circuit panel of 20 to 40 amps, no ground-fault circuit interrupter (GFCI) protection, or a fuse box. The 20-40-amp circuit panel can get upgraded, but the fuse box must get replaced.
Modern electrical codes require GFCI protection, which is an automatic shutoff in about 1/40th of a second, in most areas where water use is present. Some circuits will also need AFCI breakers to protect against ground faults. These circuit breakers are significantly more expensive than a standard breaker at around $50 each, and the number of them will impact the cost of the project.
The average cost of an upgrade to the minimum standard 100 amps is around $1,100, while a full circuit panel replacement costs around $2,500.
Installing a Sub-Panel
Installing a sub-panel usually costs between $500 and $1,000 but may depend on a few factors. For instance, the distance between the sub-panel and the main circuit breaker panel will significantly increase the cost.
The complexity in running a line from the circuit breaker panel to the sub-panel will also impact the cost.
Finally, the size of the sub-panel will affect the price of the installation.
The Home Backup Generator
The addition of a home backup generator is a significant investment, usually around $3,500 to $4,000 for a whole-house generator. Although, you will no longer be inconvenienced by having no heat or air conditioning, internet, or electric running to your refrigerator when the power goes out.
However, many homeowners opt for a smaller, less expensive generator to run specific items such as those mentioned previously. These generators are significantly less costly than a larger model, at about $2,000 installed. This price depends on the generator you choose and the appliances you will want to be powered by it.
Light Fixtures
There are several styles of light fixtures that can be installed, including chandeliers, pendants, sconces, ceiling mount, lamps, and recessed can lighting.
The national average to install a new light fixture is approximately $400. However, several variables will govern the final cost. Recessed lighting, on the other hand, usually costs about $150 to $200 per can.
Outlet Replacements and Upgrades
The cost to install an electrical receptacle, sometimes called an outlet or socket, will depend on the type of receptacle needed. The national average price for a new receptacle is $200, but adding smart devices, GFCI protection, or higher current receptacles for appliances will likely cost more.
Learn more about the costs of installing a receptacle in our cost guide.
Installing Smart Devices
Smart devices such as home lighting, thermostats, stereos, and home security systems are an exploding addition or upgrade for many homes. In most cases, the money you will save on electricity will justify the initial expense; returning your investment in roughly three years.
Some of these can be done as DIY projects or by a handyperson service, but adding electrical wiring and circuit panels should always get done by a licensed electrician.
Network and TV Wiring
Many electricians can also install network and television cabling. On average, each line will run $75 to $125, depending on the complexity of running the line and the cost of the cabling.
Often, a skilled electrician can retrofit cabling within your home without major damage or running the cables outside the home, like you often see done by the cable or satellite companies.
How to Find an Electrician
You can find an electrician by scouring the web, which is a good start, but we suggest asking around your network to find a trusted tradesperson. You can also try our free electrician locator to find pros in your area to get several hassle-free estimates. We encourage you to get multiple estimates and compare the service and cost of each electrician before choosing one to work on your project.
All pricing information on this page is based on average industry costs, and is subject to variance for project-specific materials, labor rates, and requirements.