Cost to Install a Smart Thermostat – 2023 Price Guide
A smart thermostat will cost double or triple what it costs to install a regular thermostat. However, when you consider the energy savings possible, there is clearly no smarter option.
Keep reading to learn more about the cost to install a smart thermostat and how much you could save.
2023 Smart Thermostat Costs
Calculate local project costs by entering your zip code.
National Average Price
$

420
Get free estimates from contractors near you.
---
---
How Much Does a Smart Thermostat Cost?
According to the U.S. Department of Energy, you can save up to 10% each year on heating and cooling bills by turning back the thermostat 7 – 10 °F for 8 hours a day.[1] What better way to do that than with a programmable thermostat?
Therefore, you can program your smart thermostat to save you a bundle on every bill while you and the family are away at work or school. Experts estimate you will recoup the price of installation in as little as two years.
What's more, you're not just getting a programmable thermostat. With a smart thermostat, you're also getting a thermostat that will hook into your Wi-Fi. With that access, sensors can alert you to possible problems right on your smartphone. Those same sensors will also turn down the heat or air-conditioning when no one is home.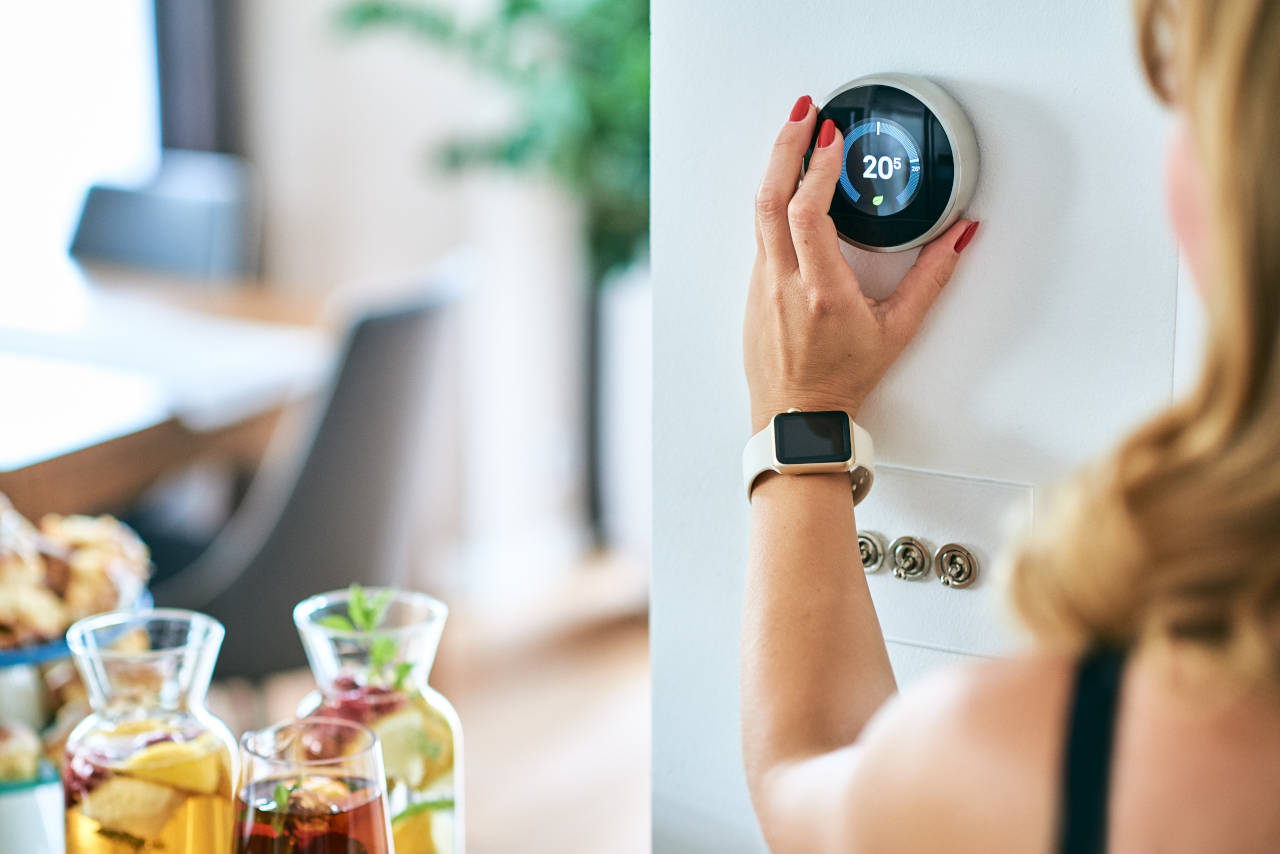 The national average to replace an electronic thermostat with a smart thermostat is $420. How much you will pay for it depends on which brand of smart thermostat you buy, and the price of labor in your area.
The cost of the hardware is typically in the $150-$250 range, not including installation.[2] The prices continue to drop, so check around for the best buy with the features you desire.
You can upgrade to a smart thermostat that is compatible with smartphones and devices like the Google Home, Amazon Alexa, Apple HomeKit, and others. These technologies will allow you to control the temperature in different rooms. You could set the temperature in the guest room a little lower, or the nursery a little higher to take advantage of even more savings. These are known as multi-zone baffles or air-duct dampers.
Actually, it is possible to multi-zone with an electronic programmable thermostat, as well. However, the smart thermostat gives you connectivity to Wi-Fi, and the ability to set those parameters from any device, anywhere with Wi-Fi.
Best Time to Upgrade
The best time to upgrade to a smart thermostat is during a scheduled service, or when you need a furnace or HVAC system repair or replacement. When the technician is already there performing maintenance, it will be cheaper because you won't pay for a separate service call.
It's always wise to get heaters serviced during the spring/summer period and the air conditioner during autumn/winter time frame, when technicians and contractors aren't as busy.
DIY: Is it Possible?
Although it is possible to install and program a smart thermostat as a DIY project, you will need basic electrical knowledge. Plus, programming will require an understanding of the system you will match it with, such as Google, Alexa, and/or a smartphone.
The more complicated your system, the less likely you will be successful at configuring a smart thermostat to work efficiently within your network. Humidifiers, water heaters, purifiers, multi-zone electronic baffles, air-duct dampers, or multi-fuel systems require specific technical knowledge. By doing these yourself, you may be losing some of the benefits these systems provide.
Plus, most states require any electrical work to get completed and/or inspected by a licensed electrician. Though it might not be necessary to hire an electrician to replace an electronic thermostat with a smart thermostat without new wires, in this case, turn off the power at the circuit breaker and label the wires.
Hiring a Heating & Air Technician
In addition to installing the thermostat, some contractors or services will download the app, ensure connectivity, and program sensors and settings. Some will charge extra for those, and even to take out the old thermostat. The price for labor is generally $75 – $100 per hour.
The best method to hire someone when you don't have a regular heat and air technician is to get three or four estimates from our contractor locator service. Then, check their scope of work, references, license, and liability insurance. Not all will provide the same services. Ensure the service they say they will perform meets your requirements.
All pricing information on this page is based on average industry costs, and is subject to variance for project-specific materials, labor rates, and requirements.
References
U.S. Department of Energy, Thermostats | Energy Saver, https://www.energy.gov/energysaver/thermostats
Home Energy Challenge, Install Smart Thermostat, https://www.cvillechallenge.org/action/install-smart-thermostat