Cost to Wall Mount a TV – 2023 Price Guide
Mounting your flat screen LCD, LED, or plasma TV can look great, save space, and improve your viewing experience. Some opt to mount the TV themselves, while others choose to hire a professional to mount their television.
2023 TV Mounting and Installation Costs
Calculate local project costs by entering your zip code.
Typical Price Range
$

150

- $

600
---
---
As an Amazon Associate, we may earn commissions from qualifying purchases from Amazon. Learn more
How Much Does it Cost to Mount a TV?
Professional installers charge $100 to $300 in labor on average to mount a smaller TV, which often does not include the price of the mounting bracket or other special accessories. The cost climbs to $500 in labor for TVs up to 55 inches in size, while TVs that top 70 inches will cost at least $600 in labor or more.
Though the cost varies, most people pay $150 – $600 to have a flat-panel mounted, including the cost of installation, mount, and parts. The TV itself is a major cost factor; if you don't already have one, learn what size TV you should get.
TV Mounting Brackets
One cost factor when mounting a TV is the type of mounting bracket selected to hang the TV on. Mounting brackets range from $20-$250 or more depending on the style of bracket, TV size, and weight rating.
While most brackets are simple metal fixtures, some specialty brackets are motorized to allow the TV to move at the push of a button. This will let the TV tilt to allow people to sit in different areas of the room and still get a good look at the screen.
All brackets should be matched with the size and type of TV you have to ensure they can safely hold it.
Before installing, calculate the ideal height to mount the TV.
Fixed TV Brackets
The most cost-effective TV bracket is a standard fixed mount, which allows the TV to sit flat on the wall. Fixed brackets range from $20-$100.
Typical mounts are a few inches deep, while slim mounts are a mere half inch. We prefer this 32″ – 75″ fixed TV mount since it works for most TV sizes. Fixed mounts do not offer any tilt or rotation, so they are suitable for TVs that are mounted near eye level.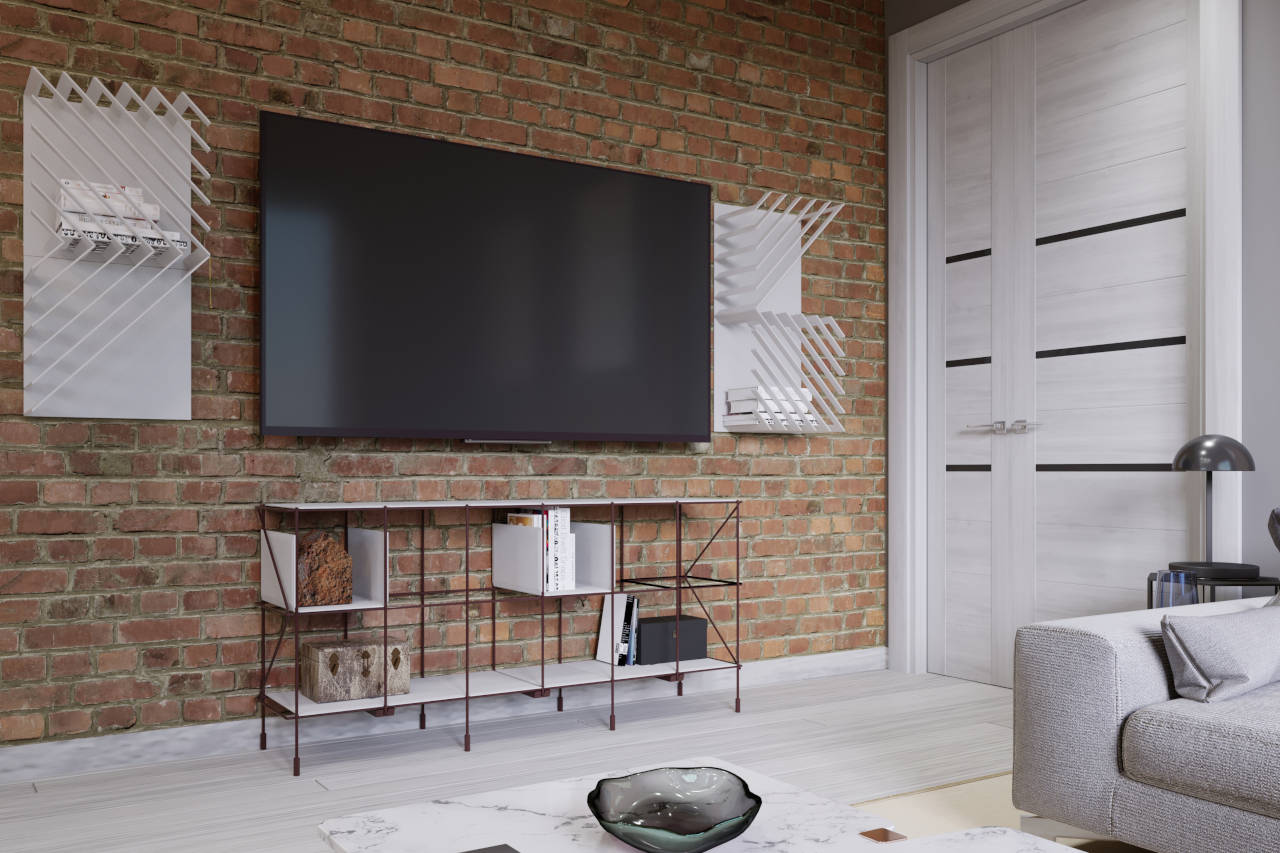 Tilting TV Brackets
Tilting TV brackets allow the TV to angle down at the viewer and are preferred when the mounting height is above the seated viewer's eye level. Tilting brackets also range from $20-$100.
Tilting mounts are usually a little deeper than fixed mounts due to the tiling mechanism. We like this 32″ – 70″ tilting TV mount.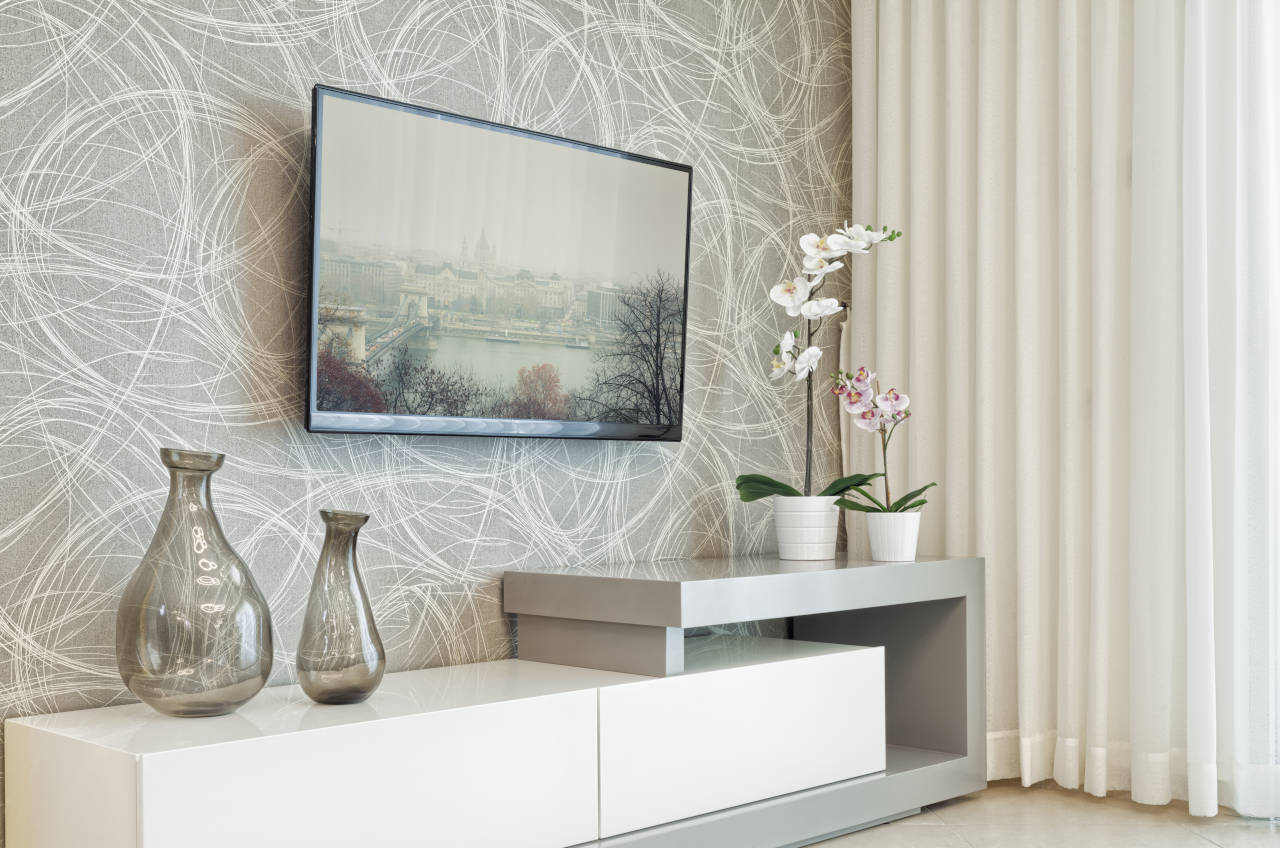 Articulating TV Brackets
Articulating TV mounts are the most flexible mounts allowing TVs to swivel from side to side and allow you to install a TV in a corner. Articulating brackets range from $75-$250 depending on the weight rating and thickness.
Most articulating mounts are a bit deeper than tilting and fixed mounts, but there are some low-profile articulating mounts available. The 37″ – 70″ articulating TV mount works with most TVs and swivels nicely.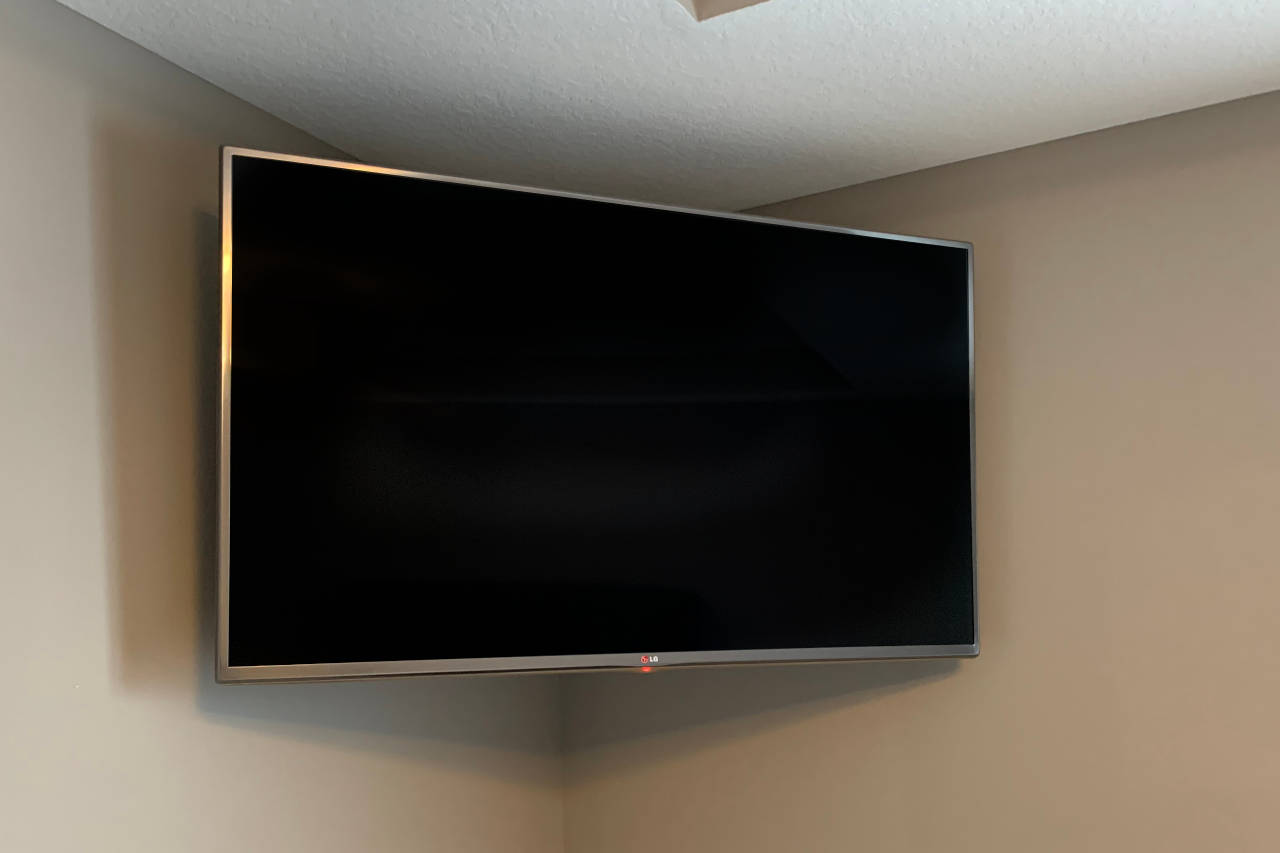 Other TV Mounting Cost Factors
When mounting a TV, also consider the cost of hiding the components and wiring. Hiding wiring and cabling offers a cleaner aesthetic but may require special consideration. Special cables may be needed when mounting a TV if they need to be longer or if they need to be run inside a wall cavity.
An electrician may be needed to install an outlet behind the TV. Consider getting a professional electrical estimate for this task. Hiding your components can also provide a clean look, but keep in mind that the remote control will not work through cabinet doors.
A standard outlet can usually be installed for $125 to $175 but will require a licensed electrician. Most handymen are capable of mounting the TV; have the electrician out first to run the cable before having the TV mounted.
Consider picking up a universal RF remote control, which can cost upwards of $50 to $200, depending on how many items you want to use it for. This is particularly helpful if you will also be using your TV with things like gaming consoles, as a universal remote allows you to combine all of your devices.
All pricing information on this page is based on average industry costs, and is subject to variance for project-specific materials, labor rates, and requirements.