Cost to Rewire a Home – 2023 Average Prices
Whether you need to replace old knob and tube wiring or correct an unsafe installation, rewiring the electrical system of a home is a large project and one that should be trusted to the professionals. In addition to running new wire, new devices such as wall sockets, light switches, and new fixtures may be required to meet code.
Keep reading to learn more about the costs to rewire a home.
2023 Home Electrical Rewire Costs
Calculate local project costs by entering your zip code.
Typical Price Range
$

3,500

- $

8,000

Minimum Price
$

1,000

Maximum Price
$

15,000

Typical Price Range (per hour)
$

50

- $

100
Get free estimates from contractors near you.
---
---
How Much Does it Cost to Rewire a House?
Most homeowners spend $3,500 to $8,000 to rewire an entire home. The cost varies significantly depending on the size of the home, the complexity of the project, the amount of wiring that needs to be retrofitted, replacement of the electrical panel and service, the number of devices that need to be replaced, and the cost of labor.
In addition to electrical costs, rewiring a home will also require many small repairs to the walls and ceilings to close up access panels that need to be cut for the electricians to get the access they need to add new wiring.
Depending on the extent of the repairs needed to walls and ceilings, the total price of the project could go up to as much as $15,000 or more.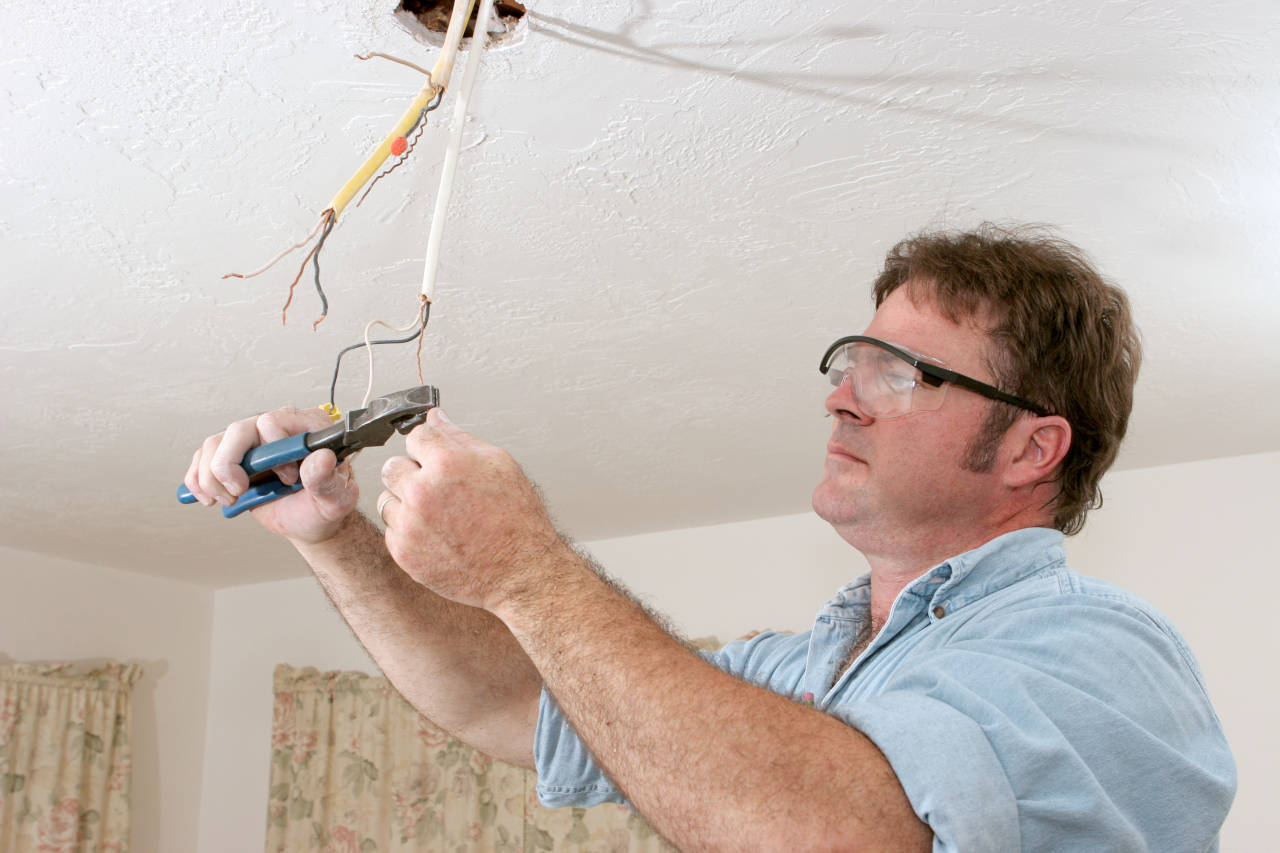 Rewiring Costs per Linear Foot
The national average per linear foot to replace wiring is $6.00 to $8.00. Heavy-duty electrical wiring will raise the price to $8 to $10. However, most electricians will charge for time and materials or a flat rate for a project like this due to the variance in complexity of a full home rewire.
Rewiring or Replacing Lights
Despite a national average of $400 to replace a light fixture, it will more likely cost you the price of the fixture and $50 to $100 per hour labor to install new fixtures when done in conjunction with an electrical rewire. If this replacement or rewiring is part of your rewiring project, it will cost much less.
If you want to add or move light fixtures, doing so when rewiring the home is an excellent time since drywall and plaster will be repaired after the project.
Electric Panel or Fuse Box Replacement
Often, when the electrical system is in a position that requires a full rewire the circuit breaker panel or fuse box will need an upgrade as well to meet code requirements.
In most cases, adding a 100-amp electrical panel is about $1,100. It could cost as much as $2,500 to $3,000 for a 200-amp service, especially if the power company has to replace the incoming power line. Learn more about the cost of a circuit breaker panel upgrade.
Repairs After Rewiring
One of the most significant expenses of a whole-home electrical rewire is the drywall and plaster repairs that are necessary as part of the project.
The electricians will be able to correct the wiring issues and get the home's electrical system code-compliant, but they will most likely not be able to repair any of the access holes that will need to be cut to get wiring where they need it.
The extent of the repairs will ultimately depend on the size of the home, the complexity of the project, and the skill and time spent by the electricians.
Skilled electricians may be able to fish romex without cutting an access panel, or they may need to cut many access panels for a single circuit, depending on the home and where the wire needs to be run.
The cost of repairing all the access holes will vary based on the number of them and how difficult it will be to patch them. In some cases, it may be necessary to fully retexture a ceiling or repaint a room.
Typical Labor Costs
Rewiring a home can be a dangerous and expensive endeavor. Your best bet is to hire a professional to get it finished quickly, and more importantly, correctly. Although the cost of labor will vary significantly from state to state, and even from city to suburb, the average cost per hour is $50 to $100.
Use our free electrician locator to contact professionals in your area. Get a minimum of three quotes, peruse their statement of work carefully, and confirm insurance, bonding, and licenses.
Using these tips and hiring a certified National Electrical Contractors Association (NECA) recommend electrician could save you trouble. What's more, you should have the electrical inspector at the building inspector's office check the contract as well.
The Cost of Permits and Electrical Inspections
The local municipal code will determine how much you pay for permits and inspections. Electrical permits usually cost $20 to $100 or more. However, the number of required inspections can change that dramatically. Some municipalities have no extra charge for the electrical inspection but roll it up into the cost of a permit.
Whatever, the cost or result of the inspection, do not ignore the inspector's findings. Electrical inspections are essential to prevent fires, electrical surges that can destroy your appliances, and electrical shock.
All pricing information on this page is based on average industry costs, and is subject to variance for project-specific materials, labor rates, and requirements.