Cost to Add Knockdown Texture to Walls & Ceilings
Knockdown texture is a common finish for walls and ceilings. It gets its name because of the watered-down or soupy compound that gets used to cover drywall. It drips, creating stalactites as it dries, which are then knocked down with a trowel to create a texture that hides any flaws or nail holes, which would otherwise be apparent on a smooth surface.
You might be wondering how much it costs to add this texture. We'll cover the cost in detail below.
2023 Knockdown Texture Costs
Calculate local project costs by entering your zip code.
Average Price (per room)
$

750

Typical Price Range (per room)
$

450

- $

1,000
Get free estimates from contractors near you.
---
---
How Much Does it Cost to Apply Wall or Ceiling Texture?
On a prepared surface, applying a knockdown texture usually costs $1.00 to $1.50 per square foot, and most spend around $450 to $1,000 for a bedroom or $600 to $1,400 for the average living room. This price depends on the price of materials, wall or ceiling height, size of the space, complexity, and, to a more considerable extent, the cost of labor.
Quite likely, the biggest drawback to applying any texture to an established home is the mess. All the furnishings, carpets, and hanging lights must be removed or covered.
However, in most cases, the texture is being applied to new walls – such as in an addition, rather than to a finished and furnished room. Still, this mess can travel, and it is a good idea to take some precautions.
Covering will still allow some dust to penetrate; therefore, the best solution is to take everything out of the room and lay plastic or rosin paper over walls, wall-to-wall carpets, windows, and other floor coverings to prevent splatter.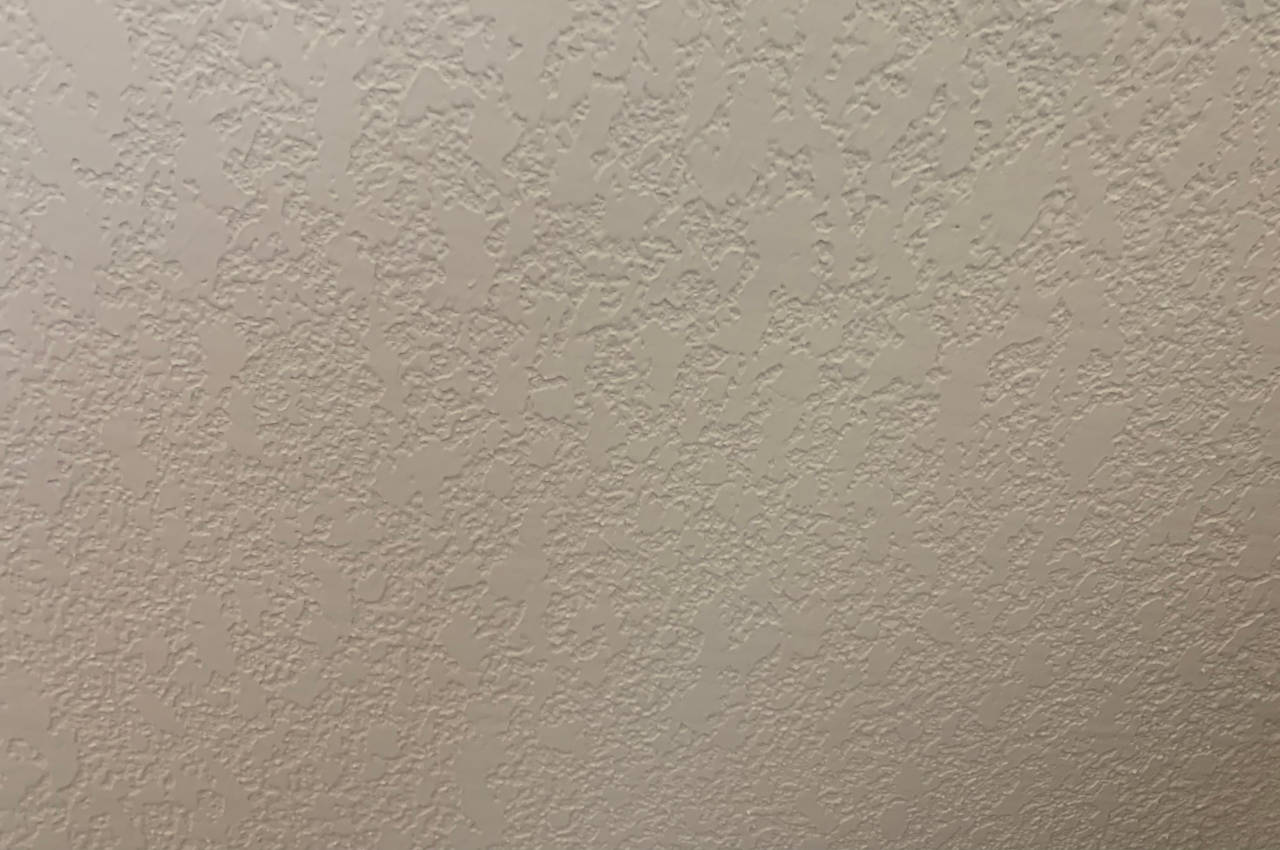 To hire a professional to texture your wall or ceiling, which includes lightly sanding the drywall, priming, setup, and preparing the room.
The contractor should acquire the materials unless you agree to do some of the setup and purchases. Then, they will spray or shoot the compound onto the wall or ceiling and finish the texture with a trowel or roller.
The cost of the project will vary mostly by the average labor rates in your area. High ceilings or surfaces with a lot of details, such as coffered ceilings, will generally cost more since they require more time and effort to complete.
Once the texture has been applied and has dried completely, it can be painted like any other drywall. The average cost to paint interior walls is $1.50 to $3.50 per square foot or between $955 and $3,000, depending on the size of the room.
Check our room painting cost guide to get details on the material you will need and estimated costs to paint your newly finished walls or ceilings.
Cost for Prep and Repair Work
The cost of the project will also be partially determined by how much prep and repair work is needed. For example, if the contractor needs to remove an existing texture, that could increase the cost of the project by several hundred dollars.
It's also going to be necessary to repair any water damage or imperfections in the walls or ceilings before applying a new texture. The most common form of ceiling damage is water spots or other forms of water damage.
If the damage is extensive enough, then it might even be necessary to replace all of the drywall in the room, though this is often not the case. If you're interested, try our drywall calculator to estimate how many panels you might need for the project.
If there is an existing ceiling texture, that will need to be removed as well. Scraping the existing texture off the ceiling should be done first and usually costs $1.25 to $3.00 per square foot.
DIY to Save Money on a Wall and Ceiling Texture Project
Doing as much of the prep work yourself is beneficial for both DIY and the budget-conscious homeowner who plans to hire a contractor to do the texturing. Since a contractor will often charge $35 to $50 per hour, preparing the room yourself could save a significant amount of money.
This is a straightforward DIY project for those handy with tools; anyone who can paint and apply compound with a trowel can do this. However, it is by no means an easy job. You will spend an hour or more looking up at the ceiling or walls, with soupy texture compound splattering down on you. You must wear a mask, goggles, and head covering, and still, it will splatter in your ears and drip down your back.
The price of materials is minimal, about $20 to $100 if you have the tools. A 5-gallon bucket of joint compound costs about $15 to $20, and it will cover a large room. However, one and a half to two gallons will cover a 10′ x 14′ room. It's better to have too much than run out before you finish the ceiling.
You can rent a hand-held spray gun at any rental center for $30 to $50 a day if you don't have one. Also, get an 18″ knockdown trowel, which looks like a rubber squeegee, for about $15 to $20 at your local hardware store.
Whether you do it yourself or trust the project to the pros, you now hopefully have more information on wall & ceiling texturing prices and cost factors.
All pricing information on this page is based on average industry costs, and is subject to variance for project-specific materials, labor rates, and requirements.