Cost to Install Wallpaper – 2023 Wallpaper Prices
2023 Wallpaper Installation Costs
Calculate local project costs by entering your zip code.
National Average Price
$

1,000

Typical Price Range
$

500

- $

1,200

Typical Price Range (per square foot)
$

4

- $

10
Get free estimates from contractors near you.
---
---
How Much Does Wallpaper Cost?
We can trace the use of wallpaper back for centuries. In fact, the Chinese glued rice paper to their walls as far back as 200 BC. The use of wallpaper declined for several decades in the twentieth century, but since 2,000, it has been making a comeback.
Many designers and homeowners use wallpaper in any room of the home as a backsplash, a feature wall to add a little excitement or contrast, or to complement three other plain painted walls. The benefit of most wallpaper over paint is that it lasts 15-20 years, is much easier to clean than paint, and it adds a little something to otherwise boring painted walls.
The cost to wallpaper a single wall in the home ranges from $500 to $1,200, with most projects costing between $4 and $10 per square foot. The cost of wallpaper to cover your walls will depend primarily on four variables: the amount of wallpaper needed, the drop-pattern, the type of wallpaper selected, and the cost of labor.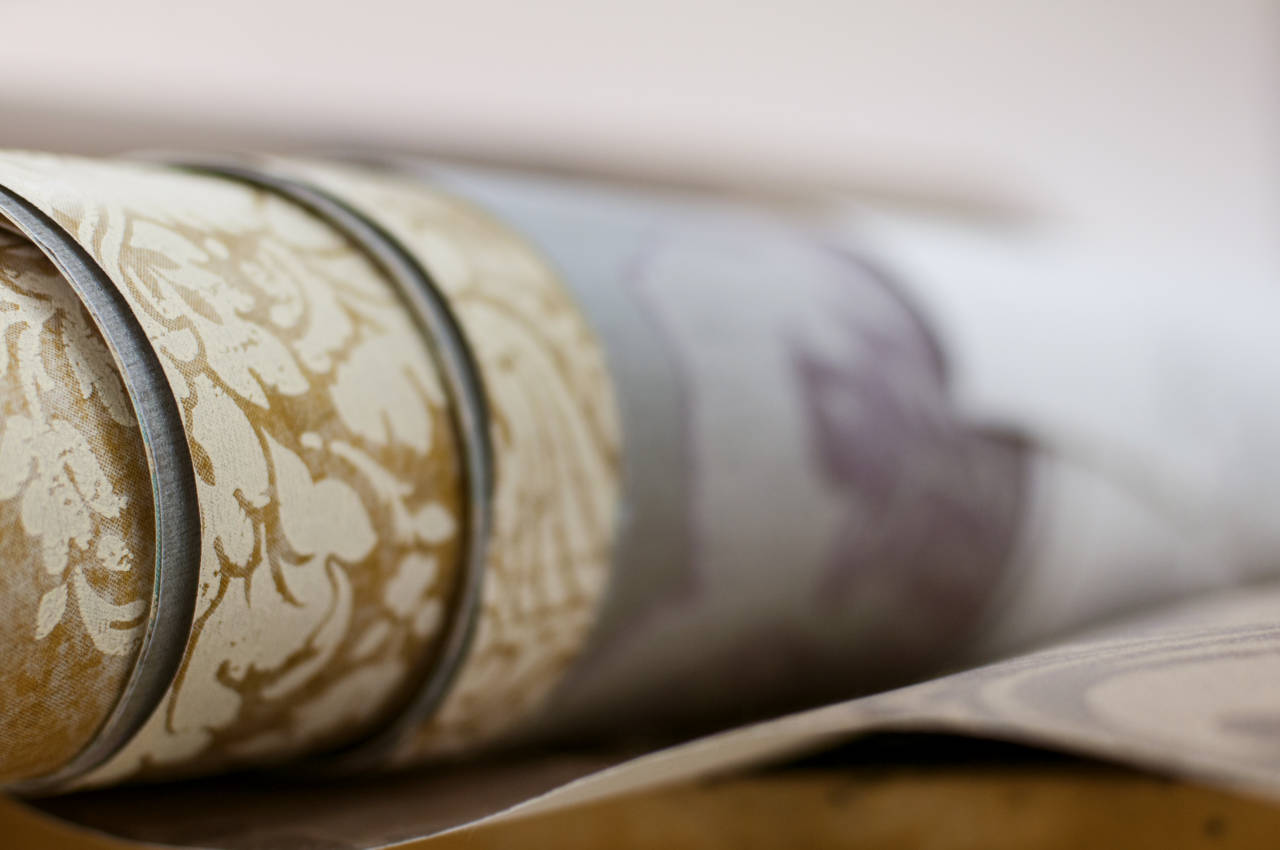 Amount of Wallpaper Needed
To estimate the actual cost of wallpapering a room or wall, you must first determine the square footage of the area to get covered, then figure the number of rolls you will need based on that coverage and the amount of usable wallpaper per roll.
The amount of the wall that will be covered will obviously impact the cost, but the way wallpaper is sold will also impact the cost. Although wallpaper gets priced by the single roll, which is 21″ x 6.5′, it is widely sold by the double-roll. Therefore, in most instances, you could not buy five rolls but would need to round up to six.
Drop Pattern
The drop-pattern will have a significant effect on cost if you are covering a large area. Normally, wallpaper without a drop-pattern will cover 29 to 36 square feet per roll. However, with a drop-pattern of 19″ to 23″ you will only cover 15 square feet per roll at $60 to $200 per roll, which makes a substantial difference.
Likewise, the cost of labor significantly increases when using a drop-pattern because of the time required to match the pattern and make the cuts.
Wallpaper Types
There are several well-known wallpaper types with advantages and disadvantages, depending on where you will hang it, the amount of moisture, heat, and traffic the area will be exposed to on the wall where it will get hung.
By understanding the properties and expense of each choice, you can make a more informed decision of what is appropriate for the space you intend to cover.
Paper Wallpapers
Paper wallpaper is one of the most widely used versions because of its simplicity, low cost, and ease of hanging. It comes in a wide variety of thicknesses, designs, and textures to meet your requirements. There are essentially three variants of paper wallpaper: simplex (one layer of paper), duplex (two layers), and woodchip (two layers of wood fiber).
Advantages:
Inexpensive
Easy to hang
Easy to remove with a steamer
Disadvantages:
Sensitive to moisture
Not easy to clean
Except for textured paper, a smooth surface is necessary, meaning more preparation of sheetrock
It can get messy with paste applied to the paper
Cost Per Roll
Simplex: $10 – $30
Duplex: $25 – $50
Woodchip: $20 – $130, depending on texture
Non-woven Wallpapers
Non-woven wallpaper is manufactured with synthetic, paper, or textile fibers. These wallpaper products are light, yet sturdy and durable. Plus, you can easily paint right over these with a minimum of two coats.
Advantages:
More decorative than paper
Easy to apply to a pre-pasted wall
Not as much preparation of sheetrock is needed compared to paper
Disadvantages:
More expensive than paper
Some non-woven fabrics are slightly transparent, so stains or dark spots might show through without primer
Cost Per Roll
Vinyl Wallpapers
Vinyl wallpaper comes in a variety of styles, textures, and durability levels. You will have the choice between vinyl-coated, solid sheet vinyl, coated fabric, and fabric-backed vinyl wallpaper rolls. Vinyl wallpaper is exceptionally durable and nearly water-proof, though in many cases, it can be difficult to remove and painful to paint over.
Improved moisture resistance makes vinyl-coated wallpaper more suitable for kitchens and baths. Solid sheet vinyl is a paper substrate with acrylic lamination, which is often embossed to add texture to a single decorated sheet that is a robust and long-lasting wall cover.
Patterns can be printed directly onto coated fabric wallpapers, making these high-quality, breathable, best-selling wallpapers very popular despite the more substantial price tag. However, these are not well-suited for the kitchen or bath because these paper-backed products absorb moisture.
Due mainly to its costly nature and high-traffic use, fabric-backed vinyl commonly gets used for commercial applications like hotel lobbies and rooms. However, it is also an excellent choice for home entertainment areas and playrooms.
Advantages:
Highly resistant to moisture and grease
Easy to clean
Durable and tear-resistant
Disadvantages:
More expensive than paper or non-woven
Heavier and thicker than paper, so a specific paste for vinyl is necessary
Except for the vinyl-coated and solid sheet, vinyl wallpaper removal can be more challenging than paper. Steamers don't usually work because vinyl is moisture-resistant.
The underlying wall does not breathe, so bubbles may form under vinyl wallpaper
Difficult to paint over
Cost Per Roll
Vinyl coated: $60 – $100
Solid sheet: $65 – $120
Coated fabric: $60 – $200
Fabric-backed: $60 – $200
Specialty Wallpapers & General Information
Exotic wallpapers can cost as much as $400 per roll. Grasscloth wallpaper averages $80 to $125 per roll, faux leather $300 to $350 per roll, and some silks cost $150 to $400 per roll.
Labor Costs
A major cost factor in a wallpaper project is the cost of labor. The average labor cost ranges from $1 to $9 per square foot, depending on the complexity of the pattern and the condition of the walls. However, some wallpaper hangers charge a flat fee or an hourly, per person wage to hang wallpaper.
Installation rates will also vary geographically and by skill level, so we suggest getting some estimates to more accurately gauge the price of the project. Get three to five estimates, compare work references, price, and promised work before selecting the best candidate for your project.
All pricing information on this page is based on average industry costs, and is subject to variance for project-specific materials, labor rates, and requirements.