Cost to Repair Drywall Damage – 2023 Price Guide
Are you curious how much it might cost to repair holes, scuffs, or other types of wall damage? While many factors can impact a wall, if the damage is to the drywall - the covering over the studs - and doesn't impact the wall's structure, it can usually be repaired fairly easily.
We'll cover the cost of common repairs in detail below.
2023 Drywall Repair Costs
Calculate local project costs by entering your zip code.
National Average Price
$

500

Typical Price Range
$

100

- $

1,000
Get free estimates from contractors near you.
---
---
How Much Do Drywall Repairs Cost?
If you have the knowledge, time, and tools, repairing drywall damage could be a simple, inexpensive DIY project that costs less than $30 for most small repairs.
However, hiring a professional will typically cost between $60 and $100 per hour or $50 to $80 per square foot. The national average for a small drywall repair is $60 to $200, while the cost of a major repair or several smaller repairs is $300 to $900, depending on the type of finish, the type of damage, and where on the wall it's located.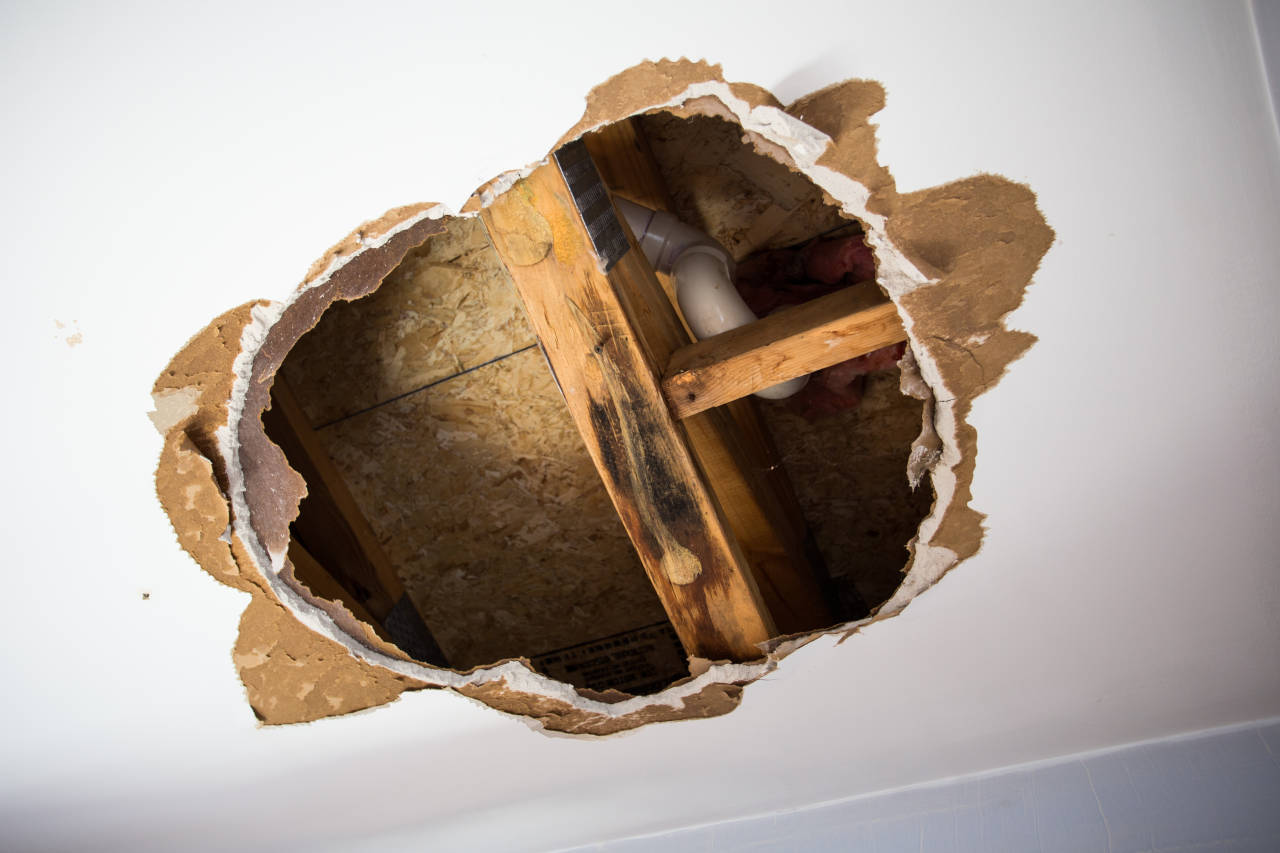 DIY & Small Repairs
The low-end small patch job usually costs $60 to $200 to fix basic issues such as stress cracks, popped screws, "remudding" drywall tape, and repainting. Hardware stores often offer a DIY drywall repair kit for small holes that cost less than $30.
Larger Repairs
Larger repairs may include repairing an access panel that a plumber or electrician may have cut into the wall, larger holes that measure more than 6 inches in diameter, or significant cracks or water damage that impact more than two square feet of wall space.
These repairs cost a minimum of $100 to repair, and most are commonly priced by the hour or by the square foot if the repairs cover large areas.
Common Causes of Damage
The first concern with damaged drywall is to find the cause of the blemish. Common forms of damage include things like rips, nail holes, door knob holes, and other small issues.
These things tend to cost the least to repair and are fairly easy to deal with and prevent. However, beyond the typical dings and dents, water damage, and foundation issues could have more serious underlying causes that will require you to solve the issue behind them.
Not dealing with the underlying issue may mean that the problem with the drywall can return after it's been repaired.
Foundation Problems
Wide cracks in your walls or ceiling could point to a foundation or structural problems, and you should hire an engineer to find the reason. When it turns out the damage is caused by a damaged foundation, consult our foundation repair cost guide. Oftentimes, cracks are formed due to natural settling.
Water Damage Repairs
A common cause of ceiling discoloration is water damage. Water damage repair costs are usually separate from finding the leak and repairing that, though you might find a local handyperson or contractor who will give you a price for both.
If it is a roof leak, check our roof repair cost guide to calculate costs. Although prices vary, due mostly to labor prices in your area, most roof repairs fall between $150 to $1,500 for minor repairs, but more invasive repairs could cost up to $7,000.
Mold Removal
Mold is a primary concern with water leaks. When there is mold present, you will need to get it cleaned up before making repairs to the drywall. Mold can be hazardous to your family's respiratory system and presents grave health threats.
Get a professional mold removal service to prevent mold spores from spreading throughout your home. Mold removal services average $2,000 to $2,500 for major remediation projects. However, this is a necessary expense.
Plaster Removal & New Drywall
When you want to remove a plaster wall or ceiling in an older home, the price will include tearing out and removing the plaster and lathe. This removal process can be time-consuming and labor-intensive, so the expense will be much more than installing the new drywall.
For this reason, it's not recommended unless you have damage to more than 60% of your plaster walls. The average cost of removing the plaster and lath is $2 to $5 per square foot, in addition to the cost of installing new drywall of $1.50 to $3.50 per square foot.
If you are considering a DIY removal, including the cost of a dumpster to throw the removed material into will save a lot of cleanup. If you don't have any, include the price of gloves, face masks, and goggles, as tearing out the plaster will create tremendous dust that could contain dangerous toxins and lead paint.
See our drywall calculator to determine how many sheets of drywall and supplies you will need, or use our drywall cost guide.
Getting Drywall Repair Estimates
Many homeowners wonder if they should use a handyperson or drywall contractor to repair drywall damage. A general rule is if the damage is minor, using a handyperson could save money. Minor damage typically includes small holes, cracks, and popped screws.
If the damage is more extensive than 6″ to a foot, there is water damage, or demolition is required, then consider hiring a contractor for a more professional result and quicker completion.
Another unwritten rule is to get at least three estimates from professionals in your area. Check our free contractor locator to find them. Make sure they are licensed and insured to do the repairs.
All pricing information on this page is based on average industry costs, and is subject to variance for project-specific materials, labor rates, and requirements.