Cost to Repair a Foundation – 2023 Price Guide
Foundation problems can be the source of major headaches, but often they can be repaired by a professional. Compared to the cost of a new foundation, repairs are certainly an attractive option, and sometimes a necessary one.
Read on to learn more about the options for foundation repair and how much it could cost you.
2023 Foundation Repair Costs
Calculate local project costs by entering your zip code.
National Average Price
$

5,000

Typical Price Range
$

2,500

- $

7,000

Minimum Price
$

300

Maximum Price
$

15,000
Get free estimates from contractors near you.
---
---
How Much Does it Cost to Level or Repair a Foundation?
The cost of leveling or repairing a foundation depends on the problem, the extent of the damage, and, quite often, the type of foundation. Although the national average is $5,000, your problem could cost far less or much more.
Repair costs can start around $300 for small issues or cost as much as $15,000 for serious issues that impact your home's stability.
The most significant expense could be determining why the issue occurred. Other costs may be related to the type of foundation and how accessible it is.
To repair a problem in a full basement, where you can stand up straight and work freely, usually means the work will get finished more quickly.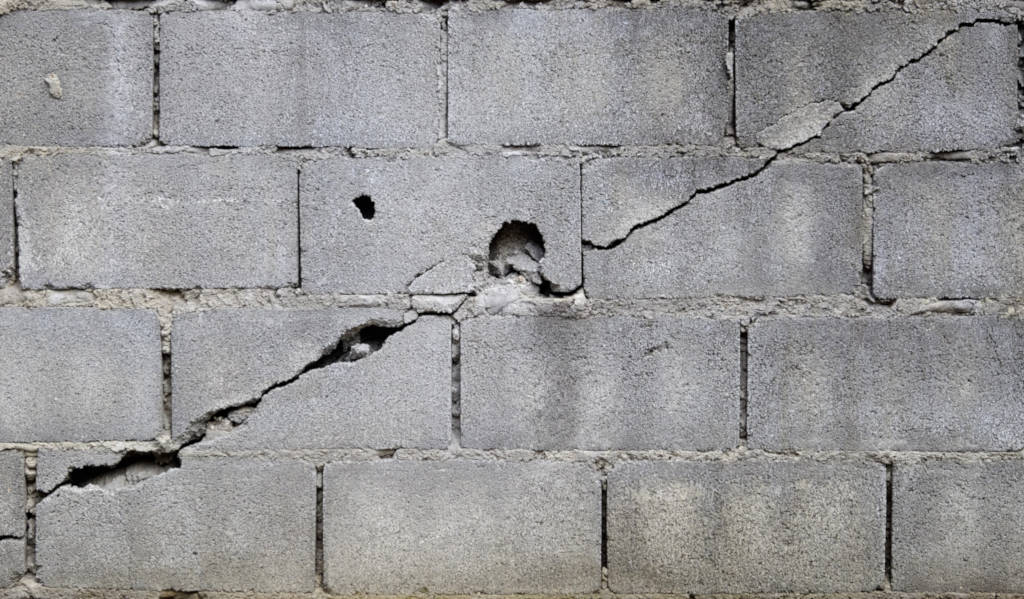 A needed repair within a crawl space, especially if hydraulic piers are required, will be costly. Anytime the house must be lifted to access and repair the foundation, expect costs approaching $10,000 or more just for this process.
Ultimately the cost will depend on the extent of the damage, the solution used to address the issue, and the contractor doing the work.[1]
We will look at four common foundation problems and possible resolutions and costs.
Four Major Foundation Problems
There are essentially four categories of foundation problems: leaking, cracking, sinking, or bowing floors or walls. Any of these problems could be severe or minor, but each could point to a complication from the house settling because of freeze/thaw cycles or soil erosion.
Even a severe problem does not necessarily mean you will need to replace your foundation; many issues can be repaired.
When a contractor tells you to repair or replace your foundation, you should get advice and estimates from three or more reputable contractors before you proceed.
Contractors generally provide a free estimate. However, be careful not to choose a contractor just because they are the cheapest option. Foundation problems could point to structural issues.
Cracking
Although common in older homes, cracks wider than an eighth of an inch are a reason to worry. Cracks are a sign of lateral soil pressure against the foundation.[2]
It's important to get the opinion of a trusted structural engineer. Cracks can often be filled with concrete mix, epoxy, or polyurethane.
If there is visible water damage, you should consider waterproofing. Depending on the severity, minor cracks can usually be cleaned out and repaired for less than $2,000.[3]
Leaking
Leaks point to a much larger problem with drainage around your home. When the foundation leaks after heavy rains or snow melting, you will likely need to address the drainage problem before repairing any damage caused by the water.
Minor problems, or if the foundation was never waterproofed, could require sealing and waterproofing the basement. The fix will entail materials, equipment, and labor but should stop the leaking.
If waterproofing does not solve the problem, contractors can dig around your house and install drainage. This installation could cost $2,000 – $5,000, but if not fixed, the problem could get worse and begin to weaken the concrete walls.
Installing additional waterproofing could add another $2,000 – $5,000, depending on the area.
Bowing
Bowing is usually caused by poor drainage or soil erosion. Bowing can cost $5,000 – $7,000 to address, with an average cost of $75 to $400 per square foot for repairing affected areas. Costs can be high for this type of repair, since excavation is required outside the wall, and a system is needed to support and straighten the walls.[4]
Sinking
The minor sinking of a slab in one area of the foundation could get resolved by foam or mudjacking. Provided there are no structural problems, the options for leveling and prices are discussed below.
Leveling Options for Sinking Foundations
Be sure to compare what each contractor says they will do to level or repair your foundation. How will they finish the concrete or walls after leveling? Will they brush, polish, or smooth the surface? Will they seal and waterproof the slab? All of these options add to the price of materials and labor hours needed.
Mudjacking
Mudjacking injects concrete mixed with pond sand into one-inch or two-inch holes drilled into the concrete to level the foundation. Mudjacking will cost about $3 to $8 per square foot on average.
You can safely figure around $350 or $800 for just mudjacking. You will need to add more for finishing, sealing, waterproofing, etc.
Foam Jacking
Foam jacking is similar to mudjacking; polyurethane foam is injected into holes to raise the foundation rather than sand and concrete. Foam jacking is more expensive, but lasts longer and fills smaller holes and cracks under the foundation. Foam is much stronger and better suited for raising load-bearing walls.
Foam jacking costs about $25 per square foot. So, without additional work, figure $2,350 to $2,500 for foam leveling of a 100 square foot area.
Hydraulic Piers
Contractors often use piers and steel beams to stabilize the foundation in areas where the soil might be shifting. Piers and beams cost about $1000 to $1500 each, but are worth it when used to stabilize the foundation and keep it from sinking.
Expect total costs to reach around $10,000 in most cases.
Foundation Repairs & Leveling General Information
Many handyman services will do the cosmetic repairs and waterproofing for much less than a general contractor. Although you will save money initially, if there are structural, soil, or drainage problems, it could cost a lot more long-term. You might pay more to get it fixed right, but paying what's necessary to get it done right the first time will add value to your home.
Although it might cost $200 – $400 extra to get the opinion of a structural engineer, it could prove necessary. After you ensure there are no structural problems, get three estimates to repair or level your foundation. If you plan to do some or all of the repairs yourself, you can use our concrete calculator to estimate the cost of materials.
All pricing information on this page is based on average industry costs, and is subject to variance for project-specific materials, labor rates, and requirements.
References
Erica Blue, How Much It Does Cost to Repair Foundation Issues?, Redeemers Group, https://www.redeemersgroup.com/about-us/our-blog/30791-how-much-it-does-cost-to-repair-foundation-issues.html
Matthew Stock, How Much Does it Cost to Repair a Foundation?, U.S. Waterproofing, https://www.uswaterproofing.com/learning-center/how-much-does-it-cost-to-repair-a-foundation
Allan Walters, How Much Does It Cost to Repair a Foundation?, Acculevel, https://acculevel.com/how-much-does-it-cost-to-repair-a-foundation/
Jennifer Billock, Selling a House with Foundation Issues? How to Keep the Deal Together Even When Your Home's Falling Apart, HomeLight, https://www.homelight.com/blog/selling-a-house-with-foundation-issues/