Cost to Install a Concrete Patio – 2020 Price Calculator
Concrete Patio Cost Calculator
Enter the size of your project and select the material and services you're interested in to estimate the cost of the project using 2020 price data. Continue reading below to learn more about what to expect for a concrete patio project.
---
---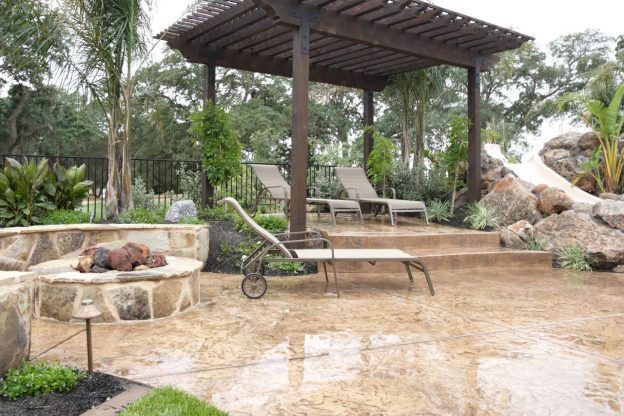 One of the most inexpensive and durable backyard patios is the concrete slab. Although concrete slab sounds dull and mundane, with the right treatment, you can create a patio that looks like something much more expensive.
Professionals can add color, texture, and custom designs to make your concrete patio to look like stone, brick, or marble.
Most people spend around $2,000 on a new concrete patio installation, though the price varies quite a bit depending on the size of the patio, the location, local codes, stamps, colors, and designs
The average cost for a 12′ x 12′ concrete patio is about $1,700, or $12 per square foot. The typical range for a concrete patio depending on design, color, and texture is $6 to $16 per square foot, or $864 for a plain slab to a vibrant custom design that costs $2,300.
A classic grey slab with a brushed finish and straight lines will be closer to the $6 per square foot range. On the other hand, a stamped, colored, and stained slab with curves might be closer to the $16 per square foot range.
Before deciding on a concrete patio, consider all the options available, and compare the prices of each with our patio installation cost guide. Although stamped concrete can create a look similar to brick, paver, or stone, you might prefer the actual material.
Patio Size
The patio size is a substantial consideration as it determines the volume of concrete required for the project. Concrete is sold by the cubic yard, and it will require more concrete to fill a larger slab. Use our concrete calculator to estimate how much material you'll need for your patio.
The size of the patio will also dictate the cost of the base. The base is the layers of material used to build up a "foundation" for your patio.
The better your support structure, the fewer repairs it will need, particularly in colder climates where the ground freezes and thaws each year. These freezes and thawing can cause the ground to shift, which could cause the patio to crack. A solid base reduces movement below the patio due to shifts in temperature.
Patio Location
The accessibility, soil quality, and slope of the property will all factor into the labor required for a patio installation. If the concrete mixer truck cannot get into the site to pour it, the mix must get moved by wheelbarrow, which will add to the cost of labor.
A deeper base for the concrete patio is necessary due to its location. Soggy or wet locations might also require installation of drainage. Additional grading or demolition of an old patio may also be required, depending on the location.
You will need to dispose of the demolition and a typical 40-yard dumpster costs around $500 per week. That fee might not include dump fees that could be $200 or more. Plus, the contractor might need to rent a jackhammer and more personnel to break up the old patio.
Concrete Stamping, Colors, & Designs
While a standard size square or rectangular patio is easy to form, complicated ovals, circles, and other intricate custom designs add labor and costs. A plain design could cost $3 to $6 per square foot; whereas, elaborate designs with color could cost up to $16 per square foot or more.
Stamped Concrete
Adding texture, stain, or complex borders will add significantly to the price of your patio. A skilled contractor can make your concrete patio look just like a brick or stone patio for much less.
Applying a stamped texture increases the amount of labor required for the project and adds equipment costs as well. Vertical edges can also be stamped to add detail to exposed edges. Adding a stamped finish can add $4 to $8 per square foot to the cost of the project.
Stained and Colored Concrete
When you want a different color than the sullen gray of concrete, a professional can add color/stain to the mix or in the sealant. Adding color to the mix will typically add about $.50 – $.75 per square foot and darker colors cost even more.
A stain can also be added after pouring to achieve a two-tone color effect and build depth. This is typically done by applying stain in the form of a powder when stamping the concrete.
Concrete Sealer
A good top-layer sealer is necessary to keep the concrete from chipping and flaking. However, adding a stain to the sealant requires more laborers to achieve a uniform color. This process adds about $1 to $2 per square foot.
Add-ons
You might also be interested in adding a pergola, seating, or a fire pit. A fire pit is an excellent addition at an average cost of $700.
DIY Concrete Patio Costs
When you DIY, you should have the following tools, supplies, and materials:
2″ x 4″ and 1″ x 6″ wood to create forms
Wood stakes
Screws and fasteners
Geotextile, sand, and gravel for the base
Concrete mix or delivery
Water
Broom
Leveling trowels
Concrete sealant
The materials will cost about $500 – $600 for mid-sized 12′ x 12′ patio. You can use stencils and dyes after your concrete is dry, multilevel slabs with or without steps, pea gravel or stone borders, and much more. Your imagination and budget are the only limits to the design possibilities.
However, when you do not feel comfortable with a concrete project, you should consider hiring a professional. You only have one chance to get the finish right.
Hiring a Concrete Professional
When you're ready to hire a pro for the job, use our concrete patio contractor locator to get three or more hassle-free estimates.
Before settling on a contractor, landscaper, or handyperson, compare their statement of work. Some will only look at the estimated price without comparing what the contractor intends to do. Then, when the job is complete, they realize it doesn't look at all like they envisioned.
Be sure to also check their liability insurance, references, and BBB rating.
All pricing information on this page is based on average industry costs, and is subject to variance for project-specific materials, labor rates, and requirements.