Cost to Install a Screen Porch – 2023 Price Guide
A screened-in porch is great for spring and summer entertaining or just relaxing in the shade of your porch without bothersome insects or pests. The cost of a screened-in porch can vary widely, depending on what you are starting with and how big your plans are.
We'll cover the most popular porch options and the average price for each in more detail below.
2023 Screen Porch Costs
Calculate local project costs by entering your zip code.
National Average Price
$

20,000

Typical Price Range
$

15,000

- $

30,000

Average Price (per square foot)
$

65

Typical Price Range (per square foot)
$

60

- $

80
Get free estimates from contractors near you.
---
---
How Much Does a Screen Porch Cost?
If you are just adding some exterior screen to an already completed porch, then you can get it done very affordably, even more so if you're doing it yourself. Costs to add screens to an existing porch run $3 to $5 per square foot for material or $5 to $7 per square foot installed. This has an average of $2,400 for most homeowners.
Building a new screened porch commonly costs $15,000 – $30,000, but most spend $20,000 on the project. This involves building a new porch, including roof and flooring, as well as screening it.
Keep in mind that costs can go as high as $45,000 or more, depending on size and material. Consider, however, that on average, most homeowners are able to recoup 75% of the cost of the installation through increased resale value of their home.[1]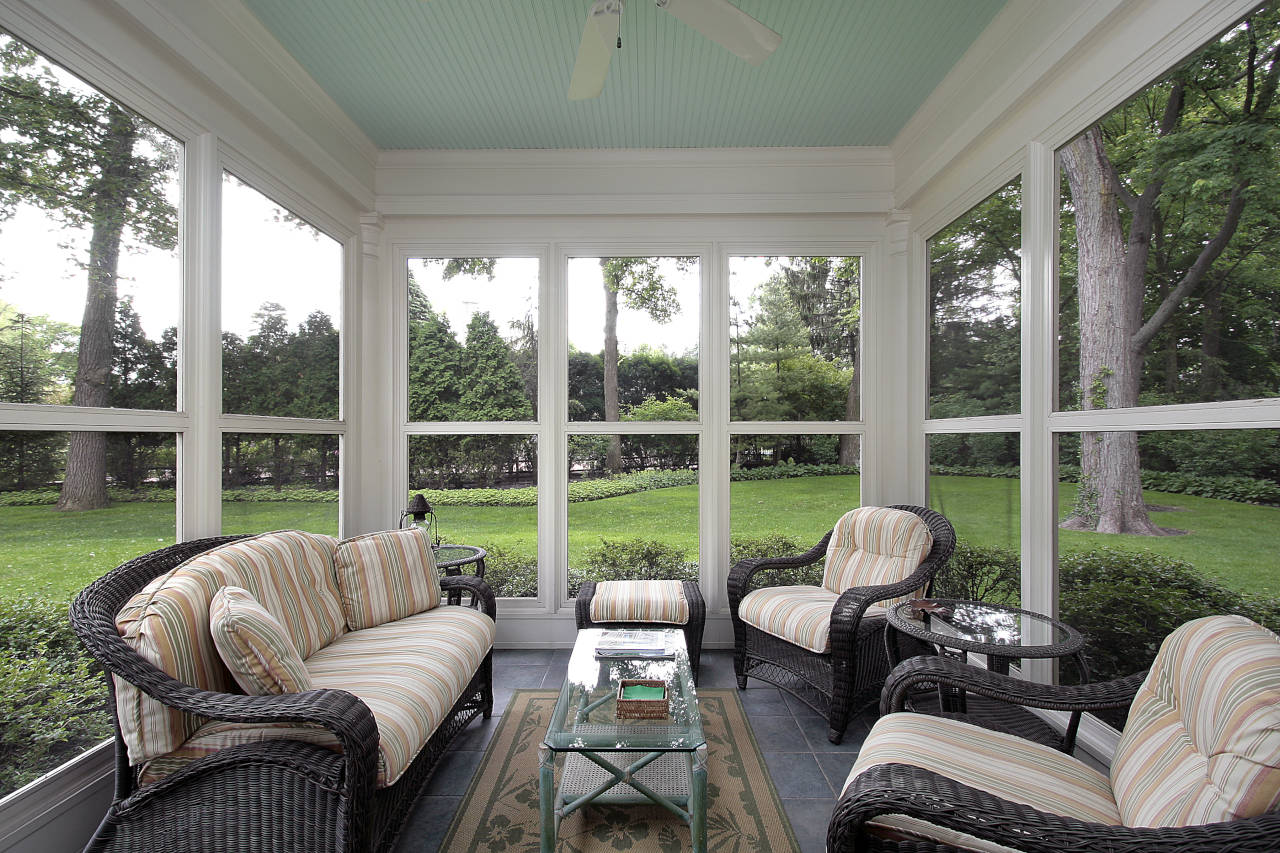 Whenever you are building an addition to your home, the first stop is the building inspector. The building inspector's office can tell you if you need a permit.
Chances are, if you are just adding screens, you won't need a permit. But, the safest method is to ask, then you won't have to worry about delays or fines. A permit, if required, could cost an additional $200, depending on the location.
By the way, the cheapest time to contract a screened-in porch is after the summer season, as contractors are slowing down after their busy season.
Just Screens
If all you want to do is add screens to a porch that is already framed and covered, you will need rip-resistant screen, laths, tacks or screws, and paint or stain. There are basically five materials used for screens.
Let's look at them in order from least to most expensive:
Fiberglass – $0.15/sq. ft.
Aluminum – $0.30/sq. ft.
Polyester – $0.60/sq. ft.
Steel – $1.00/sq. ft.
Bronze – $6.00/sq. ft.
Copper or Monel – $6.00/sq. ft.
Copper or Monel, as well as bronze, takes on a beautiful patina when it ages and looks uniquely attractive. There are also expensive alternatives, such as screen panels that are much easier to install but are about $50 a panel.
Plus, there are Crimsafe, Crime Shield, and others. However, a screen porch with these materials is costly; as much as $4,000 – $5,000 just for the screens for a small porch.
To buy the materials and DIY 100 sq. ft. porch with fiberglass or aluminum, you can figure $450.[2] Labor will add about $300, but labor prices depend on the area. Don't forget to screen under the deck, unless you have a sealed floor.
Frame & Screens
When you need to frame the porch before adding the screens, consider that screening material is available in various widths, but the most common widths are 36, 48, or 60 inches. When framing, ensure that you place a stud where the seam will fall between multiple sections of screen. If you DIY, figure two people will take two days, depending on your experience level.
You can get a kiln-dried 32" screen door with hardware for less than $200 at Amazon, Lowe's, or other building supply stores. Don't forget the rubber sweep to keep the bugs out. Then, all you will need to do is stain or paint it.
This DIY project will cost around $6.85/sq. ft., so a 100 sq. ft. frame and screens will cost a minimum of $685, depending on what else you add.
Completely New Build
When you are adding a complex structure, you might want to hire a designer to draw your plans, which will add $200-1000. A basic screened porch usually has a floor of concrete, pavers, or tiles, as well as the frame, and a roof along with the screening. This all has an average cost of $4,800 to $24,000, depending on the materials you use and the size of the project. You will have to add extra for ceiling fans, lights, electrical outlets, etc.
Because of the additional support and roof structure, a porch will cost more than a new deck.
Roof or Awnings
Before you decide to add a roof and screen to your porch, check with the building inspector's office or contractor to make sure it can hold the additional weight. You might need to add more supports in the way of piers, beams, or new footings.
The significant difference is price and portability. You could continue with the same roof theme as the rest of your home. You or the contractor will have to frame it out and sheath it, and then cover it with the same material as your roof.
The price is about the same, except the number of square feet to cover is smaller. The cost per square (100 sq. ft.) will depend on your current roof type, with materials like shingles costing $160-300 or metal roofing costing $1,400-2,200. Expect labor to cost $300 or more per sq. ft.
Most screened porches use either asphalt shingles or an aluminum patio cover.
When your porch can't hold more weight, and you can't afford new supports and roof, consider awnings. Awnings are made from several different materials, from canvas to metal. Awnings are a lot cheaper than a roof but are not as sturdy and might need regular maintenance.
Get Estimates
Once your design is complete, check with the building inspector's office, insurance, and tax assessor. Then, if you are not planning a DIY, get at least three estimates. Check their proposal carefully to ensure it meets your plans and expectations. Enjoy your screen porch.
All pricing information on this page is based on average industry costs, and is subject to variance for project-specific materials, labor rates, and requirements.
References
The Porch Company, Does a Screened Porch Add Value to a Home?, https://porchco.com/ask-the-porch-company-does-a-screened-porch-add-value-to-a-home/
Glenda Taylor, So, You Want to… Screen In a Porch, Bob Vila, https://www.bobvila.com/articles/how-to-screen-in-a-porch/