Cost to Install a Pergola – 2023 Price Guide
A Pergola can be a stunning addition to your backyard landscaping. We'll cover the most popular options to consider for your pergola with the average price of each in more detail below.
2023 Pergola Costs
Calculate local project costs by entering your zip code.
National Average Price
$

3,500

Typical Price Range
$

2,000

- $

5,000
Get free estimates from contractors near you.
---
---
How Much Does a Pergola Cost?
These open-roofed, lattice-type structures get placed almost anywhere to accent landscaped designs and constructions. Commonly, Pergolas are used as shade for seating areas next to the pool or hot tub.
Additionally, you can construct a Pergola over an alley passageway into your backyard or as an impressive entrance to your garden. You can increase the charm of these structures with the use of climbing vines. Pergolas are an excellent choice to shade a backyard patio, fireplace, or fire pit.
On average, adding a pergola will cost around $3,500 for a professional installation,[1] and most spend between $2,000 and $5,000 for the project.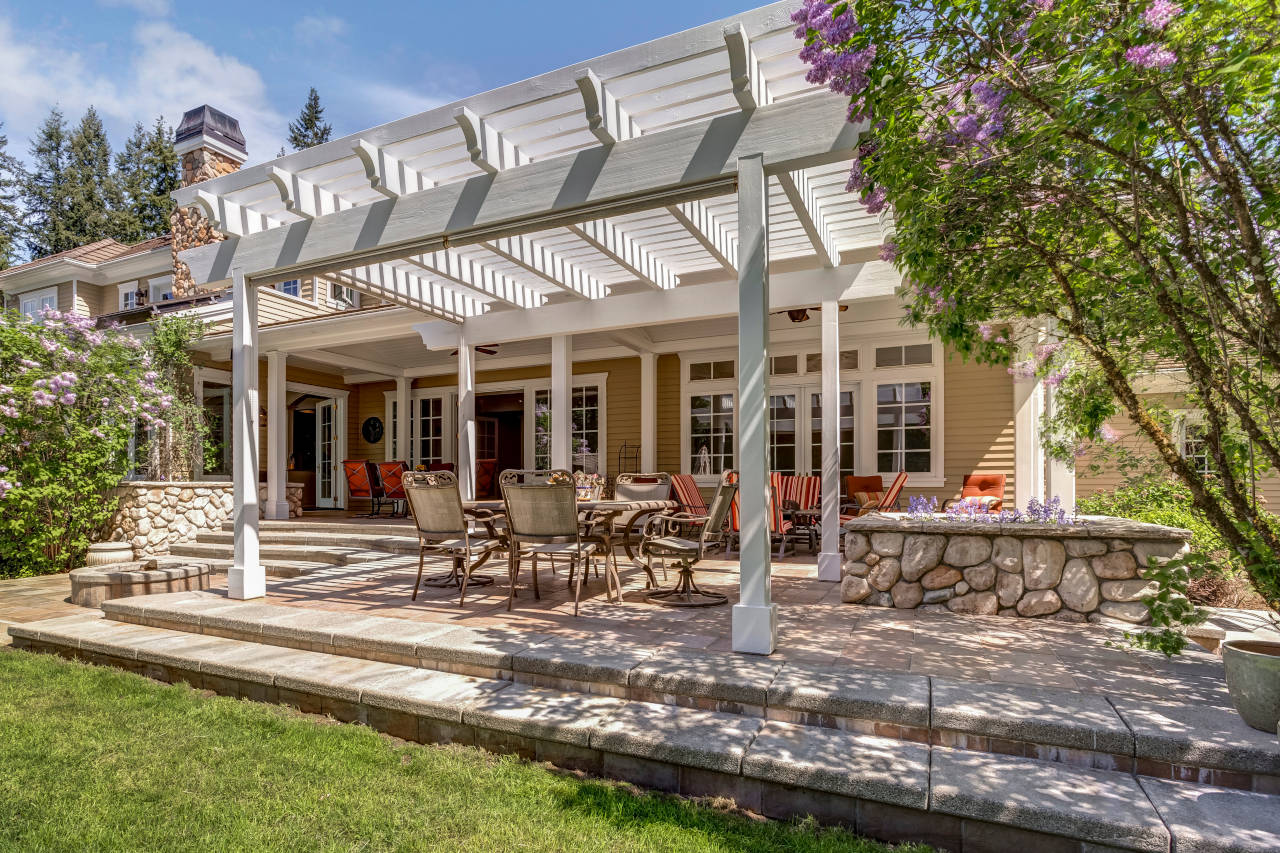 How much you will ultimately pay for your backyard Pergola will depend on if you use a prefab pergola, a DIY design, or hire a professional landscaper to design and build yours. Other factors include the complexity of design, materials used, and size.
Prefab Pergolas
The advantage of using a prefabricated pergola kit is, of course, that they are pre-built for you and are much easier than building from scratch. Pricing for labor is also much more straightforward since a contractor can look at the plans and give you a more exact price because they know what they have to do.
You can buy prefab Pergola kits in a variety of styles, sizes, and prices from your local building supplies store. Prefabricated pergola kits range in price from $500 to over $2,000 depending on the size and quality of the kit.
Also, many homeowners are looking for alternatives to wood pergolas that offer lower maintenance. Materials such as aluminum, vinyl, and PVC require far less maintenance than wood.[2] Vinyl or aluminum prefab kits typically cost between $1,000 and $5,000, depending on the size and features.
Material Costs and Upgrades
Add-ons such as high-grade lumber or a mist producing system will also increase the price. Misting systems keep your family and guests cool, but can increase the costs by around $2,500.
You can add prefabricated trellises and arbors to create stunning additions to your pergola. Figure another $100 – $500 each for these additions.
Higher grade lumber such as redwood or teak will dramatically increase the price of materials compared to pressure treated lumber or cedar.[3] Aluminum or vinyl kits will also cost more than pressure treated lumber, though they look much nicer in many cases.
Labor Costs vs. DIY Install
A significant cost in any pergola installation is the cost of labor in your area. Labor pricing varies throughout the nation, but on average most contractors will charge $500 to $1,000 in labor for a typical project.
As the size and complexity of the project increases, so will the cost of labor for the installation. Get several free estimates for a pergola installation for a much more accurate assessment of how much your pergola will cost.
You can buy a prefab pergola and install it yourself with the right tools, time, and talent. Prefab kits come with detailed instructions, so with a little skill and the right tools, it will go up without many complications. It's a bit more complicated to design and build your custom pergola. However, if you have the woodworking skills, tools, and the time, DIY is an excellent cost-saving option.
Whether you use a prefab kit or custom design or go DIY or professional, always consult the local building inspector's office for permits. Also, check with the utility company if you plan to run gas lines or dig supports for the columns before you dig.
Our gazebo cost guide might also be a helpful resource if you're considering that option as an alternative to a pergola. You might also be interested in our other deck and patio installation resources.
All pricing information on this page is based on average industry costs, and is subject to variance for project-specific materials, labor rates, and requirements.
References
David Stephan, Transform your backyard into a paradise with a pergola, Offerpad, https://blog.offerpad.com/transform-your-backyard-into-a-paradise-with-a-pergola/
Backyard Discovery, Modern Pergolas: Everything you Should Know, September 28, 2020, https://www.backyarddiscovery.com/blogs/swingsets-and-playsets/modern-pergolas-everything-you-should-know
Genevieve Schmidt, Wood Pergolas, Landscaping Network, https://www.landscapingnetwork.com/pergolas/wood.html