Cost to Remove Popcorn Ceiling Texture in 2023?
Are you considering removing an old popcorn ceiling? If so, you might be wondering how much it might set you back. We'll cover the cost of the project in detail below.
2023 Popcorn Ceiling Removal Costs
Calculate local project costs by entering your zip code.
National Average Price
$

1,700

Typical Price Range (per square foot)
$

1

- $

2
Get free estimates from contractors near you.
---
---
How Much Does it Cost to Remove a Popcorn Ceiling?
During the '50s, up through the '80s, "popcorn" textured ceilings were immensely popular. In some areas, it is also called acoustic or cottage cheese texture. This design scheme was recommended and lauded by both builders and buyers for its simplicity and demand.
Builders and contractors loved it because it was thick and could cover most of the imperfections during finishing, and they did not have to spend time sanding the joint compound or concern themselves with nails that popped back out a little.
Fast-forward to today and many desire alternate textures such as knockdown or flat ceilings. Although the national average is close to $1,700 to scrape the ceilings for the entire home, what you will pay to have popcorn texture removed will depend on several factors. You can figure $1.00 – $2.00 per square foot when there are no special circumstances or hazardous conditions.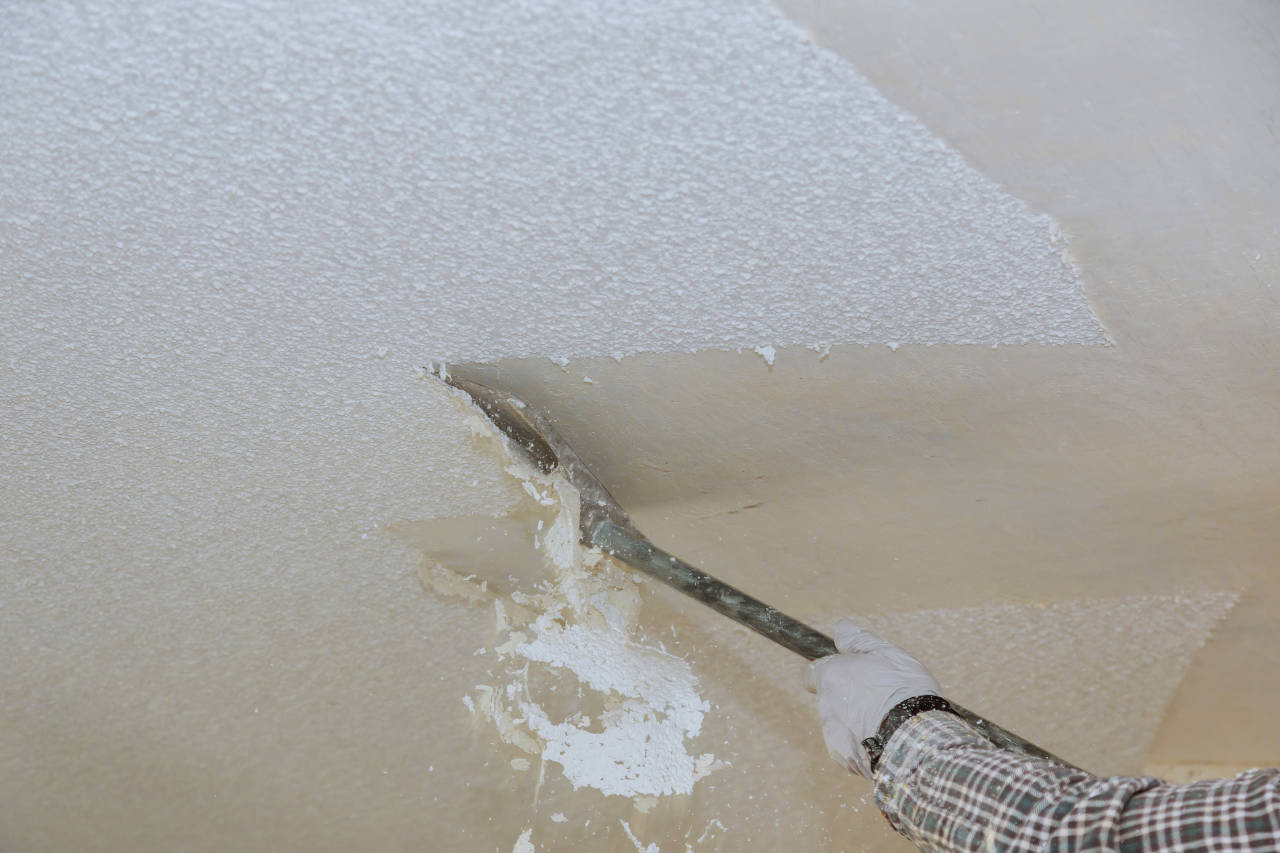 Labor Costs
The bulk of the cost of removing popcorn ceiling texture comes in the form of labor. Labor rates vary throughout the country but are usually around $25 to $50 per hour. Some contractors will charge by the hour while others will do a scraping project for a flat rate.
Repair Work Pricing
If you have any repairs to do, the cost will go up a bit to address the imperfections. This is a good idea to do before applying a new texture. Repairs usually range from as low as $100 to around $1,000 if the damage is extensive.
Water damage is a common issue in older ceilings. If you do encounter water damage, make sure there is no mold in the area. If there is, you might need to hire a specialist to remove the mold before you get started. A mold removal service could cost around $2,000 – 2,500 if the water damage and mold is severe.
The cost to repair a ceiling will be much less if it's done at the same time as scraping the ceiling and applying a new texture due to the efficiency of doing all the projects at the same time.
Check out how much ceiling repairs generally cost before you scrape your old ceiling.
If you need to repair large amounts of drywall, it might be more cost-effective to replace all of it. Try our drywall calculator to determine how much you will need if it's extensive, and learn more about the cost of full replacement with our drywall cost guide.
Asbestos Ceiling Texture Removal Costs
Prior to its ban in 1977, asbestos was used in 75 – 90 percent of building products. Most believe it was just in the insulation, but it was also found in roofing shingles, joint compound, floor tiles, and among others, decorative texture sprayed-on ceilings.
Some manufacturers and the unsuspecting public thought asbestos was just an exceptional fire-retardant. However, some manufacturers knew of the health hazards long before the ban. Sanding or scraping the texture to remove it will release the microfibers. These fibers aggravate a person's lungs and are known to cause mesothelioma, a fatal form of lung cancer.[1]
You cannot see asbestos with the naked eye, and a qualified expert must take a sample and send it to the lab. The lab test is around $100, and should be done if your ceiling texture was installed before 1977.
The national average to completely remove asbestos from a house without regard to the asbestos' location is right around $2,000. The price per square foot for removal is $20 – $65, which includes pre-cleaning, testing, setup, encapsulation or enclosing, cleanup, and disposal.
Get Estimates to Remove Texture
A permit, if required, could cost from $20 to $100 or more, but most localities don't require a permit for this kind of work. You should get at least three estimates for the project.
If you are only getting the texture removed, and you plan to prep and paint the ceiling yourself, the lowest price is probably the best option. However, if you will have them compound, sand, prime, and paint, you should scrutinize their statement of work to ensure everything is equal for the work they say they will perform.
All pricing information on this page is based on average industry costs, and is subject to variance for project-specific materials, labor rates, and requirements.
References
American Cancer Society, Asbestos and Cancer Risk, https://www.cancer.org/cancer/risk-prevention/chemicals/asbestos.html