Cost to Install a Light Fixture – 2023 Price Estimates
Want to install a new chandelier in the dining room? Need a new strip of track lights placed in the bathroom? Or maybe you'd like to add an accent light to highlight a piece of art? Whatever the reason for installing a new light fixture, you might wonder how much it will cost to have installed.
2023 Light Fixture Installation Costs
Calculate local project costs by entering your zip code.
National Average Price
$

400

Typical Price Range
$

150

- $

500

Typical Price Range (per hour - labor)
$

50

- $

100
Get free estimates from contractors near you.
---
---
How Much Does a New Light Fixture Cost?
When you can use the existing wiring, installing new light fixtures will cost whatever you pay for the light itself, plus $50 – $100 per hour for an electrician to install them. Most people spend $150 to $500 to install a light fixture; the average is right around $400.
For a single simple and inexpensive fixture, you might get it done for under $100, but when adding dimmers, a more expensive fixture or a fixture that is difficult to install can raise the price considerably.
Other factors to cost include adding new wiring, replacing outdated wiring, tearing out wall coverings, making repairs, and updating service panels to support more current draw for larger fixtures.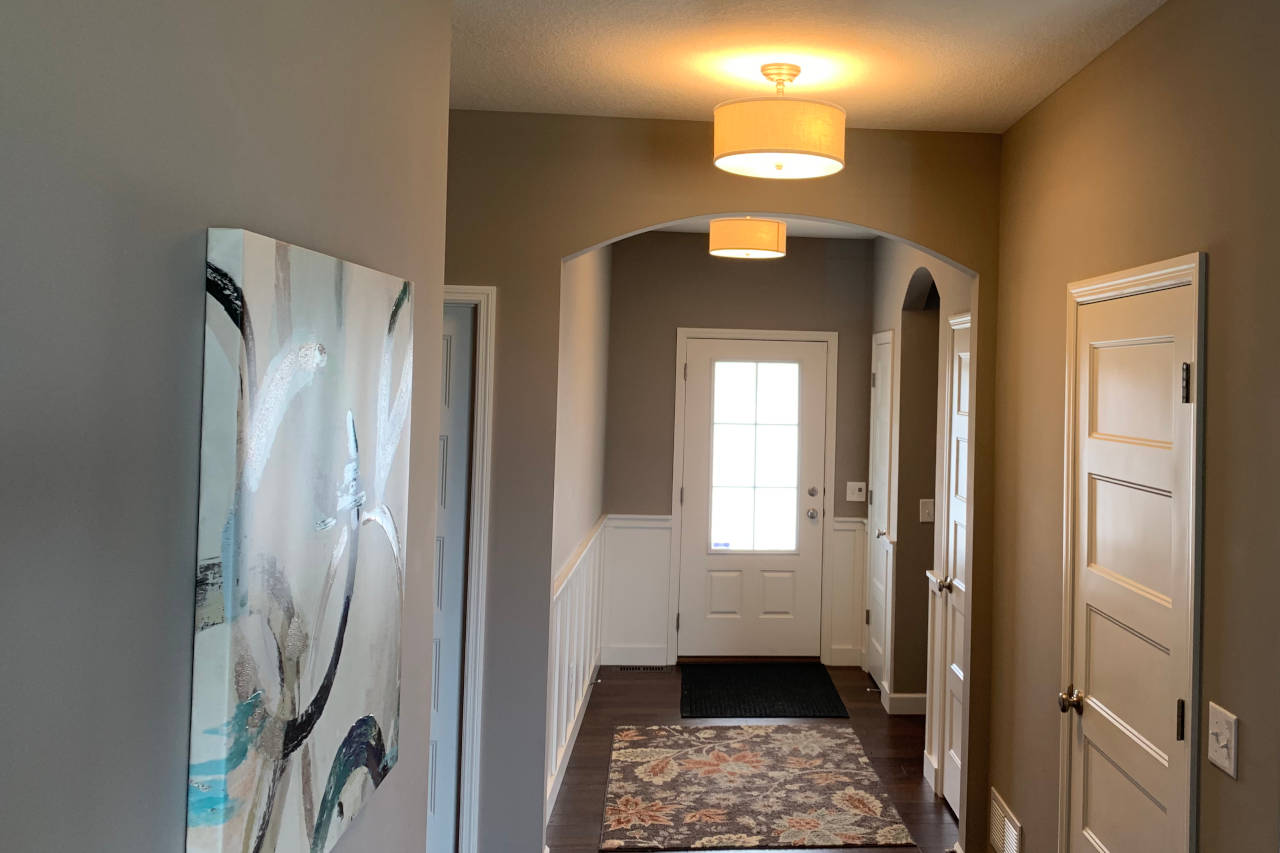 Light Fixture Cost by Type
How much each fixture costs to install depends on the amount of work needing to be done to put in the new fixture and light safely.
Traditional Light Fixture, Ceiling or Wall-Mounted
Most traditional ceiling or wall-mounted lights are uncomplicated and take a skilled electrician longer to set up than to do the actual work. Inside the wall or ceiling mounted on a stud is a metal or plastic box with the electrical wires running into it. The wires also can run to a wall switch and the circuit breaker panel or fuse box.
As long as the amperage needed for the light is sufficient, installing the new fixture averages around $150 – $200, unless the light fixture is an intricate chandelier with multiple lamps.
Chandeliers
Most chandeliers cost $150 – $500 for the installation. The cost varies depending on the cost of the fixture, whether the electrician can use the existing wiring if the ceiling can support the chandelier, and if the wiring and circuit breaker can support the number of lamps in the chandelier.
Another cost consideration is the weight of the chandelier. When you install a large chandelier, you should use a heavy-duty electrical box or fan brace.
Never hang a chandelier from its wiring; use a fan brace or chain tied into a ceiling joist. A fan brace gets used to support ceiling fans that not only weigh more than most light fixtures, but the twirling motion of the fan pulls on the electric box as well. An adequate fan brace will support up to 150 pounds, and most chandeliers.
Track & Strip Lights
Track lights or strip lights come in a wide variety of designs that typically have several lights mounted or built-in. They are used to accentuate room décor or provide a spotlight to a location where you need extra light, such as a puzzle table, craft center, or reading chair. If an electrician can tie the supports into existing joists with drywall screws and use the existing wiring, it will cost around $150 – $250.
A Recessed Light
Recessed lighting is always more complicated than just tying into the existing wiring and supporting the light. Recessed lights need to be mounted inside the ceiling, walls, or cabinets, so the "can" or "pot" is not visible. This usually requires cutting into the area where the light will be recessed.
Drywall is easy to cut into with a utility knife, and the lips or frame of the light will cover the cut area. However, cutting into cabinets requires a jigsaw with a fine blade to ensure the wood, veneer, or laminate is not damaged.
Installing a recessed light usually costs $150 – $200.
Pendant Light
These light fixtures are lightweight and easy to install, usually without any additional support required. Installation can be done in an hour or two and costs about $150 – $200.
Fluorescent Light
You most often see fluorescent lights in garages and workshops. However, many homeowners with dropped ceilings employ fluorescent lights recessed behind a decorative panel.
Fluorescent lights use low power bulbs, so these can quite often get tied into the current wiring and switches unless you want something special. It will cost about the same as any ceiling-mounted light at $150 – $200.
Permit Costs
Installing a new fixture using existing wiring often does not require a permit, but if you're altering the wiring in the structure you'll likely need a licensed electrician to perform the work, and many localities will require a permit and inspection for the project. The cost of a permit varies by location from $20 to $100+.
Get a Quote From an Electrician
Now that you have an idea of how much the average light fixtures cost to install, you should get at least three estimates for your specific job. You should always get estimates from electricians in your area.
You might also be interested in our electrical calculators.
All pricing information on this page is based on average industry costs, and is subject to variance for project-specific materials, labor rates, and requirements.