Cost to Tile a Shower – 2023 Cost Estimator and Price Guide
Use our project calculator to estimate the price of tiling a shower or continue reading below to learn more about the costs of the project.
Tile Shower Cost Calculator
Enter the size of your project and select the material and services you're interested in to estimate the cost of the project using 2023 price data. Continue reading below to learn more about what to expect for a tile shower project.
---
---
How Much does Tiling a Shower Cost?
How much you will spend to tile a shower depends on many factors. The size of the shower, preparation, use of waterproofing and backer board, type of tile used, and whether you can DIY or must hire a professional installer are just some of those variables.
The price to tile a shower averages about $20 to $30 per square foot, but depending on the selected material, the price can vary widely. The standard shower is 90 – 100 square feet, and you will need an additional 10 – 15 square feet for the floor if you don't use a shower pan.
Therefore, the average total cost to tile a shower is $2,875. However, the typical range is $1,000 to $3,500.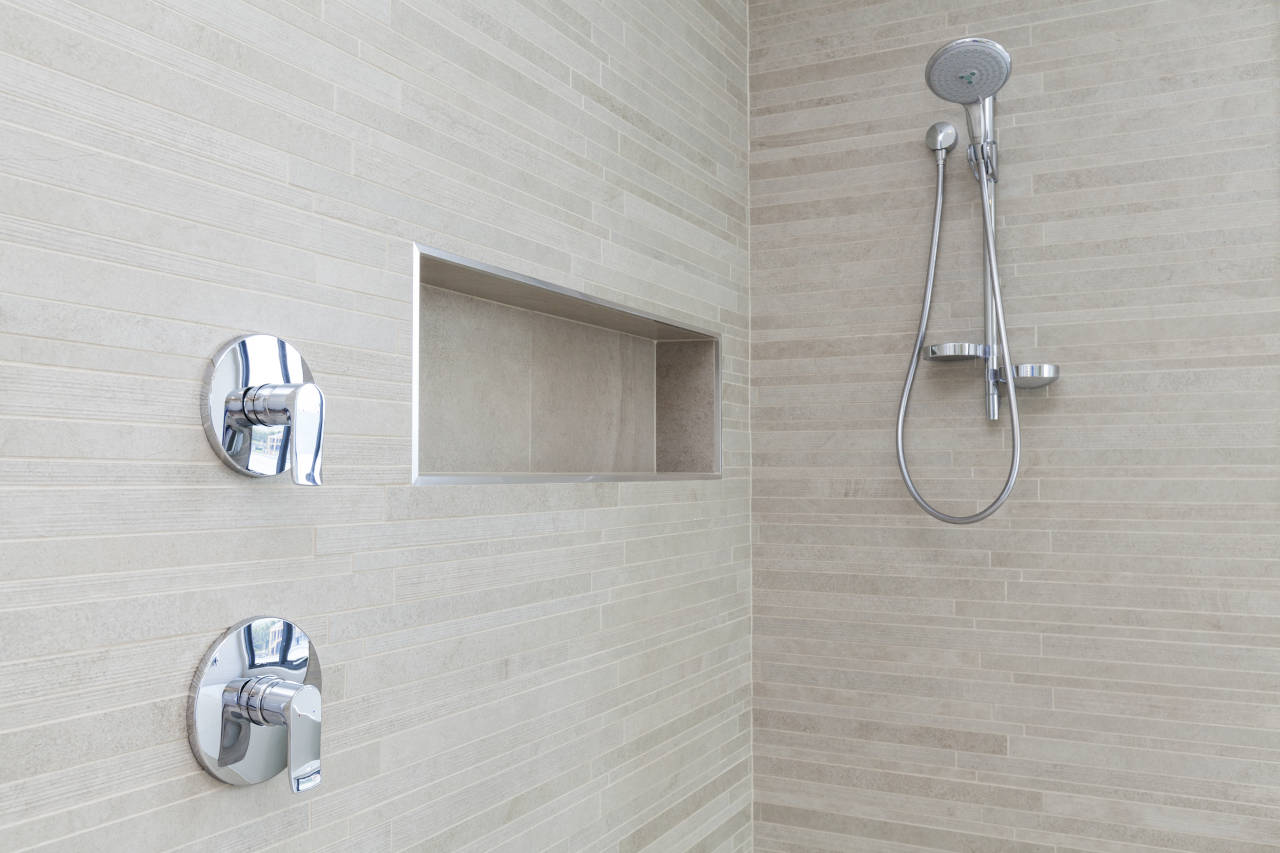 If you're hoping to freshen the look of an existing shower, it might be worth comparing the cost of cleaning tile and grout. Although a cleaning might be around $450, it could be much cheaper than the cost of new tile. Tile repair is also an option in some cases.
If you're installing a new shower, consult our shower installation cost guide to learn more about the total cost of the project.
Average Tile Material Prices
The following are the different types of tiles available and the price for the material; this does not include installation. Prices are shown in square feet, try a calculator if you're unsure how large your shower is.
Ceramic Tile Prices
Ceramic tiles can cost as little as 50 cents or up to $15 per square foot.
Porcelain Tile Prices
Porcelain, a little higher quality than ceramic, costs $3 to $12 per square foot. Porcelain is also tougher and more water and stain-resistant than ceramic, so it's an excellent choice for the shower.
Travertine Tile Prices
Travertine cost about $2 to $3 per square foot.
Slate Tile Prices
This natural gray stone costs $3 – $4 per square foot, but it is very durable, as are most stone tiles.
Limestone Tile Prices
This natural stone costs about $5 per square foot.
Granite Tile Prices
This natural stone costs about $3 to $7 per square foot.
Marble Tile Prices
Marble, at $8 to $10 per square foot, is one of the most expensive stone tiles.
Herringbone Tile Prices
Herringbone costs $15 to $17 per square foot.
Glass Mosaic Tile Prices
Glass mosaic tiles cost $6 to $30 per square foot. These come in various shapes, sizes, and colors to create an amazing mosaic in your shower.
Use our tile calculator to estimate how much material you'll need for your project.
Preparation Costs
The tile for a new shower costs more than to retile because there is more preparation necessary. The contractor will need to add backer board, waterproof, clean, prime, and then add tiles.
Backer board usually costs $5 – $6 per square foot to install, and waterproofing usually costs another $1 – $2 per square foot.
If the tile installer and plumber need to also construct a custom shower pan for a tile floor, this could add $700 to $1,250 to the price.
After the tiles dry for 24 hours, the installer will then add grout to fill in the lines and clean with a sponge. A sealer is also recommended for wet areas to protect the grout and natural stone.
The Pattern Matters
Diagonal and other patterns, as well as multicolor designs and murals, will cost the most. Intricate patterns, such as diagonal or herringbone, take longer to install and increase the labor charge.
Plus, diagonal cuts can waste up to 25% of the tile, but these designs are some of the current trends for shower tiles. See more tile patterns to select from and learn how much extra material might be needed for each.
DIY Savings
Tiling or retiling your shower might give you a sense of satisfaction, but tiling takes a specialized skill. Professionals have the expertise to correctly waterproof the area to prevent future leaks and water issues.
Professionals also know how much tile and other materials to buy and will likely waste less than a DIY. Experienced installers can quickly space grout lines because it is an acquired skill.
Tiling a shower can be a complicated project, but it is possible to do the project yourself if you have the time and talent to do so. However, if you feel unsure, you should consider hiring a professional.
Installing tile yourself is also a great way to save on the costs of a bathroom renovation.
Hire a Professional Tile Installer
When you're ready to tile your shower, try getting free estimates from experienced tile installers in your area. We suggest getting a few estimates to get a few opinions on the project and design, and also to ensure you get a fair price.
All pricing information on this page is based on average industry costs, and is subject to variance for project-specific materials, labor rates, and requirements.