Cost to Install a Bathtub – 2023 Cost Calculator and Price Guide
The bathtub is quite frequently the centerpiece of a bathroom remodel or new bathroom. The bathroom is the second most common room to remodel in a new home purchase and offers the most significant return on investment (ROI).
Estimate the price of the project using our calculator, or continue reading below to learn more about the cost of a bathtub installation.
Bathtub Installation Cost Calculator
Configure your project below to estimate the cost using 2023 price data. Continue reading below to learn more about what to expect for a bathtub installation project.
---
---
How Much Does it Cost to Install a Bathtub?
The average cost to install a new bathtub is $2,500, and most people spend between $1,000 and $5,000 for the project. Several key factors will affect your budget.
The expense has a lot to do with what you need to get done. Factors such as a tub replacement, the type of tub, the necessary or optional fixtures and hardware, drains, whether you choose a fiberglass or tile surround, and the cost of labor in your area impact the price.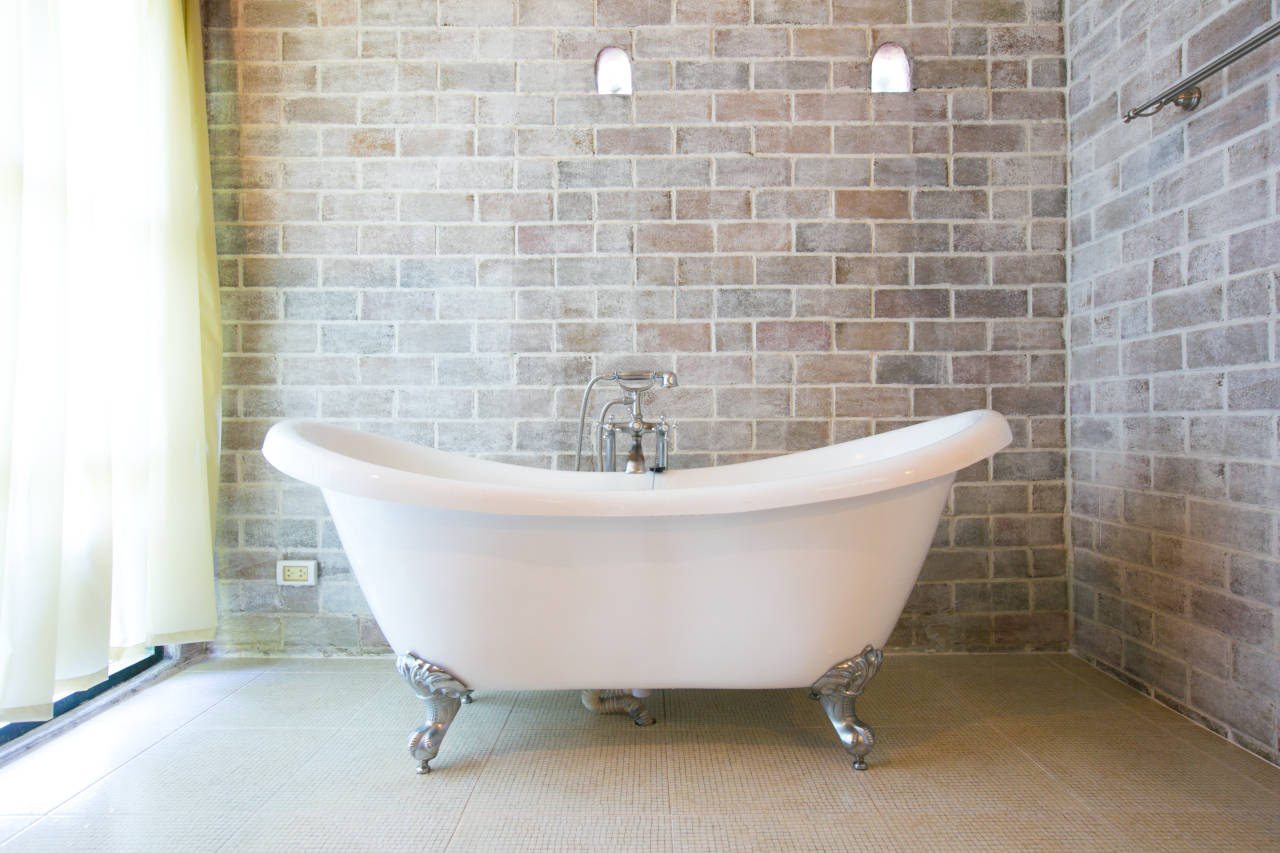 Average Bathtub Prices
The type of tub selected will have a direct impact on the cost of the project. Different styles will have different costs for the parts but also require a different amount of time to install.
Fiberglass or Acrylic Tub Cost
Acrylic and fiberglass tubs offer a glossy, smooth white non-porous finish. They are a great option because they are very affordable compared to classic cast iron varieties. They are also easy to form and embellish with design elements, making them very attractive.
Acrylic is usually slightly more expensive than fiberglass, but you can find a tub in either material for about $250 – $500.
An acrylic or fiberglass tub costs about $500 to $700 to install.
Cast Iron Tub Cost
Tubs have classically been made using cast iron due to the ability to form it and the durability of the material. Enameled cast iron tubs are still available, and often run $450 – $800.
A cast iron tub costs about $500 to $700 to install.
Shower & Tub Combination Cost
These are always a good choice when you have a small bathroom or want a cost-effective option. A combination shower and tub usually costs $300 to $700 for the tub and surround. You can usually figure about $600 to $800 for labor to install the tub, surround, and fixtures.
If you're replacing a standalone tub with a combination, you will need additional water lines to the showerhead, which could add to the cost of installation.
Check out our shower installation cost guide to learn more about the cost of installing a shower.
Whirlpools, Jacuzzis, or Jetted Tub Cost
These tubs will typically have different plumbing requirements than the standard tub and cost more to plumb. The tub itself can cost anywhere from $800 to $2,000 or more.
In addition to specialized plumbing, jetted tubs often require customized framing to support the heavier load and unique dimensions of the tub. This will usually require some carpentry in addition to a plumber.
The installation will vary depending on job-site conditions but expect to pay $2,000 or more for plumbing and carpentry to install one.
Clawfoot Tub Cost
Cast iron clawfoot tubs add timeless beauty to a bathroom that cannot be matched by a built-in unit. They usually run $500 – $2,000 for a new model but reclaimed or vintage units might cost more or less depending on the condition.
The fixtures for a clawfoot tub cost more than normal fixtures, which we'll get to in a moment. Plan to pay $500 to $1,000 for the fixtures and hardware alone.
Due to the precision needed to install the plumbing on a claw foot tub, labor usually runs $700 to $900 to install one, assuming the plumbing is already in place.
Fixtures and Hardware Costs
On average, new fixtures for a tub run $200 – $400 for a standard kit that includes the mixing valve, faucet, spout, and shower head.
Changing a deck-mounted to a wall-mounted faucet or a freestanding faucet, or vice versa, might require longer water lines, which could increase the cost dramatically. Designer fixtures will also cost significantly more than retail-grade fixtures.
Installation of new fixtures usually runs $300 – $400 if the plumbing does not need modification.
Price to Change Plumbing
The typical range for adding new plumbing to a tub is $500 to $1,600, depending on how much labor is involved and the cost of materials. If job-site conditions are favorable, then adding new water lines and a drain might only take a few hours. If walls need to be exposed or adding a drain requires breaking up a concrete slab, then the cost could rise dramatically.
Modifying plumbing for a tub that's generally in the same location is often much less expensive and will be on the lower end of the cost spectrum.
Consult our plumbing cost guide to learn more about the cost of plumbing work.
Hiring a Professional
Plumbing contractors generally charge between $50 and $150 per hour. Some contractors might charge a flat rate for the project, while others might charge by the hour for time and materials.
Use our plumber locator to find a professional near you and get several hassle-free estimates.
If your tub project will require framing, tile, and plumbing work, then you might consider hiring a general contractor for the project. That's not required but can often simplify the task of managing the work of several trades.
All pricing information on this page is based on average industry costs, and is subject to variance for project-specific materials, labor rates, and requirements.