Cost to Install Bathroom Vanity – 2023 Price Guide
Are you planning to install a new bathroom vanity? Calculate the price using our cost calculator, or read below to learn more about the cost of a vanity installation.
Bathroom Vanity Installation Cost Calculator
Configure your project below to estimate the cost using 2023 price data. Continue reading below to learn more about what to expect for a bathroom vanity installation project.
---
---
How Much Does it Cost to Install a Vanity?
The vanity is usually the most significant piece in the bathroom aside from the bathtub, and it could be the central visual focus of the room.
Not every bathroom has or needs a vanity, but using one can add a lot of style and function to a space. They can also be a prominent addition to the layout of the room. A master bath with a double sink can take up an entire wall, for example.
The additional storage space under the sinks and countertop can be a costly but valuable addition. Lighting, hardware, and mirrors can add significantly to this impressive display.
Vanities can start at just 18″ square in size, or they can take up two full walls and include a makeup counter, large double sinks, and have linen towers, upper cabinets, and features like pull-out laundry baskets.
The average cost for a new bathroom vanity is around $2,300. However, what you'll end up paying will depend on many factors.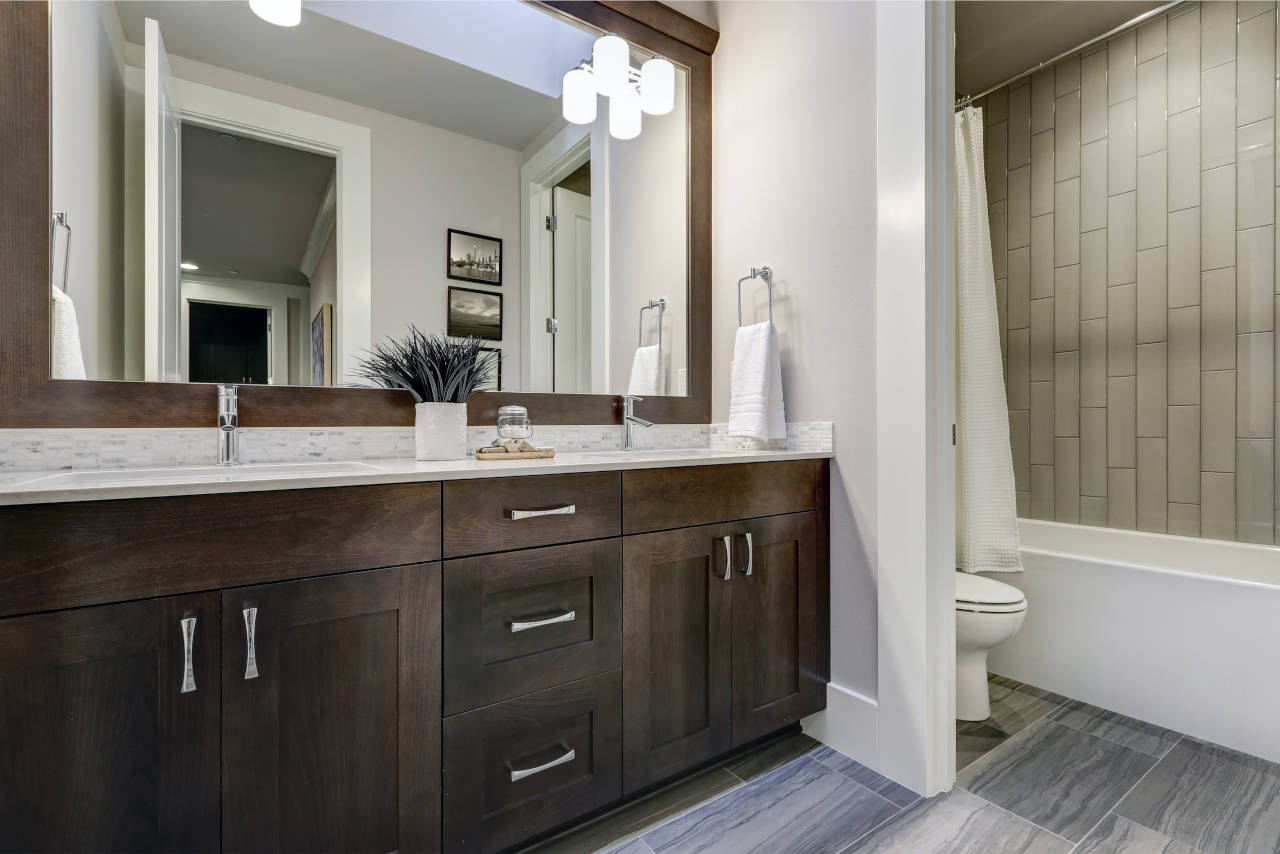 Replacing a vanity with another vanity of the same size is an inexpensive project, but adding a new countertop, plumbing, a double sink, a custom-made vanity, or hiring a professional to install it, could add substantial cost and value.
Cost to Replace a Vanity
Replacing an old vanity with a similar size where the plumbing, electric, countertop, and basin will stay the same should be reasonably inexpensive. This project will typically take a carpenter or handyperson an hour to complete.
Therefore, you will pay for the vanity, one hour of labor and materials, with labor costing about $100 to $1,000 for the installation. However, you will need to consider the possibility of repairs to tiles, sheetrock, and wall coverings when the new vanity is not the same size.
This makes the total cost range of vanity replacement between $300 and $3,800 on average.
Adding a double sink where a single sink was previously will require hiring a plumber.
Countertop Costs
The cost of your bathroom vanity can change dramatically with your choice of countertop. Prefabricated countertops with integrated sinks range from $200 to $1,500 on average but can go higher depending on the size and material.
Custom fabrication and high-grade materials will add to the price. The average cost to install a new bathroom countertop ranges from $250 to $3,000 with installation.
When you choose a genuine marble or quartz countertop for your custom-made vanity, it will add $45 to $75 per square foot to the price.[1]
Our countertop cost guide breaks down how much the typical materials cost.
Cost to Add New Plumbing
The expense of adding new plumbing may or may not get included in the price of installing a new sink. If the vanity is in a new location, then water lines and a drain will need to be installed.
Expect costs around $2 per linear foot for the new sink plumbing installation, plus the cost of the P-trap, valves, and other materials needed, which can range from $300 to $400 installed. Check our plumbing cost guide to determine how much that might cost and to get estimates from plumbers in your area.
Plumbing modifications are often needed in a bathroom renovation, and the cost is usually less when coupled with other plumbing work in the same project.
Single Sink Vanity Prices
When you are adding a single-sink stock vanity, you can expect to pay between $200 and $1,500 for the vanity. However, you could spend as much as $5,000.
The material used to build the stock cabinet and whether the sink, countertop, and hardware are part of the price will often factor into how much you will spend. Be careful when buying a vanity made of particleboard, as heat and moisture can lead to warping and bubbling.
Double Sink Vanity Prices
The double sink in master bathrooms is widespread these days. How you decide to set up and adorn a double sink and whether you can use the old plumbing will help with the budget.
Installing a double sink vanity is usually more expensive than a single sink, but for those with the space, the added cost versus the convenience may be well worth it. The vanity itself is not much more expensive than a single sink vanity, but you will need two sinks and hardware, and you might need to alter existing plumbing.
Costs for the vanity itself start around $1,000 to $1,500, and may go as high as $10,000 for some high-end items that include the countertop, sink, and faucet.
Stock or Custom-Made Vanity Prices
Choosing a stock vanity is quite often the most affordable choice, usually $200 to $5,000. Generally, stock cabinets will include a pre-cut countertop, hardware, and sink. However, you can usually get the same cabinet without their added amenities when you want another style.
Choosing alternate enhancements can make a stock vanity more original.
Of course, getting your vanity built-in or custom-built will ensure its originality. However, choosing cherry, walnut, or other exotic woods cost more per board foot and add to the expense.
Custom vanity cabinets have costs that start around $1,500 to $4,000 for the cabinet only. You will need to include the countertop, sink, and faucet costs, which can add an additional $1,500 to $4,000 or more, making these costs start at $3,000 to $8,000 for a vanity between 42″ and 60″ in size. Adding linen towers, double sinks, and other special features will increase costs.
Using a Vintage Dresser
A modern trend is to use an old bureau or chest of drawers as their new bathroom vanity. These recycled dressers in a classic bathroom with a claw foot tub look stunning, could save money, and provide storage space for towels and hygiene products in the drawers.[2]
The homeowner typically adds a countertop and sink (or sinks). Often, sinks that sit on top of the countertop are the best bet, as it does not subtract from the storage space.
DIY Cost Savings
Installing a vanity is a task that can be done by a homeowner with the time, tools, and talent to do so. This could allow you to save $100 to $1,000 in installation labor versus hiring a professional. Just be sure to install the correct drain trap and plumbing lines to meet your local building codes.
All pricing information on this page is based on average industry costs, and is subject to variance for project-specific materials, labor rates, and requirements.
References
Walter Bilyakovskyy, Guide To Understanding Quartz Countertops Cost, https://marble.com/articles/guide-to-understanding-quartz-countertop-costs
An Oregon Cottage, How To Make a Dresser Into a Vanity Tutorial, https://anoregoncottage.com/how-to-make-a-dresser-into-a-vanity/