Cost to Install New Countertops – 2023 Prices
When most homeowners think about countertops, the first place that likely comes to mind is in the kitchen. However, you can install countertops in many locations for your convenience, such as the bathroom, laundry room, entertainment area, or garage.
Wherever you need a flat, even space for doing projects, countertops are an excellent way to answer that need. You can install countertops on any type of cabinet or table, particularly in areas where you may need a sink or plumbing, including bathrooms and bars.
What's more, a second or third countertop done at the same time may come at a discount. Keep reading to learn more about the most popular options and the average cost to install countertops.
2023 Countertop Installation Costs
Calculate local project costs by entering your zip code.
National Average Price
$

3,000

Typical Price Range
$

2,000

- $

4,500

Minimum Price
$

500

Maximum Price
$

7,000
Get free estimates from contractors near you.
---
---
How Much Do New Countertops Cost?
The national average for replacing or adding new countertops is $3,000, and most spend between $2,000 and $4,500. However, the prices vary tremendously between materials.
Likewise, the cost of installation will change depending on your location. Labor rates vary throughout the nation, and the cost of material varies based on distribution and transportation costs to your region.
You could spend as little as $500 on a DIY install using preformed laminate countertops or up to $10,000 for high-grade material such as granite, marble, or quartz.
You can also use some designer installation techniques, such as the "waterfall" effect, where the countertop material continues down the side of the cabinet or island, which adds considerable expense but looks amazing. Countertop slabs can also be extended up the wall onto the backsplash area for a seamless, modern appearance.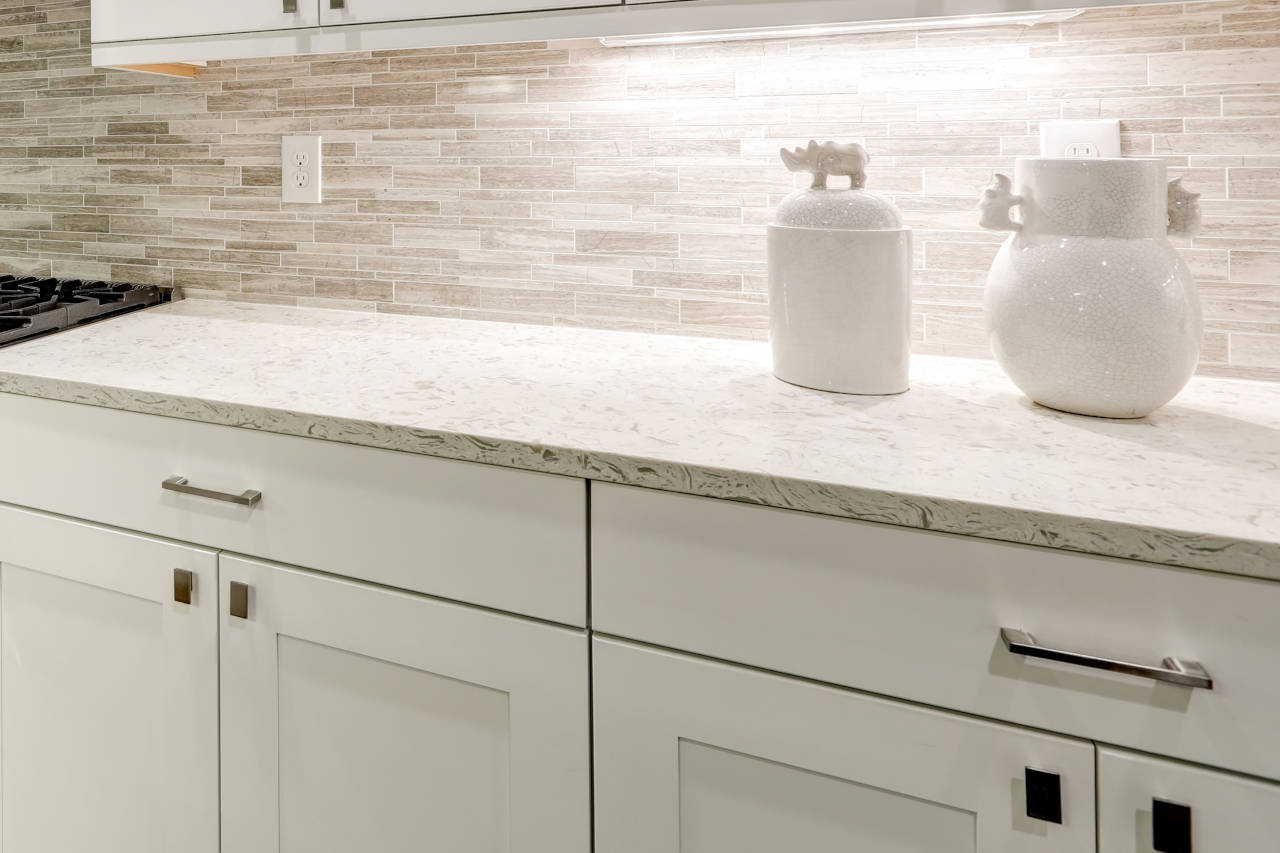 Installing countertops in small spaces that are difficult to access, the number of sink cuts, the type of edging, finish, or removal of an old countertop can also affect the install price.
All countertops are fabricated and sold by the square foot, while the edging is calculated by the linear foot. Therefore, the size of the countertop will directly impact the price, as it determines the amount of material needed. Try our square footage calculator to determine the square footage for your project.
Replacing Old Countertops
The cost of tearing out old countertops depends on the size and the ease of getting rid of them. Other possible cost factors might be moving plumbing or electrical outlets and whether the current cabinets will hold the weight of the new countertops.
It will cost between $100 and $300 to take out the old countertop, maybe more if the contractor has to rent a dumpster, and possibly less to DIY.
However, some countertop installers will remove and dispose of your old countertop for no additional cost. This will largely depend on the material and how easy it is to dispose of.
For example, most fabricators will remove laminate at no extra cost but may charge for the removal of solid surface countertops, which are both more difficult to remove and difficult to dispose of.
Costs for Various Types of Countertop Materials
The price of a countertop is largely dependent on the type of material selected.
Granite
Granite is as durable as it is versatile, with many textures and colors to choose from for the kitchen, bath, and laundry room. You will likely pay a minimum of $75 to $400 per square foot for the slab and another $10 to $100 per square foot for installation. Do not get concerned about natural small cracks in the granite's surface.
These are known as fissures, and along with small holes known as "pits", these do not impact the durability or quality of the countertop. Keep in mind that polishing helps hide these issues; if you choose to hone or get a matte finish, they may become more noticeable.
Marble
Marble is a beautiful stone commonly used in bathrooms as well as some kitchens. It's less often recommended for kitchens because it can easily stain and etch. However, a marble countertop is wonderful for rolling pastry and is often used on kitchen islands.
Marble has a wide range of costs, mostly depending on thickness and rarity. Rare colors and thicker slabs will cost more, with most starting at around $50 to $200 per square foot installed.
Soapstone
Soapstone is a very durable, non-porous material that comes in several colors. It's made of metamorphic talc and has a soft, soap-like texture. Many people choose to oil it to darken its color and to help hide marks and wear. Soapstone costs around $70 to $200 per square foot installed.
Slate
Slate is a unique material for countertops with a texture similar to old-fashioned blackboards. It comes in a wide range of colors and is easily scratched, so many people choose to use mineral oil on it, much like soapstone. Slate costs between $50 and $200 per square foot installed.
Concrete
Concrete countertops are made to order, either right in your kitchen or in forms nearby. They can be any thickness, shape, size, color, or finish. You can also include things like imprints, built-in sink drains, or even a built-in sink. The cost ranges from $65 to $135 per square foot, depending on the complexity of the design.
Limestone
Limestone countertops are usually recommended for low-use areas only, simply because they are so porous and will absorb many stains. Limestone is made mostly of calcite, and can feature beautiful small fossils in its surface, making it an attractive accent countertop, island countertop, or bar top.
Expect costs to range from $70 to $200 per square foot installed.
Travertine
Travertine is a type of limestone that is formed inside a hot spring. Escaping water vapor left behind trails and holes inside the stone. These holes will be filled with an epoxy before being installed as a countertop.
The epoxy is usually color-matched to the stone, but not always, so be sure to view your slab in person. It has costs similar to limestone at $70 to $200 per square foot installed.
Quartzite
Not to be confused with quartz, quartzite is a natural stone material with the look of marble and even better durability than granite. Quartzite is metamorphosed quartz, which is itself an igneous rock.
Quartzite countertops have incredible colors and veining with a sparkling, almost sugar-like finish. They are more difficult to work with, however, so they have a higher cost starting at $150 to $500 per square foot.
Laminates
One of the most affordable choices, laminates are quick and easy to install, though these are not that durable and may require replacement sooner than other products. Newer laminates are more durable and can also allow for an under-mount sink installation.
Expect costs around $20 to $80 per square foot.
Ceramic or Porcelain
Ceramic and porcelain slab countertops are some of the newer materials that are quickly gaining popularity due to their durability. These countertops come in many different colors and may be thinner than other slabs, while still being virtually maintenance-free.
Expect costs around $55 to $120 per square foot installed.
Quartz
Engineered quartz is a man-made material made of roughly 91% to 93% natural quartz mixed with resins and binders. It comes in many colors and patterns, including those that can mimic marble and limestone. Quartz is very low-maintenance and durable and does not require sealing like most natural stones.
It costs between $50 and $200 per square foot.
Solid Surface
Solid surface countertops like those first produced by Corian are another fairly low maintenance countertop option. The attractive thing about solid surface countertops is the fact that they are seamless. They can be burned and melted, however, so care must be taken with hot pots.
They cost between $50 and $150 per square foot installed.
Butcher Block
There are many types of butcher block and wood countertops. You can choose not only the type of wood, but also the style and way it was put together. Depending on which ends of the wood are exposed, the countertop may be more or less durable, as well as more or less expensive.
The average cost for butcher block countertops is $50 to $200 per square foot.
Recycled Glass
For those concerned with ecology, countertops made from recycled glass are a unique option. There are two general types.
The first is much like quartz countertops, mixing glass with resin rather than quartz rock. The glass used can be a single color or many colors for a look similar to terrazzo.
The other option uses solid glass slabs. These slabs are translucent and can come in many colors. The average cost of a recycled glass countertop is $60 to $150 per square foot installed.
Getting Estimates for Your Countertops
Whichever material you finally decide on and wherever you choose to have your countertops installed, get several free quotes from reputable installers in your area.
You might also be interested in our cost guides for refreshing your cabinets, such as painting, refinishing, or refacing if you need cabinet work done in conjunction with your countertops. Don't forget that getting multiple countertops done at the same time could result in considerable savings.
All pricing information on this page is based on average industry costs, and is subject to variance for project-specific materials, labor rates, and requirements.