Cost to Refinish Kitchen Cabinets in 2023
Are you tired of those old timeworn surfaces on your kitchen cabinets? Maybe you want to rid your cabinets of scuff marks, scratches, cracks, and possibly even your kid's stickers. Rather than going to the expense of replacing your kitchen cabinets, why not refinish them instead?
Cabinet refinishing strips your existing cabinets down to the bare surface so you can give them a new color or appearance. It's often more work than painting but less invasive or expensive than refacing.
Keep reading to see how much this costs.
2023 Cabinet Refinishing Costs
Calculate local project costs by entering your zip code.
National Average Price
$

3,000

Typical Price Range
$

1,500

- $

5,000
Get free estimates from contractors near you.
---
---
How Much Does Cabinet Refinishing Cost?
Replacement cabinets can cost tens of thousands of dollars, rather than the $3,000 national average for refinishing kitchen cabinets. Most spend between $3,000 and $5,000 for the project, and depending on where you live, the cost for refinishing could be more or less, depending on the cost of labor in your area.
Cabinet refinishing costs are mostly labor. Across the country, and even from urban to rural, labor costs vary substantially: $32 to $100 per hour. Most charge between $4 to $15 per square foot for cabinet refinishing, including materials.
Before you decide on a DIY project that might leave you without a kitchen for two weeks or more, at least get a few estimates. You might be surprised by the results.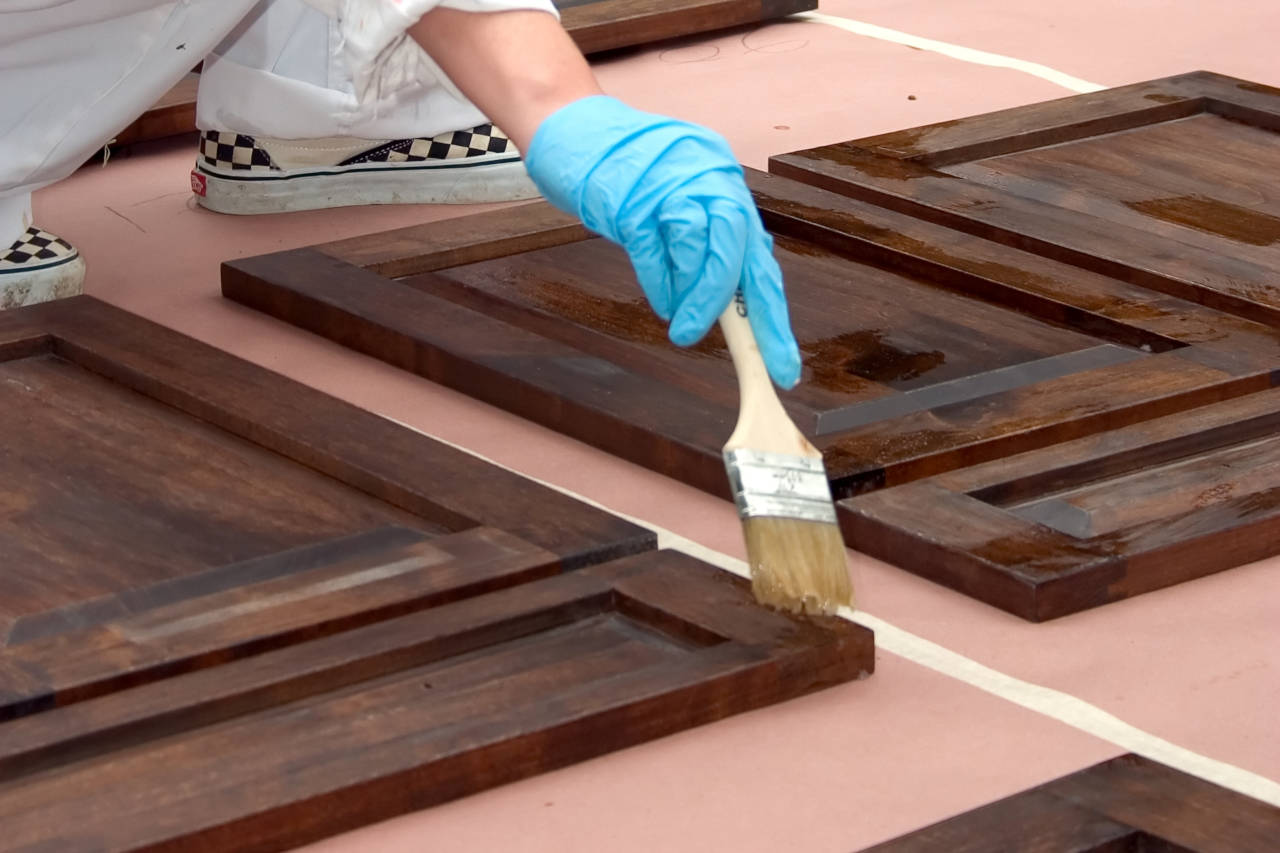 Prepare & Repair Before Refinishing Kitchen Cabinets
To prepare those old cabinets for a new finish, you will need to remove all the old coats of varnish, stain, or even paint. Then, all the doors, hinges, and hardware need to be removed. If they are in good shape and you still like the look of them, you could reuse them. You can usually get new hinges and knobs for $1 up to $35 each.
The odors from many paints and varnish removers can be hazardous to respiratory health, so make sure there is proper ventilation and use a safer, biodegradable gel product to remove the old finish.
Most professionals will take steps to ventilate your home, or they may remove doors and drawer fronts from the home to help keep odors down.
Even when the remover states it is safe, you do not know what is in the old paint or varnish. Always use a respirator when using chemical products or sanding.
Most gel products will strip 30-50 square feet per quart, so a gallon will remove 120-200 square feet of paint or varnish. Most varnish and lacquers will come right off after a few minutes of the gel application. However, semi and full-gloss enamel paints could take 24-48 hours and more than one application.
After the old finish gets removed, all holes and cracks need to be filled with a high-quality wood filler. These come in different colors, so try to match the stain or varnish you will use to refinish your cabinets.
Figure $300 to $500 just to repair and prepare your cabinets for refinishing, depending on how many linear feet of cabinets you have. The more time you spend repairing and preparing your cabinets, the better they will look with a new stain, shellac, lacquer, or even paint if you choose.
Choose New Stains, Shellac, Lacquer, and Hardware
You could create a rustic look for your newly refinished cabinets with brushed-on stain and varnish that match your hardwood floors or tiles.
Alternatively, you could decide to go with shimmering mahogany, cherry, or teak that match your backsplash tiles or framed wainscot wallpaper and use ceramic pulls of a similar or contrasting color.
However, most will want to create a fabulous new look with a satiny stain, with or without a top coat of polyurethane. Many choose contrasting colors for knobs and pulls, like a glossy cabinet finish with dull or matte-finished pulls.
To determine how much stain, varnish, or lacquer you will need to check our paint calculator. Stain covers between 150 and 300 square feet per gallon on cabinets, depending on the porosity. Varnish will go as high as 400 square feet per gallon, and polyurethane can cover 600-700 square feet but will need two or three coats.
Keep in mind labor cost is the most significant expense. When a contractor gives you a flat price with definitive specifications, make sure you know what's included in that quote.
All pricing information on this page is based on average industry costs, and is subject to variance for project-specific materials, labor rates, and requirements.