Cost to Repair Appliance – 2023 Repair Prices
When an appliance is on the fritz, it's good practice to evaluate the cost of repair and compare it to the cost of a replacement. While a repair is often the most cost-effective route to getting the appliance up and running, a replacement makes sense in many cases as well.
Many appliance issues are minor, however, and can be repaired to help keep your current appliance running for many more years. Keep reading to learn more about when to repair or replace and the cost of common repairs.
2023 Appliance Repair Costs
Calculate local project costs by entering your zip code.
National Average Price
$

175

Typical Price Range
$

50

- $

500

Typical Price Range (per hour)
$

50

- $

150
---
---
How Much Does Appliance Repair Cost?
Technology is changing at a rapid pace, and things we used to keep for 15 or 20 years are getting replaced sooner due to smart technology. New technology should be a portion of your repair or replacement analysis for any appliance due to more energy-efficient brands coming to the market.
The good news about having to replace any appliance is that new models are generally more energy-efficient, and many appliances are either plugged in or in use 24/7. Therefore, you will save money on energy that could start paying for your new appliance immediately.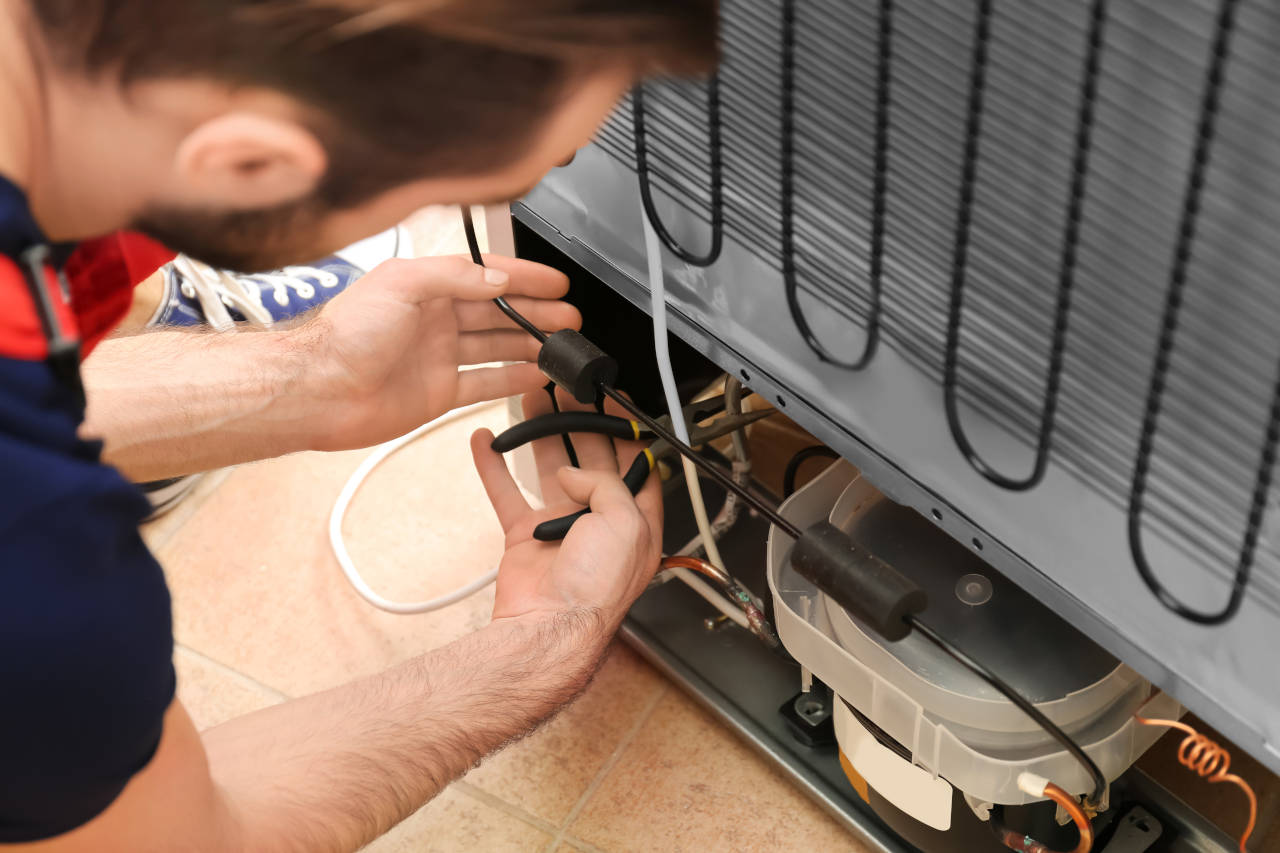 The average expense for most appliance repairs is $175, and the typical range is from $50 to $500. Three common elements affect how much you will pay labor, service charges, and parts.
Although repair technicians generally charge $50 to $150 per hour, most small appliance repair takes less than one hour. Therefore, you will most often pay their minimum service fee.
Repair or Replacement Cost Factors
Obviously, if it will cost more to repair an appliance than to replace it (unless there's some sentimental value), then replacement is a no-brainer. The new appliance will quite likely be more energy-efficient and cost less to run. However, it's not always that cut-and-dried.
In some cases, finding a replacement unit that fits a custom opening may be difficult. This is especially true for built-in ovens, ranges, and refrigerators that do not conform to a standard size. In these cases, repair makes a lot of sense to avoid costly repairs and renovation to surrounding decor.
When the cost of repair is less than replacement, a good rule of thumb is to consider a fix when the price is less than half of the cost of a new unit.
Keep the age of your current appliance in mind, too. If it's more than ten years old, and the cost of the repair is approaching half the cost of a new unit, you may want to upgrade simply because your old appliance may not last the length of time necessary to make the repair worth it.
In any case, making a decision will require an estimate of the repair cost before moving forward.
Common Appliance Repair Costs
Although the average home has many appliances, any of which could require repair, we will take a look at some of the more frequent and costly repairs.
Refrigerator-Freezers
Built-in refrigerator-freezers are almost always cheaper to repair than replace. It is often difficult to find another the same size, so the replacement might require repairs to surrounding walls, floors, and ceilings.
Consumer Reports suggests replacing a refrigerator if the repair price is more than half the price of a new one or the unit is more than ten years old.[1]
Despite what Consumer Reports suggests, replacing a side-by-side refrigerator-freezer might be less expensive than repairing it after eight years and those with a freezer on the bottom after seven years.
Refrigerator-freezers with a top freezer are also economically better replaced after seven years because new models are much more energy-efficient. However, homeowners should still compare the repair price versus replacement.
The average repair price range is $230 to $300. However, the actual price will depend on the repair required, the brand, and the local labor cost. If you hear clicking, buzzing, or humming noises or the fridge does not cool, you might have a faulty compressor. These parts are usually $20 to $200.
The most common repairs relate to automatic ice makers and cost between $250 and $600 to repair.
Freezers
The most frequent problems with freezers are the evaporator fan motors. Those repairs typically cost $200 to $650. Freezers generally last a lot longer than refrigerators because the door gets opened fewer times than a fridge; thus, it stays colder longer.
Dishwashers or Food Disposals
The average price for dishwasher repairs is $160, and food disposal repairs run around $150. The reason for this is that almost all repair technicians charge a minimum service fee. Be sure to check the circuit breaker before your service call. You don't want to pay someone $150 to $160 to come and flip a switch.
In some cases, when a dishwasher is not working, you might have a larger plumbing issue and might need to hire a plumber. Check our plumbing cost guide for details, but the typical price per hour is $50 to $250.
Washing Machine
The quicker you get your washing machine fixed, the cheaper it will be. Procrastinating on repairs will likely require trips to the laundromat and lots of quarters.
Repairs usually cost between $125 and $500, depending on what went wrong. A typical service call fee is $50 to $150, so even something as trivial as replacing a belt will cost for the service call, the belt, and labor.
Dryer
Repairs to an electric dryer run between $150 and $400, but gas dryers will cost $50 to $100 more. You should not fret over the additional cost to repair a gas dryer, as you have been paying much less to run it than the homeowner with an electric dryer. Gas dryer parts that frequently break are igniters, gas valves, flame sensors, and thermal fuses.
Electric dryer belts cost about $200 for a professional replacement. When your budget is tight, ask the repair personnel about using pre-owned parts, especially for older models that you intend to replace in a year or two.
Gas/Electric Range
You could come across any number of problems with a range during the time you own it. Typically, the oven doesn't heat up, the door won't open/close, a burner is out, a gauge stops working, or it gets too hot.
Many of these issues are easily diagnosed and repaired, so you will usually wind up paying just the service fee and parts. Depending on the part broken or damaged, a gas grill, range and oven, or electric cooktop, the average repair is $100 to $600.
Built-in Oven
Built-in ovens are often difficult to replace because the opening in the cabinet is made specifically for the current unit, requiring cabinet modification in many cases to replace.
Repairs are more challenging when they require removing the unit from the cabinet. The average cost of repair is $100 to $600.
The most common parts that need to be replaced are heating elements, gaskets, and the door.
Water Heater
Water heaters are another common home appliance that has a specific repair cost guide. Although the national average is $600 for water heater repairs, that's far less than the $1,200 average water heater replacement cost.
Getting Repair Estimates
Whenever you have an issue with an appliance, check the obvious first: Is there power? Check the power cord, the circuit breaker, the water shut off, etc. When you know it is the appliance, check the warranty. If your appliance is still under regular or extended warranty, the repair might be free.
If you've decided to repair the unit, then you can often find appliance repair technicians by asking the manufacturer, asking your network for referrals, or searching the internet for highly reviewed technicians in your area.
All pricing information on this page is based on average industry costs, and is subject to variance for project-specific materials, labor rates, and requirements.
References
Daniel Wroclawski, Should You Repair or Replace Your Broken Refrigerator?, Consumer Reports, https://www.consumerreports.org/appliances/refrigerators/should-you-repair-or-replace-your-broken-refrigerator-a3570195924/