Cost to Replace Kitchen Cabinet Doors in 2023
When people tire of their kitchen cabinets, many will simply buy new. However, that can be an expensive project, and certainly more costly than it has to be.
One option to refresh your cabinets is to upgrade the doors and keep the main units, which are mostly covered by the doors. You might be wondering how much this option costs.
2023 New Cabinet Doors Costs
Calculate local project costs by entering your zip code.
Typical Price Range
$

2,000

- $

7,000

Average Price (per door)
$

225

Typical Price Range (per door)
$

200

- $

400
Get free estimates from contractors near you.
---
---
How Much Does a Cabinet Door Upgrade Cost?
The average cost to replace the doors and drawer faces in a full kitchen is $2,000 to $7,000. The cost varies depending on the number of doors, style & quality of the new doors, and the cost of labor for the installation.
Although the price varies, most people spend about $225 per door for the upgrade.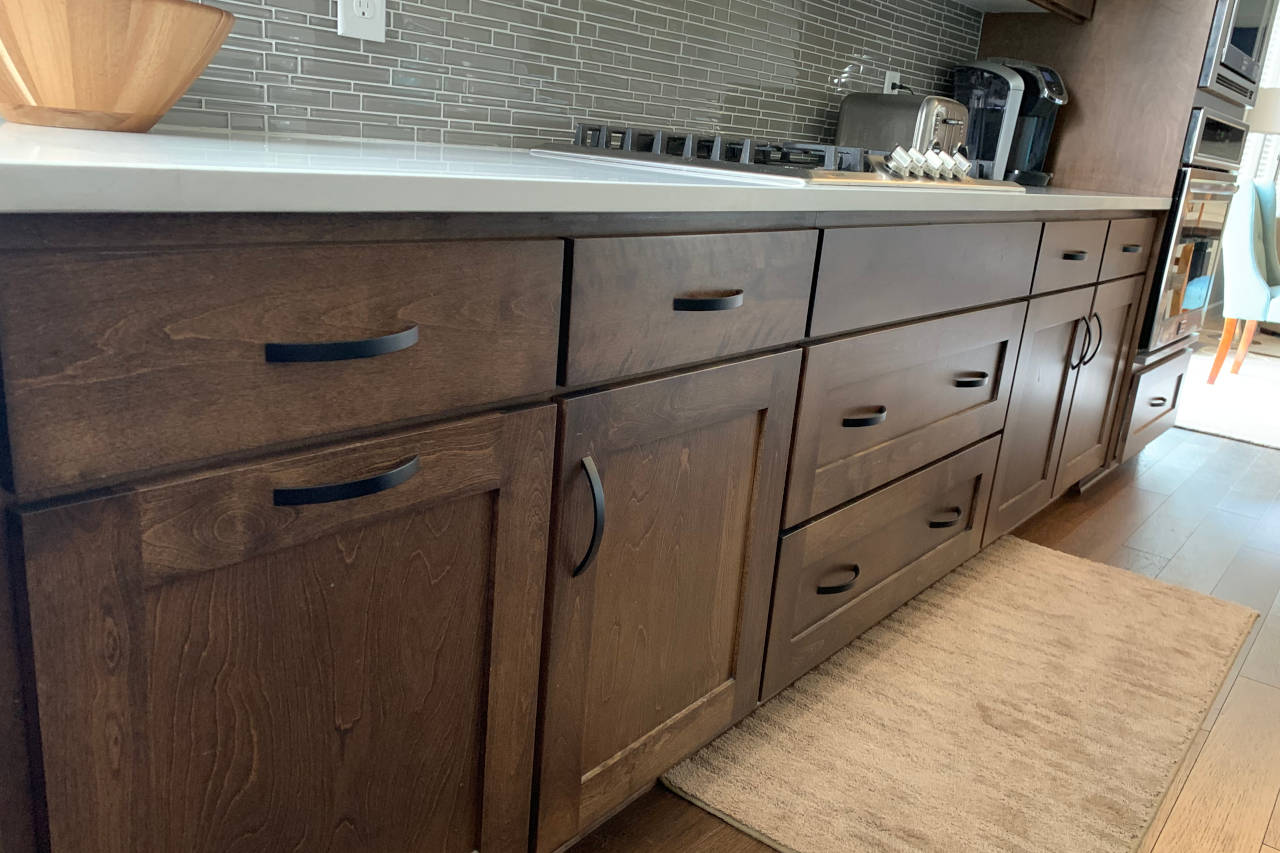 There are also alternatives worth considering. By resurfacing, refinishing, or repainting, or even adding new doors, you could save potentially thousands of dollars. This is particularly true if you have the time, tools, and talent to do it yourself.
Replacement Kitchen Cabinet Doors
Your choice of stock, custom, DIY, or glass-front cabinet doors will determine how much you will spend. Although premium wood and larger sizes will cost more, the national average is about $60 per door.
Stock Cabinet Doors
Depending on the size (such as pantry doors) and finish, stock doors found online or at a local home center could be as low as $11 per square foot for Rigid Thermal Foil (RTF). However, for unfinished hardwood, expect to pay $50-100 per door.
Custom Cabinet Doors
The cost of custom-made cabinet doors varies depending on the profiles desired, type of wood, and whether they will be stained, painted, or finished. Cabinet makers will often have samples and references and can guide you through the process of selecting the right style for your kitchen if you haven't already. Expect to pay at least $180 to $200 per door for the custom-made option.
DIY Doors
Custom DIY doors are the least expensive option, though the cost for renting equipment you don't already own (such as a table saw, jigsaw, and miter saw, planers, sanders, router bits, etc.) will cost more. If you already have all the equipment, then you will only be paying for the required wood and materials.
Cherry costs $1.80 – $6.00 per linear foot or board foot, depending on how much you buy. White oak is $4.40 – 6.50; mahogany $7.75 – 12.00; and cedar $3.89 – 5.39. The more exotic, the more expensive the wood is. Find a local lumber retailer and check their prices against how much you need.
If you're tackling the project yourself, try our cabinet door calculator to generate a cutlist and estimate materials.
Glass-Front Cabinet Door Costs
These are perhaps the costliest option, though they could be less expensive than some custom-made, premium wood cabinet doors. The glass-front option will showcase your fine china or collectibles, make your kitchen look bigger, and create a stunning new look for your kitchen.
Adding interior lighting can add appeal to otherwise boring row after row of cabinets. See our under cabinet lighting cost guides for estimates and ideas. Another option to add a special touch might be beveled, frosted, or other decorative glass.
How much you pay will depend on how many panes of glass or plexiglass you use, the size of the cabinet, tinting, and of course, the quality of glass. Expect to pay $150 – $300 per door for glass-front cabinet doors.
Door Hardware
Other expenses to consider will be knobs and pulls, if you choose to use them, along with hinges. You could match chrome, bronze, or copper to your faucet, or use ceramic to contrast or complement other fixtures.
Knobs and pulls usually cost $3 – $5 for basic finishes up to the $20 – $40 range for higher-end hardware. Hinges are $15 – $40 per pair.
Cabinet Door Installation Costs
Installing cabinet doors is a tedious job that requires some time to get a professional look, especially on older cabinets that may be slightly out of square or have other imperfections. The labor cost generally starts around $150 per door for the installation, and can easily go up to over $200 per door.
Installation usually involves removing the old doors, repairing imperfections, measuring and cutting hinge mounts, acquiring materials and equipment, preparing, setting up, adjusting door gaps to ensure these are square and flush, and cleaning up.
Whether you buy the doors to get installed or have the contractor purchase everything, get as many estimates with references as you can. Use our convenient free home repair estimates to find cabinet makers or door installation professionals near you.
All pricing information on this page is based on average industry costs, and is subject to variance for project-specific materials, labor rates, and requirements.