Cost to Paint Kitchen Cabinets – 2023 Price Guide
A great, cost-effective way to refresh your kitchen cabinets might be as simple as a few coats of paint. You might be wondering how difficult this project is and more importantly, how much it might cost.
2023 Cabinet Painting Costs
Calculate local project costs by entering your zip code.
National Average Price
$

2,700

Typical Price Range
$

1,500

- $

5,000
Get free estimates from contractors near you.
---
---
How Much Does Cabinet Painting Cost?
Painting your current kitchen cabinets could be less expensive than buying new or even refacing them. However, depending on the amount of preparation needed, such as stripping old paint or varnish, sanding, and priming, you could pay between $5 and $10 per square foot with materials and labor.
The smaller the project or number of cabinets, the more it will cost per square foot because the contractor still has all the other costs, such as transportation and other overhead to consider.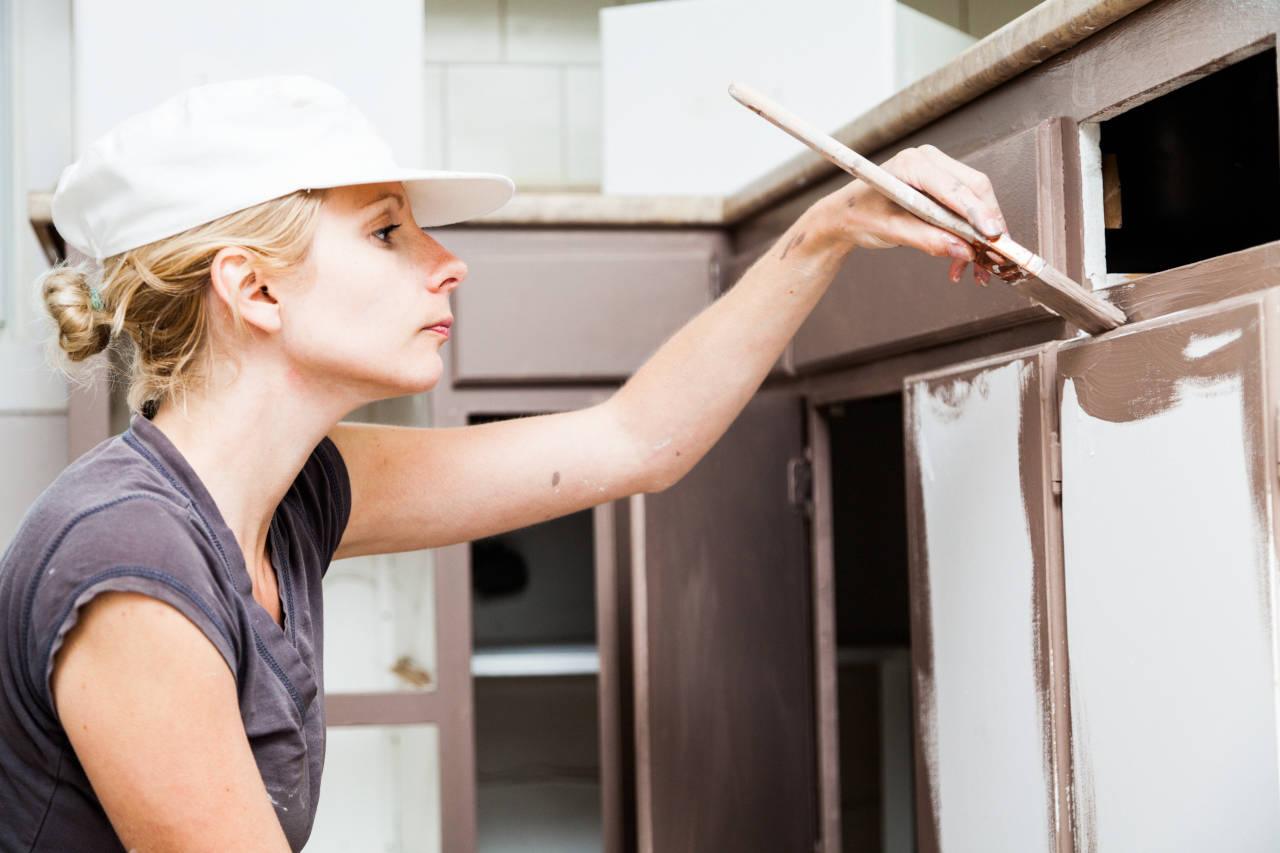 As is true with most home improvement projects, labor is the most substantial expense. Particularly for cabinets that have seen a lot of use, preparing for new paint can be labor intensive.
Hourly rates will range between $32 and $100 per hour. The national average is $55 per hour. The national average per kitchen cabinet paint project is $2700 but can go as high as $5000. You must compare and consider the repair versus replacement price.
Preparation & Repair of Kitchen Cabinets
Some people decide to do the prep work as a DIY project to save money. The only problem is, it can be very time-consuming, and the best method is to remove the cabinets to an area with less traffic than your kitchen.
Professionals will use a paint stall, garage, or warehouse because the sanding will produce a lot of dust and they don't want bugs and other items sticking to the new paint. The preparation is as crucial to the new paint as the quality of the paint and materials you use.
Whether done separately or as part of the project price, preparing and repairing the cabinets is a lot of work. Old veneer cabinets should get stripped using stripping gel, and a new coat added. Do not attempt to sand veneer, as some are too fragile and might need to get replaced.
Once the old varnish or paint gets removed, cracks, holes, splits, and any imperfections in the finish must be repaired and sanded. If you contract this separately, expect to pay $300 – $500.
Choosing the New Paint and Hardware
New paint and hardware on your kitchen cabinets can provide an entirely new look for your kitchen, so decide carefully. Most will want a color scheme that will complement or contrast their appliances.
High-gloss white is an excellent choice for kitchen cabinets because it will complement any other color scheme and brighten your kitchen, where you likely start your day and spend a great deal of time.
With the popularity of chrome kitchen appliances, many choose red or matte black with brass, chrome, ceramic, or copper hardware, which contrasts nicely. And, with a light shade of gray or marble on countertops and backsplash, your kitchen will feel simultaneously warm and functional.
Once you've chosen the color scheme, you will need to estimate the amount of paint you will need. If you plan to paint the interior or doors of the cabinets a different color, then you should measure and record those figures separately, but the measuring process is the same.
Measure sides and doors, then multiply. Do the same with small areas and then add to come up with the total square feet. Don't forget to convert inches to feet as a decimal or fraction, whichever you're most comfortable with to maintain consistency. Enter your figures into a paint calculator to come up with how much paint you will need if you will DIY. Keep in mind each gallon will cover about 400 square feet.
Don't Forget the Pantry
Many older homes have a pantry off the kitchen, so while you're painting those kitchen cabinets, don't forget the pantry. If you have the same type of cabinets in the pantry, you may want to use the same color scheme or one that contrasts. Whichever you choose, add the cabinet square footage into the price of painting the kitchen cabinets.
Get Paint Estimates for Kitchen Cabinets
Before you decide to do this as a DIY project, consider the time it will take to complete. A beginner with an inexperienced assistant could take 50 or more hours to strip, repair, and repaint kitchen cabinets.
This DIY could mean you are without your kitchen for two weeks or more depending on your schedule. Another consideration is where you will do the work.
You must use paint specifically manufactured for kitchen cabinets and/or a quality topcoat to prevent premature flaking and chipping due to the heat, grease, and frequent use.
Because this is a labor-intensive project and it is your kitchen, you should strongly consider hiring a professional. It's wise to get at least three estimates to get a range of prices and options to consider for your project.
Well, there you go. You're on your way toward painting your kitchen cabinets. Any further help you need you can find on our search page.
All pricing information on this page is based on average industry costs, and is subject to variance for project-specific materials, labor rates, and requirements.