Cost to Reface Kitchen Cabinets in 2023
Refacing kitchen cabinets is a different type of process than repainting or refinishing. Refacing is short for resurfacing. During this process, you can add veneers, laminates, drawer fronts, and new doors to your current cabinets to create an entirely new look for your kitchen. Only the outer visible portion gets a facelift.
You can also change out the style of the cabinet doors during this process to upgrade to a raised panel or flat panel door. The cost to reface kitchen cabinets can vary widely, depending on the material used, labor charges, cabinet units, and hardware.
2023 Cabinet Refacing Costs
Calculate local project costs by entering your zip code.
National Average Price
$

7,000

Typical Price Range
$

1,500

- $

12,500
Get free estimates from contractors near you.
---
---
How Much Does Cabinet Refacing Cost?
The national average for refaced kitchen cabinets is $7,000. Most will spend between $1,500 and $12,500 for the project, but the costs can rise higher for higher-grade wood veneers. The cost of refacing is still considerably less than full replacement.
It's also faster and less invasive. Keep in mind, however, that if your cabinet boxes are not in good condition or if you want to change the layout of the kitchen, then refacing is not the option for you. In either of these instances, a full or partial remodel is the answer.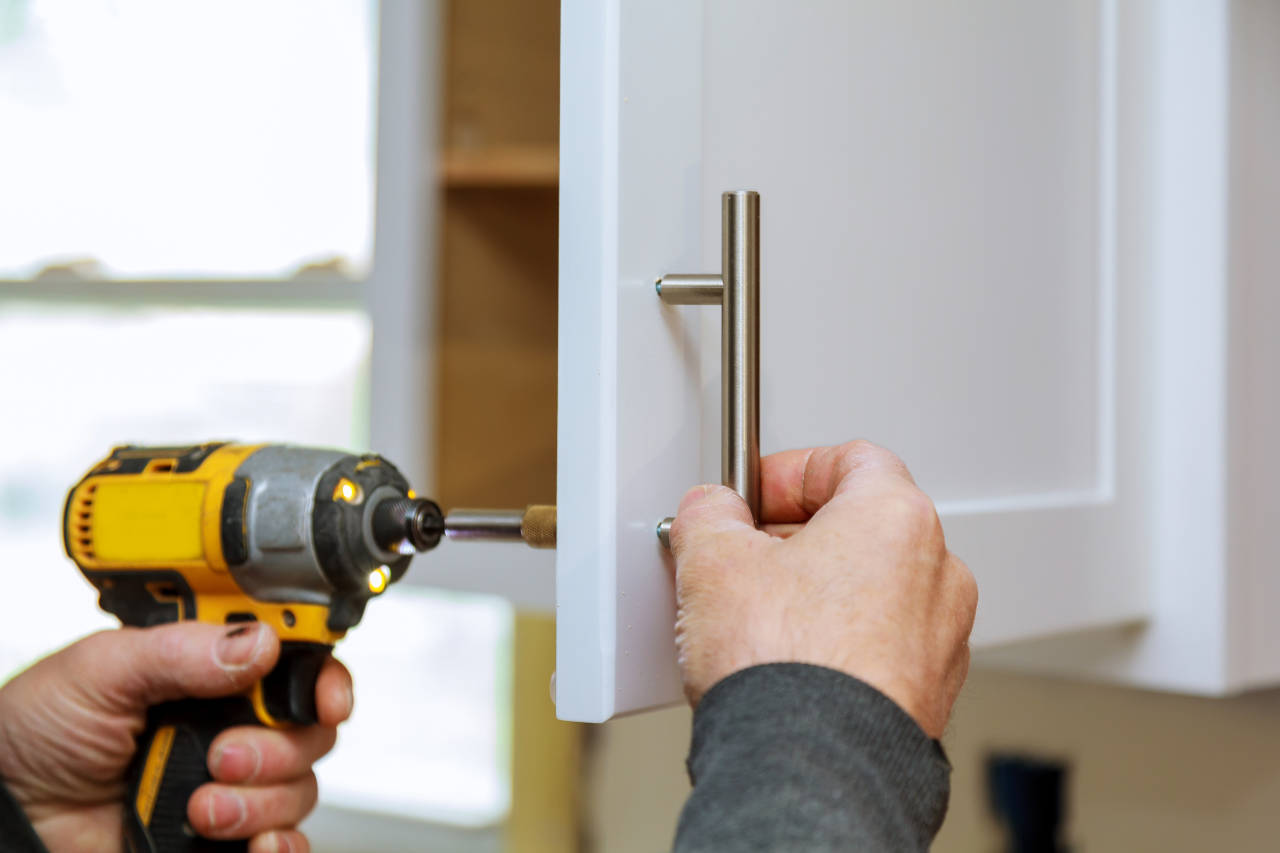 Preparing to Reface Kitchen Cabinets
To prepare your cabinets for refacing, take out all the drawers and remove the doors. How much you plan to do will determine if you need to take the cabinets off the wall or not.
Most refacing is done with the cabinets in place, but you may need to empty them for a few days.
A good reason to move the cabinets out of your kitchen is to remove the paint or finish and sand the surface to ensure it is clean and smooth to receive the adhesive for the new laminates, veneers, or wood. Use wood filler to fill large holes and cracks. Plus, paint strippers, adhesives, paints, and varnishes can be irritating to the respiratory system.
Not all cabinets will need this, however. Once the doors and drawer fronts are gone, your installer can determine the level of work needed on the cabinet boxes themselves to match the new doors and drawer fronts.
If you hire a contractor or handyman to prepare the cabinets separately from refacing, expect to pay $300 to $500 for this service.
Cabinets of poor quality can also be strengthened with a one-quarter-inch piece of high-quality plywood before adding a laminate or veneer. Some even use this technique as a low-budget reface with either stain and varnish or superior cabinet paint. This adds some additional cost to the refacing project that varies depending on the condition of the cabinets.
Choosing Your New Surface
Before starting a refacing project, it's important to know what options there are to dress the faces of your cabinets.
Laminates
One of the most inexpensive surfaces to use is a thermofoil laminate. These laminates are generally thought of as "vinyl siding" for kitchen cabinets.
They are affordable, but you should consider these temporary rather than durable. Most contractors will warn against using this material.
But, depending on your budget, it is an option that is easy to clean and comes in various colors. Expect to pay $1,500 to $4,000 to reface cabinets with laminates, or $90 to $110 per linear foot.
Veneers
Cabinets refaced with veneer can get resurfaced for $9,000 to $12,000. Veneers, either with adhesive or without, are around $150 to $200 per linear foot, but these are not suitable for all surfaces.
Veneers and laminates placed too close to the stove or sources of steam and moisture could reduce their lifespan or cause them to buckle prematurely. Consult a cabinet installer before deciding on either option.
Solid Woods
High-grade woods such as cherry, mahogany, or walnut will run from $7,000 to $20,000 or more. These woods run $15 to $30 per board foot, while installation will cost $200 to $500 per linear foot.
Solid wood is both beautiful and durable and can be finished with a variety of stains or paints to achieve nearly any look.
In some cases, veneered plywood can be used to reduce the cost of hardwoods, which is a balance between a veneered solution and solid wood refacing. This is not always an option and depends on the cabinet style.
However, these prices are likely only half what you would pay for replacement custom cabinets, and you can usually get it finished a lot more quickly.
Get Estimates for Refacing Kitchen Cabinets
If you're thinking about a DIY project, remember it could take from several days to several weeks, depending on what else you have going on. However, hiring professionals could add a minimum of $200 per linear foot to your project.
You can, however, save money by doing some things yourself. Let the contractor know what you would like to do yourself and get it subtracted from their bid. Whatever path you choose, we suggest getting at least three estimates to understand your options and project costs.
All pricing information on this page is based on average industry costs, and is subject to variance for project-specific materials, labor rates, and requirements.