Cost to Install Bathroom Tile Floor – 2023 Cost Estimator
Are you installing a tile floor in your bathroom? Calculate the price of tile flooring using our cost calculator or continue reading below to learn more about tile flooring installation costs.
Bathroom Tile Flooring Cost Calculator
Enter the size of your project and select the material and services you're interested in to estimate the cost of the project using 2023 price data. Continue reading below to learn more about what to expect for a bathroom tile flooring project.
---
---
How Much Does it Cost to Install Tile Flooring?
A few factors will impact the cost of a bathroom tile floor project. The bathroom size, material quality, and labor cost in your area all factor into the price of the project.
Since the average bathroom is 5′ x 8′ or 40 square feet,[1] excluding showers, tubs, and cabinets, and the average cost of tile is $10 to $25 per square foot installed, the price range to tile a bathroom floor is $450 to $1,150. Of course, a larger bathroom will typically cost more due to the additional square footage. The average price to tile a bathroom floor is $875.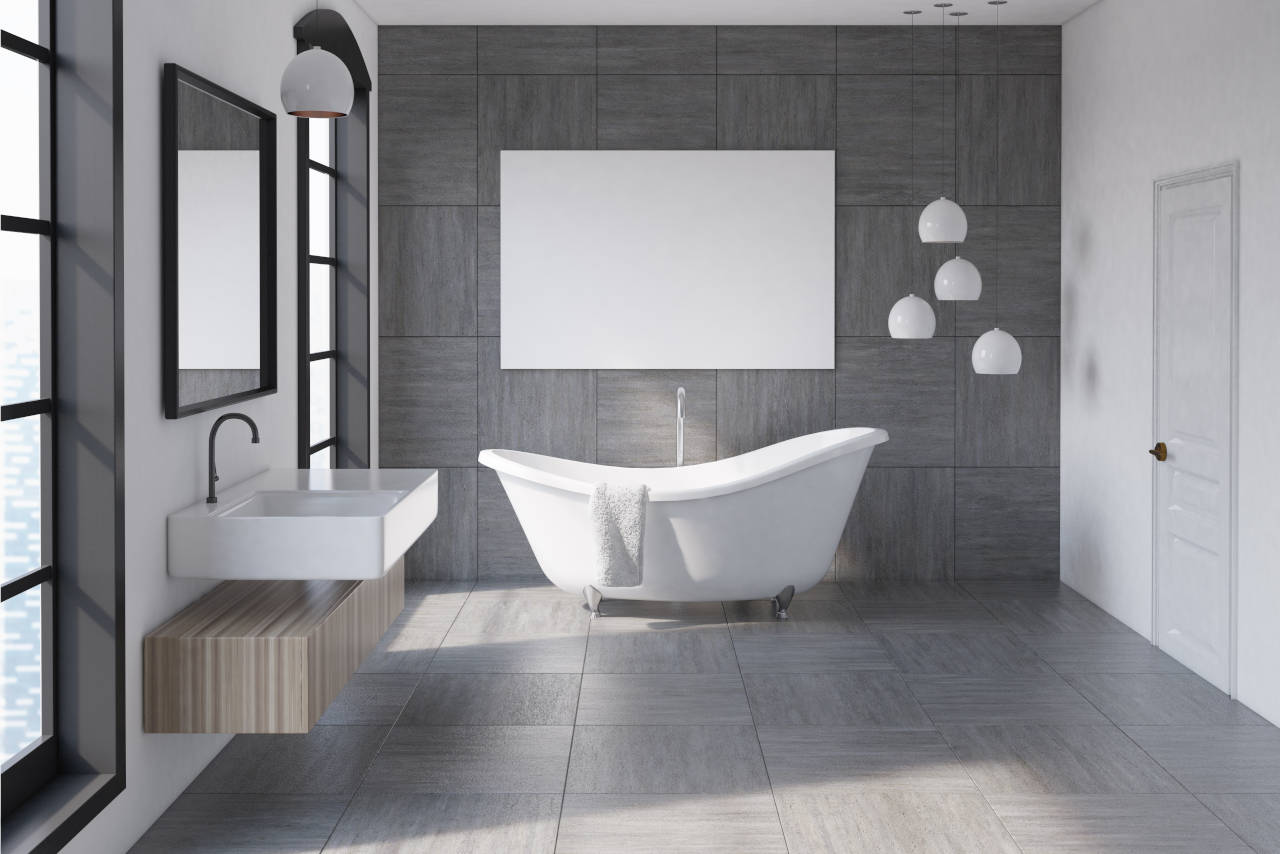 Size of the Bathroom
Typically, contractors will give you a price per square foot, and many require a minimum number of square feet. Often, installing larger areas can be more efficient, so the larger the area, the less it will cost per square foot.
Since the size of the room is a major factor in the price, the first thing you will need to do is find out how many square feet your bathroom floor is. Use our square footage calculator you can determine the size of the floor in square feet.
Average Tile Prices
Typically, larger tiles cost less to install than small ones; around $5 to $15 per square foot to lay because it doesn't take as long. When choosing the tiles for a bathroom floor, the homeowner has a wide variety from inexpensive ceramic to cut stone.
It would be best if you choose durable, non-slip tiles for the bathroom floor, but that does not mean you are limited to stone or the usual porcelain or ceramic. Shop around and be sure the supplier knows you will use it for the bathroom floor.
Some tiles are too slippery or too brittle to use on the floor. However, they make tiles that look exactly like the ones you use for the wall, only non-slip for the floor if you want.
Tiles have a wear rating from 1 to 5. This Porcelain Enamel Institute (PEI) rating will give you an indication of where you can install the tile.[2] Expert tile installers recommend using a tile with a 3 PEI or higher score on floors.
Porcelain Tile
Porcelain tiles cost anywhere from $3 to $10 per square foot. You might pay a dollar or two more per square foot for a slip-resistant tile. Many consider porcelain and ceramic tiles to be the same because these are both cooked in a kiln.
However, porcelain has white clay and feldspar, and it is cooked quicker at a higher temperature than ceramic. Plus, porcelain tiles are harder, more water-resistant, and costlier than ceramic. As an added incentive, porcelain is more stain-resistant than ceramic tiles.
Porcelain Wood Tile
Porcelain wood tiles offer the beauty of wood with the durability and moisture resistance of tile. They often come in rectangular dimensions to match the look of a wood floor. Expect to pay $3 to $12 per square foot for these rectangular blocks of tile.
Ceramic Tile
Although ceramic tile is water-resistant, porcelain is more resistant to moisture damage. Ceramic tile costs anywhere from 50 cents to $7 per square foot. Ceramic is usually the least expensive indoor floor tile.
Rectified Tile Cost
Rectified tiles come in the same price range as porcelain or ceramic. These get cut after firing to ensure a precise fit.
Marble Tile
Marble flooring offers a timeless, classic look to a bathroom floor. Marble is often available in precut tiles suitable for flooring and wall applications. Marble generally costs about $10 to $20 per square foot.
Slate & Other Stone Tile
The cost to install slate is similar to marble and usually costs $10 to $20 per square foot.
Cut to fit natural stone flooring might cost even more to install, due to the additional time needed for the project. Expect to pay $10 to $50 per square foot for a natural stone floor.
Learn more about the cost of tile flooring.
Floor Preparation Costs
Tile flooring must be installed on a backer board or underlayment to prevent the tile and mortar from cracking as the wood subfloor expands and contracts with seasonal humidity changes. If the floor does not already have a backer board is about $5 to $6 per square foot, including material and labor.
Installing an underlayment is another excellent option, and usually costs a bit less than backer board, at about $4 to $5 per square foot.
Cost to Remove an Old Floor
The cost to install bathroom flooring goes up dramatically if you have an existing floor that needs to be removed. Removing an existing tile floor from a bathroom costs about $4 to $9 per square foot.
If the backer board or underlayment can be preserved during removal that can save the $4 to $6 for floor preparation, so do this if you can.
Tile Installation DIY Savings
You can save money when you DIY. Tiling the bathroom floor is a DIY project you can likely complete over the weekend with the right tools, talent, and technique. What's more, there are hundreds of "How To" articles and videos online to assist with the technique.
DIY is a great option to save on the overall costs of a full bathroom renovation. However, without the right tools or time, you might want to hire a professional, as renting the tools to tile a small bathroom floor might cost more than hiring a professional.
Hiring a Professional Tile Installer
Some contractors will charge by the hour, although it is rare. The average hourly rate is between $25 and $100 per hour. Metropolitan areas usually have higher labor charges than suburban areas, but the cost of labor varies by region.
Most often, contractors will charge by the square foot, or give a flat rate for the project. Adding professional installation costs about $5 – $10 per square foot on average.[3]
Be sure to understand if the estimate includes things like grout and sealer.
Check out out our flooring contractor locator to get several hassle-free estimates from professionals in your area.
All pricing information on this page is based on average industry costs, and is subject to variance for project-specific materials, labor rates, and requirements.
References
Mitchell Parker, 5 Ways With a 5-by-8-Foot Bathroom, https://www.houzz.com/magazine/5-ways-with-a-5-by-8-foot-bathroom-stsetivw-vs~59123771
Mosaic Home Interiors, PEI Ratings Explained, https://mosaictileco.com/explanation-pei.aspx
John Riha, Average Cost to Install Tile Floor, https://www.hgtv.com/design/remodel/interior-remodel/average-cost-install-tile-floor