How to Measure and Lay Out a Patio

Are you planning to install a new patio this summer?
Improvements to your backyard living space are one of the easiest ways to add value to your home. Whether you install pavers or a concrete patio, this simple improvement can provide a great place to cook, entertain, or let the kids play.
As you decide what you want to do with your backyard space, you may be leaning towards a patio option. Patios are fantastic additions to the space, and can come in many configurations.
Whether you want a small bistro patio or a large patio with space for an outdoor kitchen and covered seating area, you will need to make sure you have the space for the project.
This means determining how much room you have, the size of the finished patio, and its overall layout and shape.
Once you know the dimensions and layout, you can determine the amount of material you need and create a budget for the project.
And whether you plan on installing it yourself or hiring a professional, planning and creating a layout remains the first step to take.
Determine the Size of the Patio
The first step required to measure and lay out a patio is to determine what you will do with the space. Do you need a cooking space? Do you have a patio dining set in mind with a specific size that you need to fit in the area?
Patios come in many sizes, and there are several recommended sizes for each basic type of patio. Below are the average square footages necessary for the different types:
Bistro Patio – 42 sq ft: This patio is best for a small dining table only or having a few small deck chairs
Outdoor sunroom – 144 sq ft: This is a good size patio for family use, best for relaxing or small gatherings
Outdoor Dining or Living room – 168 sq ft: This size patio can accommodate a full-sized dining area or living room setup with a fire pit, and is a good size for large families
Outdoor Living and Dining room – 432 sq ft: A patio of this size has separate areas for dining and relaxing. Good for big families and those who like to entertain a lot or hold big gatherings
Outdoor Kitchen with living and dining area: 864 sq ft: If you want to have an outdoor kitchen with separate areas for eating or entertaining, this is the size patio you want. An outdoor kitchen needs its own dedicated space, so the adjacent areas can be used for other purposes, including dining or an outdoor living room.
How to Lay Out a Patio
The real work begins once you head outside to measure, calculate, and layout the space. Keep in mind that your patio does not need to be a rectangle; it can be oval, circular, or shaped like an L or U.
Just keep the overall square footage in mind for the use you want. As you measure your space, consider where things will be, and how you may need to arrange the space to make it work with your yard and landscaping.
Use a piece of graph paper and a pencil to plan out your initial patio layout. Then, use a tape measure and some wooden stakes to mark off the same layout in your yard.
Stretch twine between the stakes or use marking paint on the ground to create a visual of the final patio layout. Make any adjustments at this time, or consider using the marking paint to mark the dimensions of things like fire pits, furniture, and retaining walls so you can see how they will fit in the space.
Once you're satisfied with the layout, measure the area carefully to get its dimensions so you can begin calculating how much material you need.
How to Get Square Corners
If your patio is square, rectangular, or an L shape, you may want to make sure that the corners are square and at right angles. You can use a protractor or a carpenter's square to make sure that your corners are at 90 degrees. If you don't have either of those handy, you can use the Pythagorean theorem, or the 3, 4, 5 rule. When side a is three units and side b is four units, the measurement that connects the end of those measurements to form a triangle should be exactly five units.
To use the Pythagorean theorem, measure one edge of the patio to 6′ and measure the adjacent edge to 8′. The measurement between the 6′ mark and the 8′ mark should be exactly 10′ when the corner is square.
Adjust your corner accordingly until it reaches the correct measurement.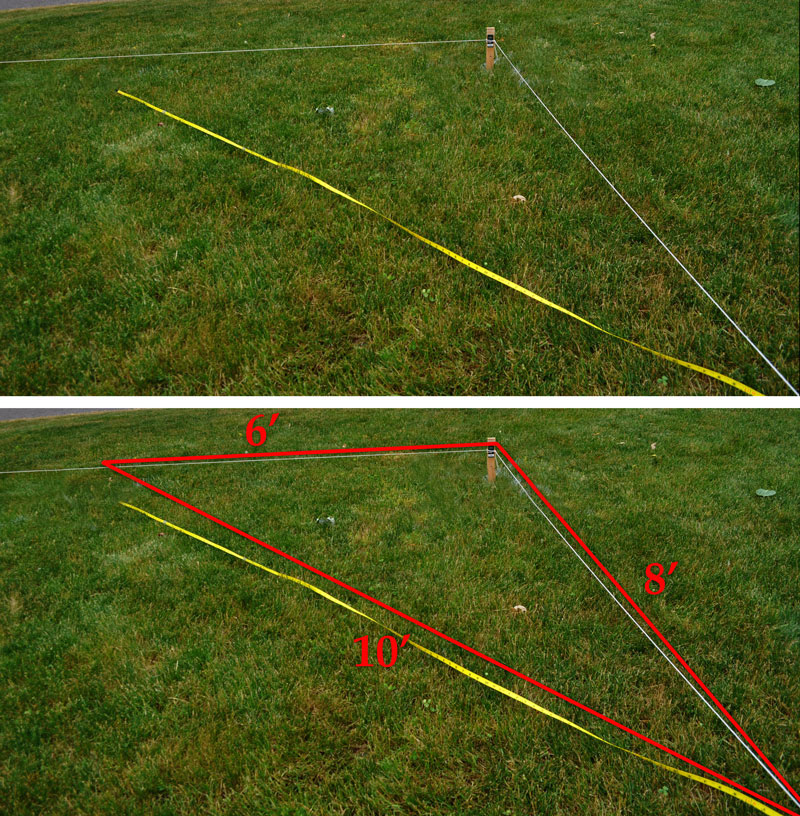 Don't Forget to Lay Out Utilities
Before you begin any project, always call 811 first to have the location of any underground utilities marked. While patios don't typically go deeper than 11″, it's important not to disturb any gas, sewer, or electrical lines that may be beneath the area you're working on.
In some cases, this may mean you need to change the location of a planned feature, so always call before you get too far into the planning process. This call is free and can save you a lot of time and money later.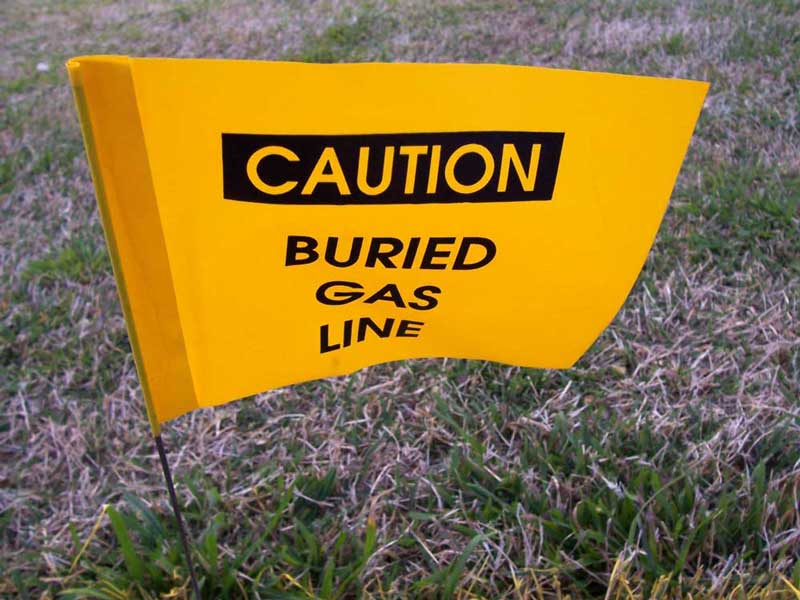 Conclusion
Once the space is marked and you are confident you have the patio size and layout that you want, you can now begin the installation process.
If you haven't ordered materials, be sure to use a paver calculator or concrete calculator to determine just how much material you will need. Make sure you choose your patio material and pattern first.
If using pavers, get the dimensions and pattern of the paver you've chosen to help calculate the amount that you'll need to complete the job. Whether you install the material yourself or have a professional finish the job for you, a new patio will enhance your yard and your home's value.