Volts to Amps Electrical Conversion Calculator
Convert volts to amps by entering the voltage and the electrical power in watts, or the resistance of the circuit.
Convert Volts and Watts to Amps
Convert Volts and Ohms to Amps
---
---
How to Convert Volts to Amps
Voltage is the potential difference in an electrical circuit, measured in volts. It might be easier to think of it as the amount of force or pressure pushing electrons through a conductor. To convert volts to amps, a measure of current, it's possible to use a formula defined by Watt's Law.
Watt's Law states that current = power ÷ voltage. Power is measured in watts and voltage is measured in volts.
Thus, to find amps substitute the volts and watts in the formula:
Current(A) = Power(W) ÷ Voltage(V)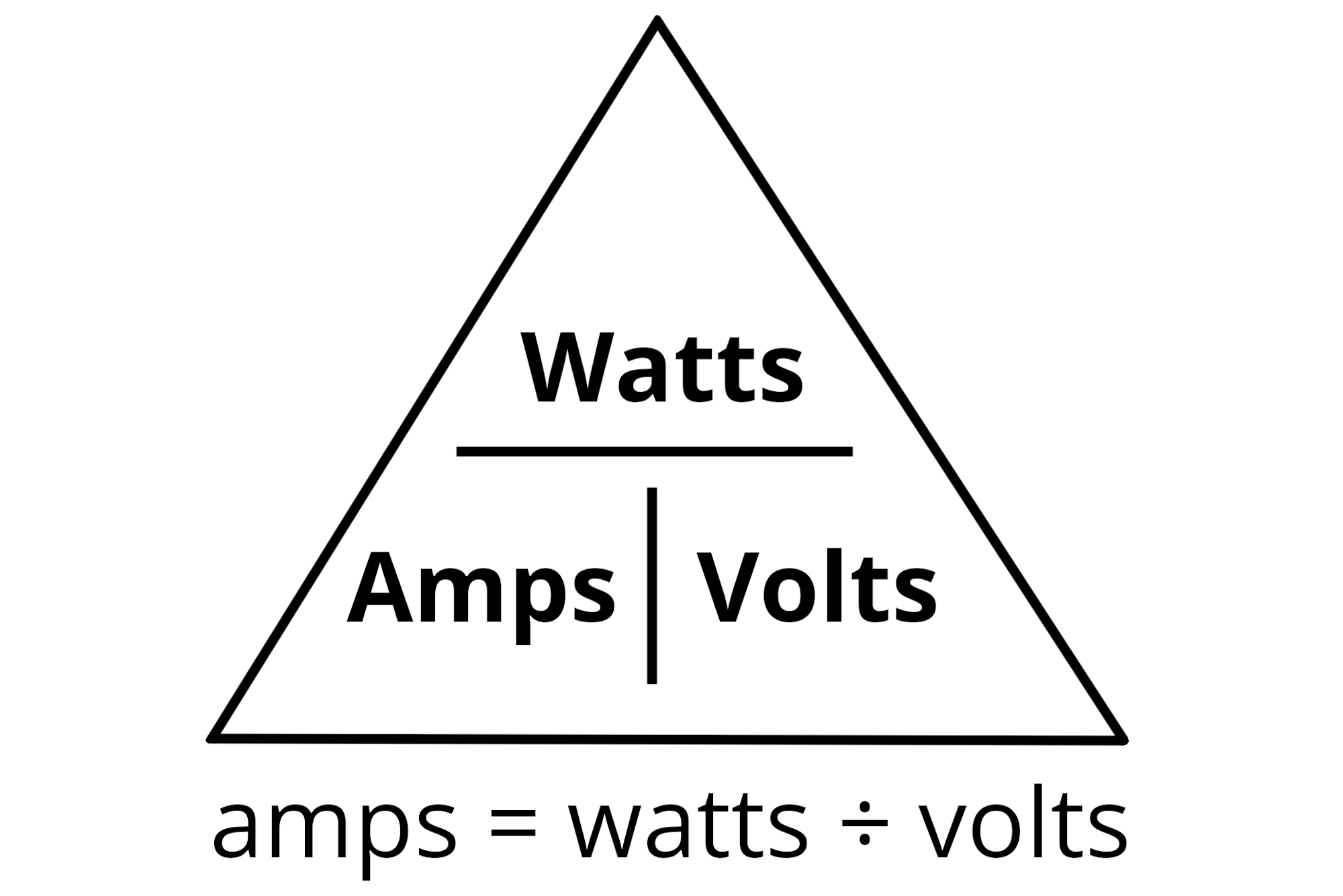 For example,
find the amperage of a 100 watt light bulb at 120 volts.
---
amps = watts ÷ volts
amps = 100 W ÷ 120 V
amps = .83 A
Convert Volts to Amps using Resistance
Ohm's Law provides an alternate formula to find volts if amps and the electrical resistance is known. To calculate amps, divide the voltage by the resistance in ohms.
Current(A) = Voltage(V) ÷ Resistance(Ω)
For example,
let's find the current of a 12 volt circuit with 10 ohms of resistance.
---
amps = volts ÷ ohms
amps = 12 V ÷ 10 Ω
amps = 1.2 A
Equivalent Volts and Amps Measurements
Equivalent volts and amps for various power ratings

| Voltage | Current | Power |
| --- | --- | --- |
| 5 Volts | 1 Amps | 5 Watts |
| 5 Volts | 2 Amps | 10 Watts |
| 5 Volts | 3 Amps | 15 Watts |
| 5 Volts | 4 Amps | 20 Watts |
| 5 Volts | 5 Amps | 25 Watts |
| 5 Volts | 6 Amps | 30 Watts |
| 5 Volts | 7 Amps | 35 Watts |
| 5 Volts | 8 Amps | 40 Watts |
| 5 Volts | 9 Amps | 45 Watts |
| 5 Volts | 10 Amps | 50 Watts |
| 5 Volts | 11 Amps | 55 Watts |
| 5 Volts | 12 Amps | 60 Watts |
| 5 Volts | 13 Amps | 65 Watts |
| 5 Volts | 14 Amps | 70 Watts |
| 5 Volts | 15 Amps | 75 Watts |
| 5 Volts | 16 Amps | 80 Watts |
| 5 Volts | 17 Amps | 85 Watts |
| 5 Volts | 18 Amps | 90 Watts |
| 5 Volts | 19 Amps | 95 Watts |
| 5 Volts | 20 Amps | 100 Watts |
| 12 Volts | 0.4167 Amps | 5 Watts |
| 12 Volts | 0.8333 Amps | 10 Watts |
| 12 Volts | 1.25 Amps | 15 Watts |
| 12 Volts | 1.667 Amps | 20 Watts |
| 12 Volts | 2.083 Amps | 25 Watts |
| 12 Volts | 2.5 Amps | 30 Watts |
| 12 Volts | 2.917 Amps | 35 Watts |
| 12 Volts | 3.333 Amps | 40 Watts |
| 12 Volts | 3.75 Amps | 45 Watts |
| 12 Volts | 4.167 Amps | 50 Watts |
| 12 Volts | 4.583 Amps | 55 Watts |
| 12 Volts | 5 Amps | 60 Watts |
| 12 Volts | 5.417 Amps | 65 Watts |
| 12 Volts | 5.833 Amps | 70 Watts |
| 12 Volts | 6.25 Amps | 75 Watts |
| 12 Volts | 6.667 Amps | 80 Watts |
| 12 Volts | 7.083 Amps | 85 Watts |
| 12 Volts | 7.5 Amps | 90 Watts |
| 12 Volts | 7.917 Amps | 95 Watts |
| 12 Volts | 8.333 Amps | 100 Watts |
| 24 Volts | 0.2083 Amps | 5 Watts |
| 24 Volts | 0.4167 Amps | 10 Watts |
| 24 Volts | 0.625 Amps | 15 Watts |
| 24 Volts | 0.8333 Amps | 20 Watts |
| 24 Volts | 1.042 Amps | 25 Watts |
| 24 Volts | 1.25 Amps | 30 Watts |
| 24 Volts | 1.458 Amps | 35 Watts |
| 24 Volts | 1.667 Amps | 40 Watts |
| 24 Volts | 1.875 Amps | 45 Watts |
| 24 Volts | 2.083 Amps | 50 Watts |
| 24 Volts | 2.292 Amps | 55 Watts |
| 24 Volts | 2.5 Amps | 60 Watts |
| 24 Volts | 2.708 Amps | 65 Watts |
| 24 Volts | 2.917 Amps | 70 Watts |
| 24 Volts | 3.125 Amps | 75 Watts |
| 24 Volts | 3.333 Amps | 80 Watts |
| 24 Volts | 3.542 Amps | 85 Watts |
| 24 Volts | 3.75 Amps | 90 Watts |
| 24 Volts | 3.958 Amps | 95 Watts |
| 24 Volts | 4.167 Amps | 100 Watts |
| 120 Volts | 0.0417 Amps | 5 Watts |
| 120 Volts | 0.0833 Amps | 10 Watts |
| 120 Volts | 0.125 Amps | 15 Watts |
| 120 Volts | 0.1667 Amps | 20 Watts |
| 120 Volts | 0.2083 Amps | 25 Watts |
| 120 Volts | 0.25 Amps | 30 Watts |
| 120 Volts | 0.2917 Amps | 35 Watts |
| 120 Volts | 0.3333 Amps | 40 Watts |
| 120 Volts | 0.375 Amps | 45 Watts |
| 120 Volts | 0.4167 Amps | 50 Watts |
| 120 Volts | 0.4583 Amps | 55 Watts |
| 120 Volts | 0.5 Amps | 60 Watts |
| 120 Volts | 0.5417 Amps | 65 Watts |
| 120 Volts | 0.5833 Amps | 70 Watts |
| 120 Volts | 0.625 Amps | 75 Watts |
| 120 Volts | 0.6667 Amps | 80 Watts |
| 120 Volts | 0.7083 Amps | 85 Watts |
| 120 Volts | 0.75 Amps | 90 Watts |
| 120 Volts | 0.7917 Amps | 95 Watts |
| 120 Volts | 0.8333 Amps | 100 Watts |