Amps to Volts Electrical Conversion Calculator
Convert amps to volts by entering the current in amps or milliamps and the electrical power in watts, or the resistance of the circuit.
Convert Amps and Watts to Volts
Convert Amps and Ohms to Volts
---
---
How to Convert Amps to Volts
Voltage is the potential difference in an electrical circuit, measured in volts. It might be easier to think of it as the amount of force or pressure pushing electrons through a conductor. To convert amps to volts we can use a simple formula defined by Watt's Law.
Per Watt's Law, voltage is equal to power divided by current.
Voltage(V) = Power(W) ÷ Current(A)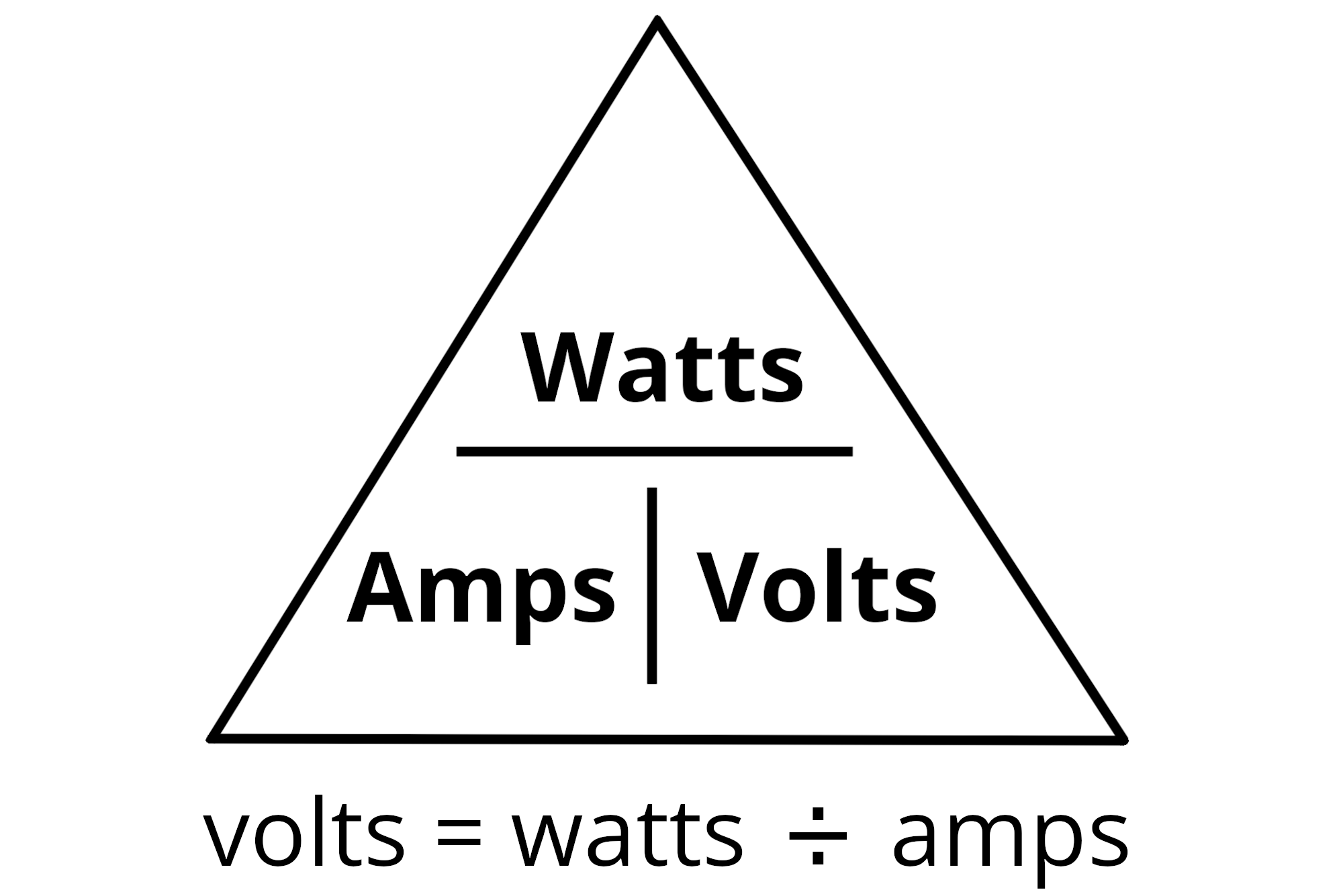 For example,
let's find the voltage of a device that uses 120 watts of power with a current of 10 amps.
---
voltage = watts ÷ amps
voltage = 120 W ÷ 10 A
voltage = 12 V
Convert Amps to Volts using Resistance
It is also possible to convert amps to volts if resistance is know, thanks to an Ohm's Law formula. Using Ohm's Law, we can state that voltage is equal to electrical current times the resistance.
Voltage(V) = Current(A) × Resistance(Ω)
For example,
let's find the voltage of a circuit with 1.2 amps of current and 20 ohms of resistance.
---
voltage = amps × ohms
voltage = 1.2 A ÷ 20 Ω
voltage = 24 V
Equivalent Amps and Volts Measurements
Equivalent amps and volts for various power ratings

| Current | Voltage | Power |
| --- | --- | --- |
| 1 Amps | 5 Volts | 5 Watts |
| 1 Amps | 10 Volts | 10 Watts |
| 1 Amps | 15 Volts | 15 Watts |
| 1 Amps | 20 Volts | 20 Watts |
| 1 Amps | 25 Volts | 25 Watts |
| 1 Amps | 30 Volts | 30 Watts |
| 1 Amps | 35 Volts | 35 Watts |
| 1 Amps | 40 Volts | 40 Watts |
| 1 Amps | 45 Volts | 45 Watts |
| 1 Amps | 50 Volts | 50 Watts |
| 1 Amps | 55 Volts | 55 Watts |
| 1 Amps | 60 Volts | 60 Watts |
| 1 Amps | 65 Volts | 65 Watts |
| 1 Amps | 70 Volts | 70 Watts |
| 1 Amps | 75 Volts | 75 Watts |
| 1 Amps | 80 Volts | 80 Watts |
| 1 Amps | 85 Volts | 85 Watts |
| 1 Amps | 90 Volts | 90 Watts |
| 1 Amps | 95 Volts | 95 Watts |
| 1 Amps | 100 Volts | 100 Watts |
| 2 Amps | 2.5 Volts | 5 Watts |
| 2 Amps | 5 Volts | 10 Watts |
| 2 Amps | 7.5 Volts | 15 Watts |
| 2 Amps | 10 Volts | 20 Watts |
| 2 Amps | 12.5 Volts | 25 Watts |
| 2 Amps | 15 Volts | 30 Watts |
| 2 Amps | 17.5 Volts | 35 Watts |
| 2 Amps | 20 Volts | 40 Watts |
| 2 Amps | 22.5 Volts | 45 Watts |
| 2 Amps | 25 Volts | 50 Watts |
| 2 Amps | 27.5 Volts | 55 Watts |
| 2 Amps | 30 Volts | 60 Watts |
| 2 Amps | 32.5 Volts | 65 Watts |
| 2 Amps | 35 Volts | 70 Watts |
| 2 Amps | 37.5 Volts | 75 Watts |
| 2 Amps | 40 Volts | 80 Watts |
| 2 Amps | 42.5 Volts | 85 Watts |
| 2 Amps | 45 Volts | 90 Watts |
| 2 Amps | 47.5 Volts | 95 Watts |
| 2 Amps | 50 Volts | 100 Watts |
| 3 Amps | 1.667 Volts | 5 Watts |
| 3 Amps | 3.333 Volts | 10 Watts |
| 3 Amps | 5 Volts | 15 Watts |
| 3 Amps | 6.667 Volts | 20 Watts |
| 3 Amps | 8.333 Volts | 25 Watts |
| 3 Amps | 10 Volts | 30 Watts |
| 3 Amps | 11.667 Volts | 35 Watts |
| 3 Amps | 13.333 Volts | 40 Watts |
| 3 Amps | 15 Volts | 45 Watts |
| 3 Amps | 16.667 Volts | 50 Watts |
| 3 Amps | 18.333 Volts | 55 Watts |
| 3 Amps | 20 Volts | 60 Watts |
| 3 Amps | 21.667 Volts | 65 Watts |
| 3 Amps | 23.333 Volts | 70 Watts |
| 3 Amps | 25 Volts | 75 Watts |
| 3 Amps | 26.667 Volts | 80 Watts |
| 3 Amps | 28.333 Volts | 85 Watts |
| 3 Amps | 30 Volts | 90 Watts |
| 3 Amps | 31.667 Volts | 95 Watts |
| 3 Amps | 33.333 Volts | 100 Watts |
| 4 Amps | 1.25 Volts | 5 Watts |
| 4 Amps | 2.5 Volts | 10 Watts |
| 4 Amps | 3.75 Volts | 15 Watts |
| 4 Amps | 5 Volts | 20 Watts |
| 4 Amps | 6.25 Volts | 25 Watts |
| 4 Amps | 7.5 Volts | 30 Watts |
| 4 Amps | 8.75 Volts | 35 Watts |
| 4 Amps | 10 Volts | 40 Watts |
| 4 Amps | 11.25 Volts | 45 Watts |
| 4 Amps | 12.5 Volts | 50 Watts |
| 4 Amps | 13.75 Volts | 55 Watts |
| 4 Amps | 15 Volts | 60 Watts |
| 4 Amps | 16.25 Volts | 65 Watts |
| 4 Amps | 17.5 Volts | 70 Watts |
| 4 Amps | 18.75 Volts | 75 Watts |
| 4 Amps | 20 Volts | 80 Watts |
| 4 Amps | 21.25 Volts | 85 Watts |
| 4 Amps | 22.5 Volts | 90 Watts |
| 4 Amps | 23.75 Volts | 95 Watts |
| 4 Amps | 25 Volts | 100 Watts |