Cost to Repair Siding – 2023 Average Prices
To find out how much it costs to repair siding, it's essential to consider the price of the individual materials. We'll cover the cost of repairs for each in detail below.
2023 Siding Repair Costs
Calculate local project costs by entering your zip code.
National Average Price
$

500

Typical Price Range
$

100

- $

1,000
Get free estimates from contractors near you.
---
---
How Much Does it Cost to Repair Siding?
The cost of repairing siding depends heavily on the material, the extent of the damage, the average cost in your area, and labor costs.
It's difficult to calculate the exact cost as any home is different, but here are some useful figures that will help you determine your own final cost for siding repairs: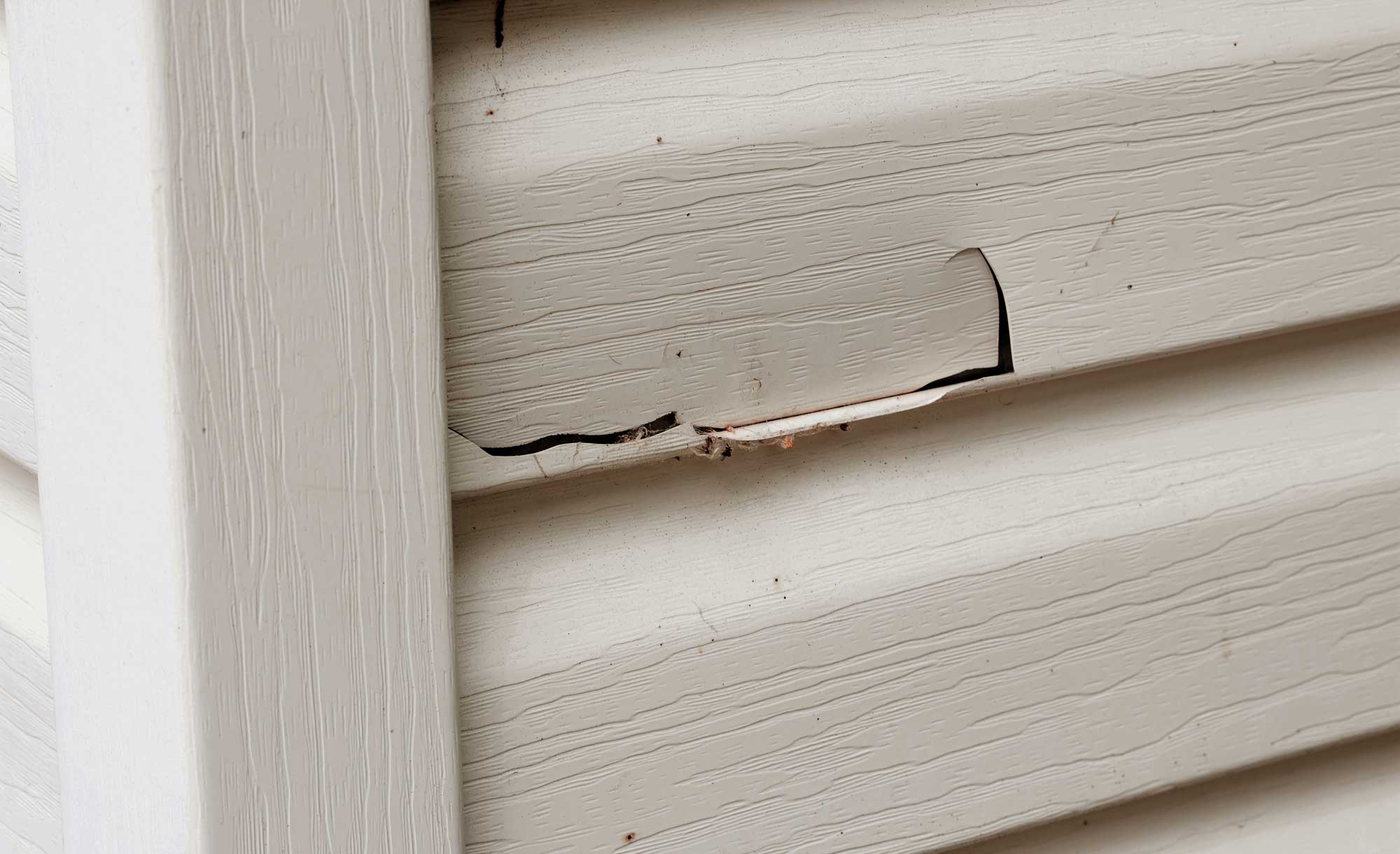 Most siding repair projects are small and run $100 – $1,000 for repairs, the average is about $500.[1]
Labor is a significant portion of the repair price. It takes approximately 7 hours of labor to install 120 square foot of siding. Labor rates are usually between $40 and $50 per hour.
If siding needs extensive repair and requires 500 square foot of new material, this could take around 30 hours to complete at $45 per hour amounting to $1,350 in labor costs alone.
Siding material varies in cost but let's assume it runs $4 per square foot then the material would cost $2,000. This would bring the repair project to $3,350 for labor and material in this example.
Because the price of labor and material vary and the extent of the damage may be difficult to asses we recommend consulting with a siding professional to get an estimate for your project.
The type of siding will be a major factor in the cost of repairs, as different materials vary in cost.[2]
The Cost of Wood Siding
Depending on the quality of the wood, wood siding costs between $7.95 and $12.95 per square foot including installation. It ranges from $3.50 to $4.50 per square foot uninstalled.
The Cost of Metal Siding
The most common type of metal siding is aluminum siding, which costs $3 to $6 per square foot uninstalled and around $2.20 uninstalled.
The Cost of Vinyl Siding
Basic vinyl siding costs between 65 cents and $2.25 per square foot uninstalled and approximately $2.50 – $11 per square foot installed.[3]
The Cost of Cement Fiber Siding
Depending on the size, finish, and retailer, cement fiber siding can cost anywhere from 70 cents to $5.25 per square foot (uninstalled). This price describes what's known as clapboards, which are the most common form of cement fiber siding.
Be careful when you're investing in cement fiber siding, as it must be painted before it's installed, and it might be unfinished when it's purchased. The price rises to approximately $10 per square foot when you include installation costs.
Think Carefully Before Choosing to Repair Siding Yourself
Saving money is a big incentive for many homeowners, which is why DIY is a booming industry, with home improvement stores in America generating over 100 billion U.S. dollars annually. Doing things yourself can be incredibly rewarding, and there are definitely some tasks both inside and outside the home that don't require the work of a professional tradesman.
However, repairing siding is a task that requires a high level of skill and experience. Don't forget that siding is essentially the protective barrier of your home. Restoring it requires the use of specialized equipment and the ability to ensure the coverage is seamless and secure. As such, it is not recommended that you try it out yourself unless you've had experience in this area before.
To help understand siding costs check out our new siding cost guide and use our siding material calculator to assist with material calculation.
Painting Does Wonders
Finding out how much it costs to repair siding is one thing, but chances are you will also have to paint or stain your siding too. This is because the areas that are replaced will look newer and brighter than the areas that didn't need to be repaired.
Sometimes all siding needs is a good cleaning, which can be done by power-washing or pressure-washing.
The exterior of your home will look mismatched until you fix it up with some type of finish to even out the varying ages of material, particularly if it's wood. Learn more about siding and exterior paint costs to prepare for your painting project.
All pricing information on this page is based on average industry costs, and is subject to variance for project-specific materials, labor rates, and requirements.
References
Built Right Home Solutions, How Much Does Damaged Siding Cost To Repair?, https://www.builtrighthomesolutions.com/about-us/news-and-events/22275-how-much-does-damaged-siding-cost-to-repair.html
MHX Designs, How Much Does New Siding Cost?, https://www.mhxdesigns.com/blog/cost-to-install-siding-on-a-home/
DIY Network, Exterior Siding Buyer's Guide, https://www.hgtv.com/how-to/home-improvement/exterior-siding-buyers-guide