Cost to Paint a Home – 2023 Exterior Painting Prices
If you're considering a fresh coat of paint for an updated exterior, you might be wondering how much it might cost. Fresh paint can help give a home an entirely new look, improving its curb appeal. Paint can be applied to many different siding types, including wood, metal, vinyl, and fiber cement.
Each of these may have varying costs depending on their condition. We'll cover the cost of painting siding and exteriors in detail below.
2023 Siding and Exterior Painting Costs
Calculate local project costs by entering your zip code.
National Average Price
$

6,000

Typical Price Range
$

2,000

- $

12,000
Get free estimates from contractors near you.
---
---
How Much Does Exterior Painting Cost?
If you're a homeowner who likes to undertake DIY projects on both the interior and exterior of your home, you've no doubt looked at the old, faded siding on the outside and wondered what to do about it.
Luckily, you don't necessarily need to replace your siding. A fresh coat of paint is a great way to update the exterior of a home.
Exterior painting typically costs $2,000 to $5,000 for a typical single-story home and can cost $4,000 to $12,000 for a two-story home. Many spend about $6,000 to hire a contractor to complete the project.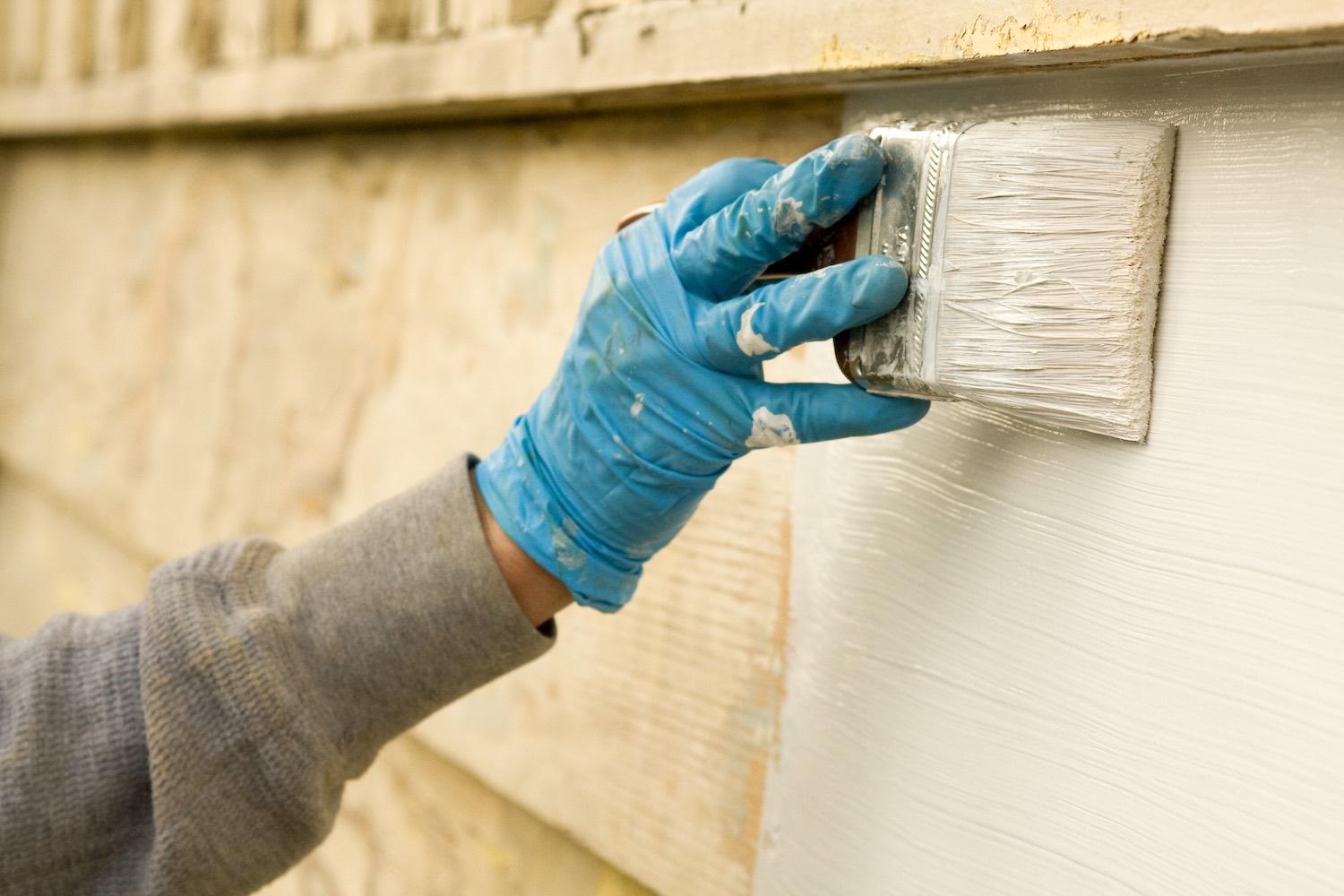 Evaluate Siding Condition for Paint
It's essential that you conduct a maintenance check on the condition of your siding before you can come to an informed decision. If any of it is warped or cracked, you should repair these sections before proceeding to paint.
Keep in mind that most home exterior painters can make these repairs for you, but it does increase the cost of the project.
Siding Repair Costs
If you're preparing to paint your siding and notice some flaws in its overall construction, you should learn more about the price of new siding and the cost of siding repairs before investing in any paint. This way, you'll know that your budget can cover the essential maintenance required before you dive into painting.
Once you've addressed any problems you may have with your siding and have fixed it up so that it is in good condition, the next step is to figure out how to go about painting it. One of the first questions many homeowners ask in this regard is how much it will actually cost. There are many factors to consider in this respect, but let's look at paint cost first.
Exterior Paint Costs
The most crucial element of figuring out how much you're going to need to paint your siding is the paint. Exterior paint can cost as little as $25 to $70 per gallon, but if you're opting for a premium brand, it can cost as much as $50 to $100 per gallon.[1] Once you've calculated your house's square footage, you can estimate the overall cost of painting your siding.
Coverage depends on the brand, and some homeowners like to paint very thick coats with no gaps, so it's always sensible to purchase more paint than your calculations say you need. This means that when you calculate the final price, you should add on an extra ten to twenty percent to ensure that your siding will be evenly covered to your satisfaction.
Keep in mind that very old wood may require more paint, while some materials, like vinyl, will require both a primer and a coat of paint, which can increase the cost of both material and labor.
Ballpark Paint and Primer Costs
There are many factors that impact the overall price, but it's always useful to have a round figure before beginning a project. The average size of a new home is over 2,400 square feet, but in the 80s, it was just over 1,500, so let's assume that an average house is 2,000 square feet.
If your home is smaller, you'll simply reduce your budget to compensate. Now, with a good quality primer and paint, here is what you will expect to pay to paint the siding on a 1,500, 2,000, and 2,500 square foot house, assuming the paint and primer cost $40 per gallon each:
1,500 square feet: (6 gallons of exterior paint & 6 gallons of primer): $480
2,000 square feet: (8 gallons of exterior paint & 8 gallons of primer): $640
2,500 square feet: (10 gallons of exterior paint & 10 gallons of primer): $800
Note: This doesn't include trim, which can vary greatly on a home. You can also possibly get good quality paint and primer starting from $25 upwards, and you may find you need a little less or a little more paint or primer. These are just ballpark estimates using generous figures to allow for waste and extra coats on rougher texture or more absorbent siding.
Type of Siding
The type of siding you have is something you need to know before you decide to paint it. Not only will some cost more than others, but some will either require more preparation or will need touch-ups and repainting more frequently.[2]
Preparation of your siding is vital. No matter what kind you have, there will undoubtedly be some thorough cleaning, pressure washing, and priming to be done before adding paint. This will influence the cost of the project as prep work adds more time to the project and requires additional materials.
For example, if you don't prepare vinyl siding correctly, the paint will peel off. It's similar to attempting to paint anything shiny or glossy before priming it first. It also expands and contracts more than any other type of siding, meaning that it will be more likely to need repainting if you live in an area of extremely hot and cold temperatures.
On the other hand, wood may not require as much priming, but it will undoubtedly take more coats of paint as it can be highly absorbent. A home being painted for the first time will require more paint than one being repainted ten years later.
Paint has come a long way, but painting the entire outside of your house is very time-consuming.
After a while, the color fades, and it looks old and tired. This is not to say that you shouldn't paint your wooden siding, but make sure you buy a high-quality paint that is specifically for wood and has a good guarantee.
The condition and type of siding will also impact the amount of paint required and the amount of labor needed to complete the job. Cedar shakes or siding with a rough finish will need much more paint and take longer to apply than a smooth finish.
Size and Complexity of the Home
It goes without saying, but a bigger house will require more coverage than a small one. Couple this with the type of siding, and the cost can really go up if you have a large house that requires up to three coats.
Even paints that claim to require only one coat often require a second, so this is something you should seriously think about. If you're not sure about how much siding actually covers your house, you can calculate the amount of siding according to your house's dimensions.
Homes with multiple stories may also require scaffolding and additional time to work at higher elevations. It's common for the price per square foot to be higher for two-story homes than for single-story homes.
Houses with more detail and trim will also require more time to prepare and paint. Trim painting takes more time than painting flat surfaces and adds more time to the project. Complex angles also take more time to work around and should be considered during estimation.
For this reason, homes with a lot of trim also have higher costs per square foot to paint, and often require more paint than homes with simple siding.
Safety Precautions
Painting the exterior of the home can be a dangerous job. Lead paint and asbestos siding pose serious health risks, be sure to consult a professional to see if there are special considerations that need to be made on your project.
While these things are becoming less common, it is important not to sand or disturb siding if you think that it may have asbestos or if it has had lead paint previously encapsulated. Always call in an abatement team to handle these situations for the best, safest results.
Also, make sure you use protective equipment such as safety harnesses when climbing, and hand and eye protection as needed.
As an Amazon Associate, we may earn commissions from qualifying purchases from Amazon. Learn more
Labor Costs for Exterior Painting
Hiring a professional painting team is one way to achieve a high-quality paint job. Professional painters can cost as much as $60 per hour, and a sizable exterior painting project can take several days.[3] Labor rates will vary by geographic location, experience, and complexity of the project.
Painting contractors know the ins and outs of what it takes to get the best end result, but that doesn't mean you can't do it yourself. DIY is a great alternative to save on labor costs, but make sure you prepare for the project. Use our paint calculator to estimate how much material you need for the project, and be sure to prepare for all of the details.
All pricing information on this page is based on average industry costs, and is subject to variance for project-specific materials, labor rates, and requirements.
References
Sharon Grey, Cost of Painting Vs. Siding, Hunker, https://www.hunker.com/12325085/cost-of-painting-vs-siding
Painting Business Pro, How Much Does it Cost to Paint a House Exterior?, https://paintingbusinesspro.com/much-cost-paint-house-exterior/
Marilyn Lewis, 6 Tips to Save on the Cost to Paint a House, NerdWallet, https://www.nerdwallet.com/blog/mortgages/save-on-cost-to-paint-a-house/