Cost to Replace Windows – 2023 Average Prices
Are you considering upgrading or replacing one of your windows? Replacement windows can help make your home more energy efficient. They can also help boost interior light, enhance your curb appeal, and may be easier to clean as well.
If this sounds like a project you want to take on, you might be wondering how much it might cost.
2023 Window Replacement Costs
Calculate local project costs by entering your zip code.
National Average Price
$

565

Typical Price Range
$

250

- $

2,500

Minimum Price
$

50

Maximum Price
$

5,000
Get free estimates from contractors near you.
---
---
How Much Does Window Replacement Cost?
Inevitably, all windows need to be replaced at some point in their lifetime, whether due to improved energy efficiency, age, storm damage, or the kids hitting a ball through the glass. The average price for replacement windows is $565 per window, though you could pay as little as $180 or as much as $2,500 per window.
The variables that affect how much replacement costs are the type of window and size, exterior trims, additional framing and repairs, labor, and accessories.
There are several levels of replacing a window. You might just need the glass replaced, which will cost about $280 to $350 per window. Most other window repairs that may accompany this project are around $100 per window.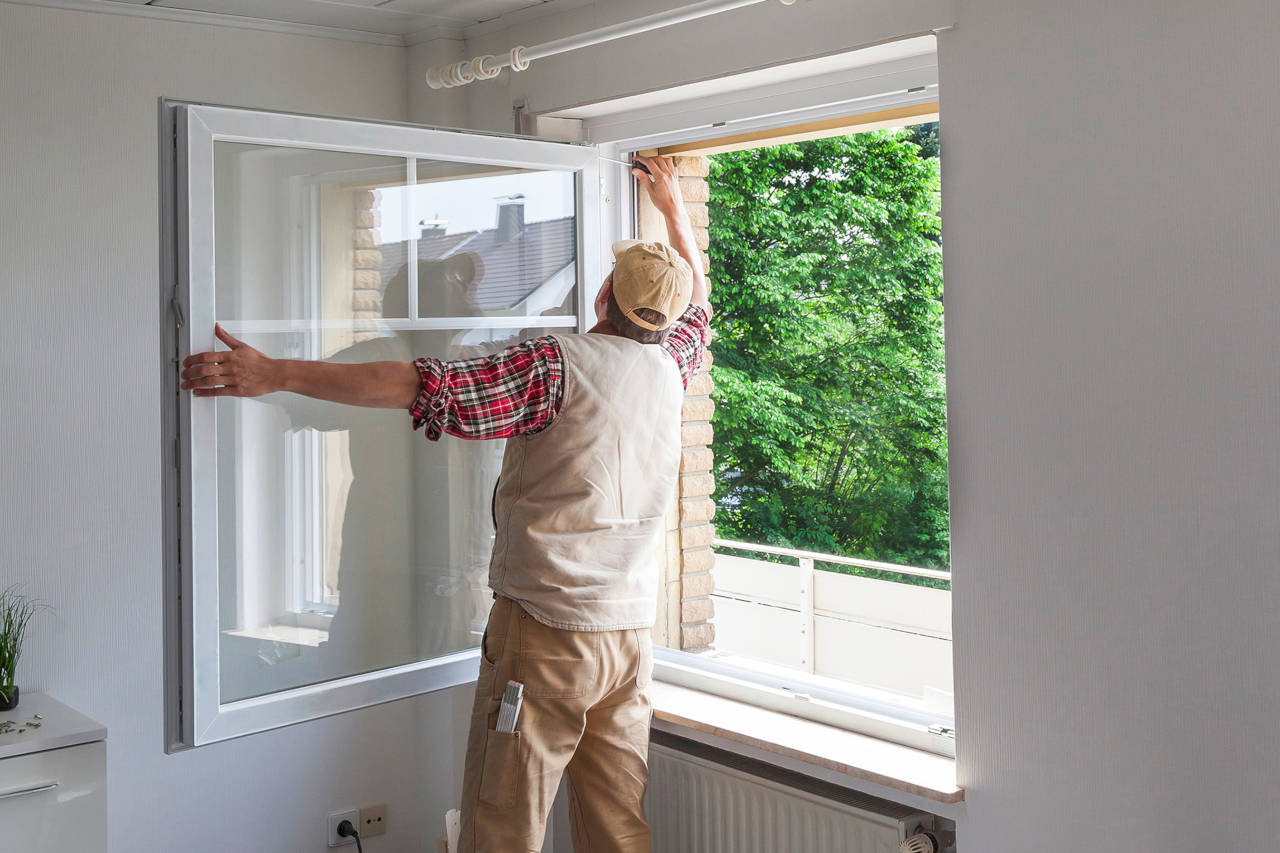 Replacing a window with an "off-the-shelf" or stock retrofit window when no framing needs to get altered is much cheaper than a full-frame window replacement. Retrofit windows are designed to be installed in the existing frames and require much less repair on the exterior trims.
Completely replacing a window where the frame needs to get changed can involve many other costs and repairs on both the interior and exterior as well.
You also want to replace those old drafty single-pane windows with double-pane, double-hung windows that are more energy-efficient.
Types of Windows
The style and material of the window you select are key factors in estimating the cost of the replacement.
Vinyl Windows
Vinyl windows are the least expensive, with an average cost of $400 to $800 per window. These windows are fairly easy to clean but not very good at insulating. They are also more limited in color and style options.
According to Remodeling Magazine's Cost vs. Value report, most homeowners see a 68.5% return on the investment in new vinyl windows through increased home value at resale.[1]
Fiberglass
Fiberglass windows are quickly becoming one of the most popular choices. They do a great job of insulating and are more durable and longer lasting than vinyl, while still being less expensive than wood.
Expect costs between $400 to $1,300 per window installed.
Wood Windows
Wood windows are also great insulators and are often considered the most attractive as well. They also tend to be more expensive than other types.
Wood windows are often the best fit for historic homes and are also often used in more high-end properties. Average costs range from $650 to $1,500 per window.
Composite
Composite windows are a newer type that may contain wood, vinyl, metal, or fiberglass and are often a mixture of two or more. This may include wood or vinyl-clad aluminum or a material made of a blend of other materials.
These windows are often very energy-efficient and durable. They can cost $500 to $1,800 per window on average.
Single-Hung
The single-hung is the old-fashioned type of window that typically only opens from the bottom. This inability to open the top window makes it more precarious to clean the exterior of windows on the second or higher floors.
These windows are usually the least expensive at $400 to $800 each, installed.
Double-Hung
The double-hung window eliminates the danger of leaning out to clean the exterior because many of these windows tilt in to make cleaning easier. Plus, you can slide the top window down to let stale or smoky air out and create better circulation.
These are usually $450 to $900 each, installed.
Casement Windows
Casement windows are unique in that they often swing inward or outward on hinges rather than slide up and down like sash windows. An awning casement window has hinges at the top, so the bottom of the window swings in or out, and the hopper style has hinges at the bottom.
There are also FCR with hinges on the right and FCL with hinges on the left.
These windows open with a crank or lever and seal tighter than sash-type windows. Casement windows, depending on the size and style, cost $450 to $1,300 installed.
These are also very commonly used for egress and basement windows since they swing all the way open. Because they can swing all the way open, these windows offer great ventilation.
Picture, Bay, or Bow Windows
Large picture windows average about $600 to $1,100, while Bow or Bay windows range between $2,500 and $6,500. The price for each will depend on the material used to manufacture it and the size.
Keep in mind that these prices do not include installation. You will need to decide to DIY or hire a professional.
Installation Costs
Replacing windows where the frame is decaying because of water damage, termites, or just old age can require more materials and time. So, expect the price of materials and labor to be more than simply replacing the window.
Labor
Contractors will charge either by the hour or by the window. When charging by the hour, the rate is usually $50 to $100 per hour per laborer.
When charging by the window, the cost is often $150 to $300, depending on how much framing needs to be done.[2]
In some cases, paint might be needed to touch up interior and exterior trim after the project is complete. The cost of hiring a painter will vary. One way to save money is to repaint the trim yourself if this is in your wheelhouse.
Try our contractor locator to find a contractor near you and get no-obligation quotes for the replacement.
Materials
The price you pay for materials will depend on what changes are necessary for the new window. When installing a window with a smaller frame, bricks or siding might need to be added on the exterior and sheetrock or other wall coverings on the inside.
Accessories
The accessories used will typically have a minimal influence on how much you pay. All windows require some hardware, though most will be part of stock window purchases.
Another dimension to consider is if you have a home security system with window sensors. If you do, have the security installer replace the window sensors after a new installation.
All pricing information on this page is based on average industry costs, and is subject to variance for project-specific materials, labor rates, and requirements.
References
Remodeling Magazine, 2023 Cost vs. Value Report, https://www.remodeling.hw.net/cost-vs-value/2023/
Josh Garskof, 5 Things to Know Before You Replace Windows, Money, https://money.com/replace-windows-need-to-know/