Cost to Install Kitchen Backsplash – 2023 Price Guide
A kitchen backsplash can come in many styles, colors, and patterns. Tile is not your only option. Your backsplash could be an opportunity to make a personal statement during your kitchen remodel or new build.
You might be wondering how much a new backsplash costs; keep reading to learn more.
2023 Kitchen Backsplash Costs
Calculate local project costs by entering your zip code.
National Average Price
$

1,000

Typical Price Range
$

600

- $

1,500

Typical Price Range (per square foot - installed)
$

30

- $

75
Get free estimates from contractors near you.
---
---
How Much Does a Backsplash Cost?
When it comes to a backsplash, you have a blank canvas you can fill with traditional tile patterns, modern designs, subtle color schemes, or bold and unusual patterns. Or, you could go off-book and come up with your own design.
For DIY projects by novice installers, adhesive tile mats are also available to simplify the project. Although these are more expensive than traditional thinset, they are popular for DIY projects because there's no mixing and only a small mess of backing and paper to clean up after the installation is complete.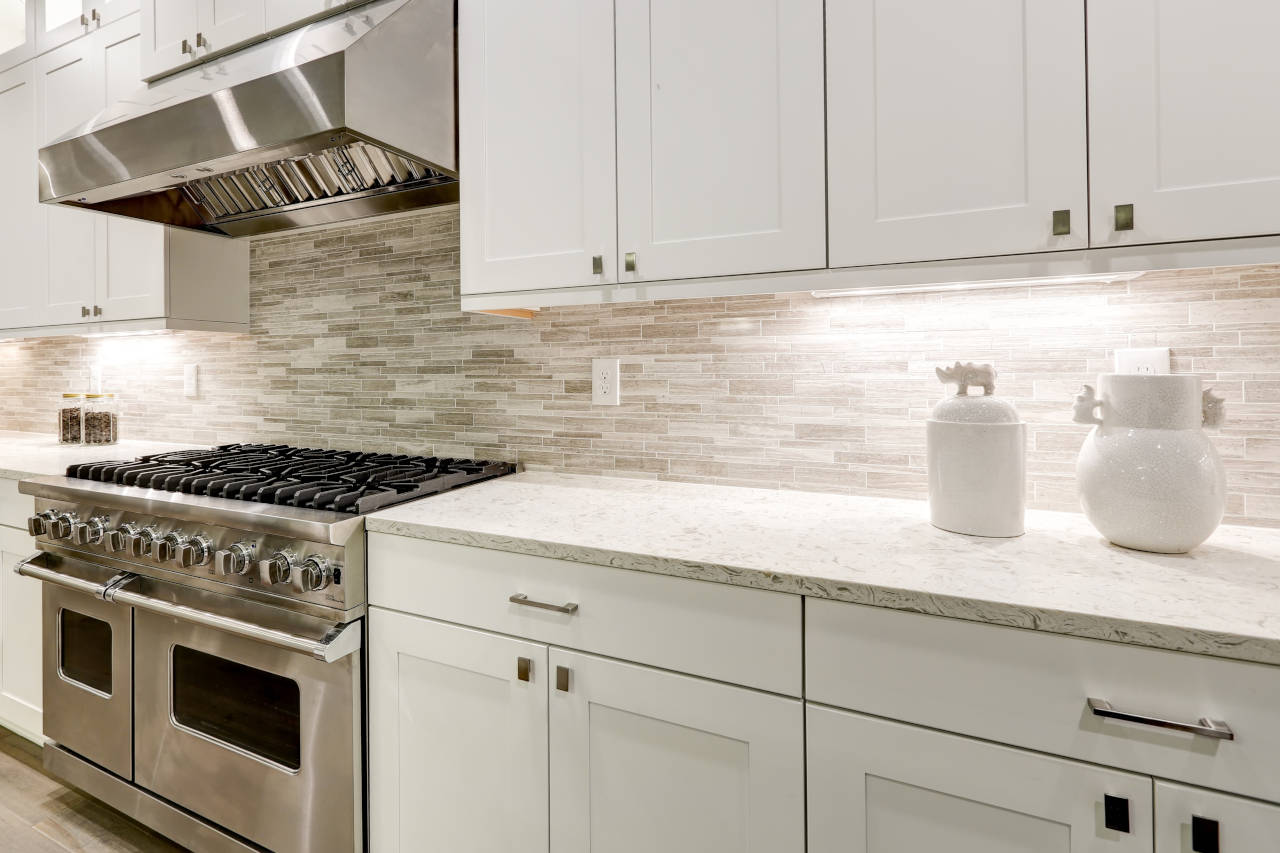 Most people spend $600 to $1,500 on a backsplash installation, and the average is about $1,000.
However, before any pricing can be estimated, you'll need to find the square footage you want cover with a backsplash. Most people cover the area between the countertops and the cabinets – about 18 inches in height – as well as the area behind the cooktop.
However, you can take the backsplash outside of these areas to cover the entire wall or extend it above the cabinets as well. You can use our quick square footage calculator or just multiply the height and width of the area in feet. Our tile calculator is also an excellent resource for estimating backsplash material if you're going to use tile.
Tile & Backsplash Prices Per Square Foot
Typically, ceramic tiles cost between $11 and $60 per square foot to install; stone between $15 and $65; stainless steel or other metal between $20 and $50; and glass between $20 and $60 per square foot.
Keep in mind that some materials will fall outside of these ranges and that if you plan on installing the material yourself, it will save you between $10 and $15 a square foot in labor fees.
How much your installation will cost varies substantially, depending on the complexity of the install, as well as workarounds like electrical outlets, fixtures, and finishes. Variables to traditional prices might include patterns that require multiple cuts and those that are difficult to reach.
In addition, complex patterns might require more wasted material. For instance, selecting a pattern that places tile at an angle, such as the herringbone pattern, will require about 20% additional material to account for off-cuts, which can represent a significant increase in price.
Likewise, tile that is harder to install, such as a paper-faced glass mosaic tile, will cost more in labor, as well as in additional material.
Labor rates also vary significantly throughout the nation, and if you're hiring someone for the job, then this will be a significant variable in the price. Of course, the cost of material will also be a considerable cost factor.
Read on to learn more about various material costs.
Ceramic
Ceramic comes in many different types, but you'll find that machine-made tile is generally cheaper than handmade. The more decorative the tile, the higher the cost as well. Expect machine-made tile to range from $2 to $20 per square foot.
Handmade ceramic tile starts at $20 to $30 per square foot and can climb as high as $100 per square foot for very intricate, hand-painted designs.
Porcelain
Porcelain tile is a sub-type of ceramic but is far less decorative and often much larger. It can mimic the look of wood, stone, or metal and can cost $3 to $30 per square foot.
Stainless Steel
Stainless is about $20 to $30 per square foot, and there are other metals and metal sheets that can be used as a backsplash for $20 to $25 per square foot. Keep in mind that if you choose to use a softer metal, like aluminum, do not use it near the cooktop, as it may melt.
Marble
Marble tiles come in a wide range of colors, finishes, shapes, and sizes. You can also find marble slabs if you want a seamless, smooth surface that can match a countertop. For tiles, expect costs between $3 and $50 per square foot, while slabs will start at $50 to $200 per square foot.
Glass
There are many types of glass tile that can be used on a backsplash. Color-backed glass tile is the least expensive but can be difficult to cut. Handmade glass tile and color-through glass tile are more expensive and require more knowledge for installation. Expect costs between $10 and $50 per square foot.
Slate
Slate comes in many different types, colors, and finishes. If you choose an ungauged slate, this will have a more rustic look and a lower material cost, but is very difficult to install, raising the labor cost. Gauged and finished slate is more costly upfront but is easier to install.
Adhesive Tile Mats
As mentioned above, these are an excellent product for the DIY backsplash. However, you could pay as much as four times what you would pay for thinset.
However, for the DIY project, what you pay for is convenience. You will not have to wait for the standard 24-72 hours to grout.
Adhesive mats cost roughly $2 per square foot in addition to the price of the selected tile.
Sheet or Slab Backsplash
Another convenient alternative to tile is the laminate sheet or solid slab backsplash. Sheet backsplash is the generic term given to any large sheet of protective material used in the kitchen or bathroom as a backsplash.
These sheets are mostly a single color, though a popular choice is the faux veined or striated marble. These are easy to clean, and no seam sealer is necessary.
Installing these sheets costs about $45 or $50 per square foot. However, as a DIY project, you can do these for about $5.00 per square foot.
Some sample prices are: stainless steel at $80 per square foot; beadboard at $1.00 per square foot; granite at about $45 per square foot; vinyl wallpaper (not recommended for around the stove) at $1.00 per square foot, but there are other choices, so consult with installers in your area.
Solid slab backsplashes are made from the same material as your countertop, including marble, granite, quartz, or solid-surface. They have the same costs per square foot as a countertop and may range from $35 to $200 per square foot installed.
Get Estimates for Your Kitchen Backsplash
To avoid confusing quotes, tell the contractor what you want and how you want the price broken down. For instance, tell the contractor you wish to get 20 square feet of herringbone subway pattern ceramic tile installed and you want a price per square foot. We suggest getting at least three estimates from qualified tiling contractors.
You might also be interested in our cost guide for new kitchen countertops.
All pricing information on this page is based on average industry costs, and is subject to variance for project-specific materials, labor rates, and requirements.