Average Carpet Cleaning Cost – 2023 Cost Guide
A great way to freshen tired and dirty carpeting and remove some pesky stains is to do a professional deep cleaning. Compared to the price of new carpeting, professional cleaning is an attractive option.
We'll cover the most popular carpet cleaning options and the costs of each in detail below.
2023 Carpet Cleaning Costs
Calculate local project costs by entering your zip code.
National Average Price
$

175

Typical Price Range
$

125

- $

250

Minimum Price
$

100

Maximum Price
$

500
---
---
How Much Does Carpet Cleaning Cost?
The average cost to get your carpets cleaned is $175, although that depends on several factors. DIY carpet cleaning might cost less than $100 with the rental fee and cleaning products. A small professional cleaning might cost as little as $125, while a more significant area could cost as much as $350; though the typical expense is $125 – $250.
The factors involved in determining carpet cleaning costs are usually the number of rooms, the area in square feet, type of carpets, methods used, and stain removal.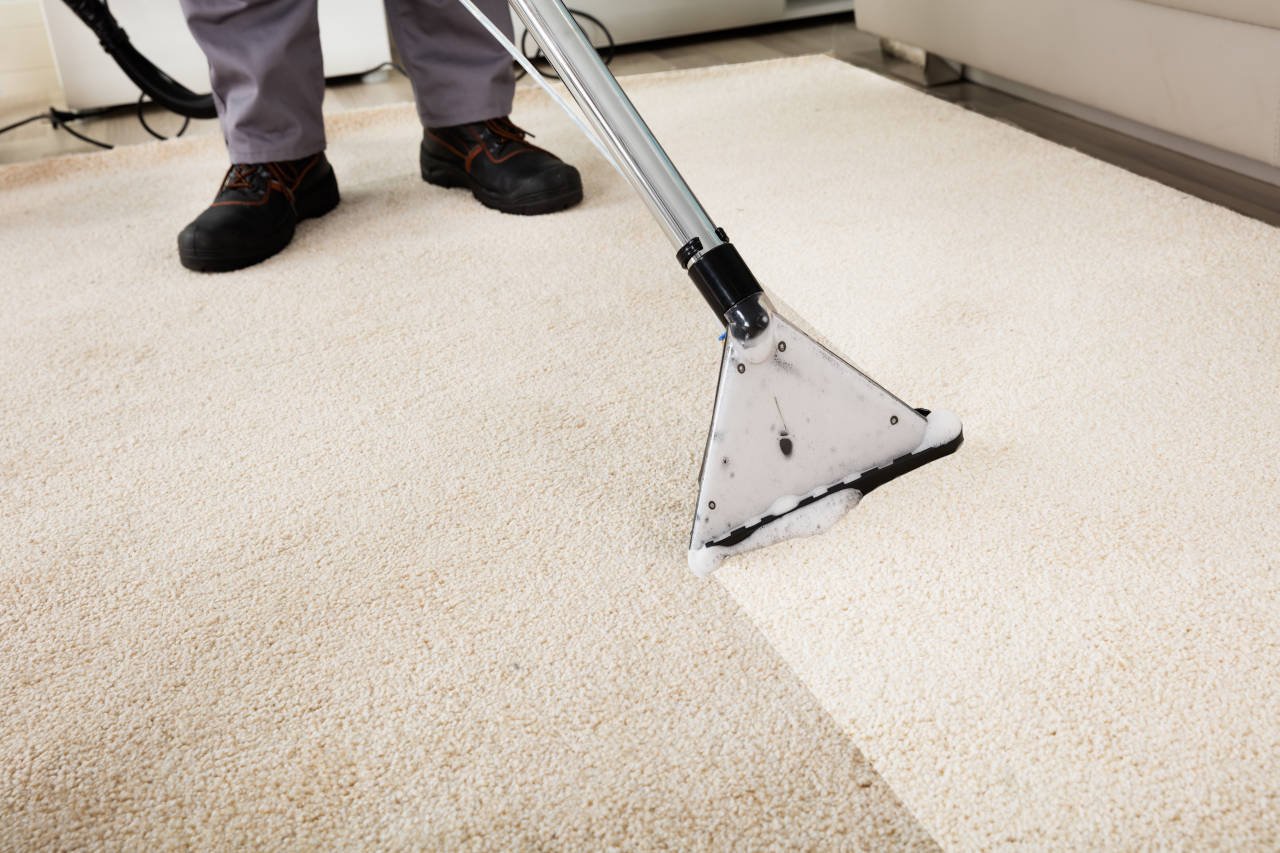 Common Cleaning Pricing Methods
Carpet cleaning services price a project using a few different methods. Some use a per square foot price, while others use a per room price.
Per Square Foot
The square foot method usually requires the cleaning service to come in and measure, then give you a price. You should measure your place before they arrive to get an idea of how many square feet of carpet you have. Use our square feet calculator to estimate the area of your room.
Some may even charge you a service call to measure when you have a small condo, one-bedroom home, or apartment, or they may roll it up into the quote. Moving large furniture or sectionals might result in more expense.
Per Room
Carpet cleaning services that charge a per room price might not care how many square feet a room is, while others might use a maximum size before charging you a two-room price.
Various Methods to Clean Carpets
There are several approaches to cleaning carpets. The two most popular are steam cleaning and dry cleaning, or a combination of the two.
Carpet Steam Cleaning
Steam cleaning uses a machine to inject steam and cleaning chemicals deep into your carpet and then vacuums out the dirt and debris. It typically takes a full day to dry, so plan on staying off the carpet the day of cleaning. You will usually pay between $100 and $200 for a 1,000 square foot area, $300 or $400 for 1,000 – 1,400, and around $500 for 1,500 – 2,000 square feet of carpet.
Carpet Dry Cleaning
This process uses very little water and chemicals in a rotary machine. The benefit of dry cleaning is that there is no waiting to walk on the carpet after cleaning. Some say it keeps your carpet looking cleaner longer than steam cleaning, but steam cleaning cleans deeper and more thoroughly than dry chemicals. Chemical cleaners average about $125 – $150.
Cost of a Steam Cleaner Rental
The price to rent a steam cleaner for a DIY carpet cleansing is $25 – $50 per day, depending on your location. Steam cleaning your carpet is time-consuming and hard on your back.
Plus, there is a chance of oversaturating, which could prolong the drying time and allow mold to start growing. Other drawbacks of a DIY carpet cleaning are inferior machines that have been used by many customers; some might not work at all.
Of course, the rental company will replace it, but you have already spent your time and effort prepping. Some machines are too large to get tight places and room corners.
Removing Stains, Additional Cleaning & Special Services
Many carpet cleaning services charge extra for spot cleaning and stain removal. However, they will typically offer services such as Scotchgard, Stainmaster, or Teflon additives to protect against future stains.
Scotchgard is a favorite, frequently used chemical protection for carpets and upholstery. It protects the carpet or fabric by wrapping itself around the fibers to create a protective film that does not allow the stain to sink into the material and makes for easy cleanup.
Ask about these and subscription service discounts. A subscription service discount is like buying a contract to get your carpets cleaned on a regular schedule, say quarterly or semiannually.
You can also prolong your carpet's lifespan through repairs and dyes; ask a professional about these services. When you're ready to hire a professional, we suggest getting three or more estimates and compare their services. Remember to ask for discounts for repeated service, large areas, and coupling your upholstery cleaning with carpet cleaning.
If you're considering installing new carpeting, you'll probably want to use our carpet calculator to help plan the project.
All pricing information on this page is based on average industry costs, and is subject to variance for project-specific materials, labor rates, and requirements.