Cost to Install Carpet Flooring – 2023 Price Guide
Carpet is the classic choice for a floor covering in any home as it simply oozes comfort. Of all the options available for floor covering, carpet is the only one that can boast being a soft cushion for your feet as you make your way from one room to another.
Keep reading to learn more about the cost to install new carpeting.
Carpet Installation Cost Calculator
Enter the size of your project and select the material and services you're interested in to estimate the cost of the project using 2023 price data. Continue reading below to learn more about what to expect for a carpet installation project.
---
---
How Much Does Carpeting Cost?
Every covering has its advantages and disadvantages, and carpet is no different. It might give your feet the royal treatment, but can be more difficult to maintain than harder materials like wood, laminate, vinyl, or tile.
Still, it can be kept in good condition if you invest in regular cleanings for general foot traffic or accidental spills. All in all, it can be a very attractive choice for the home, particularly in rooms that are spaces of relaxation.
But how much does it cost to put down a carpet in a room? Most spend between $1,200 and $1,400 for a 16 ft by 16 ft room. The cost can vary by several factors.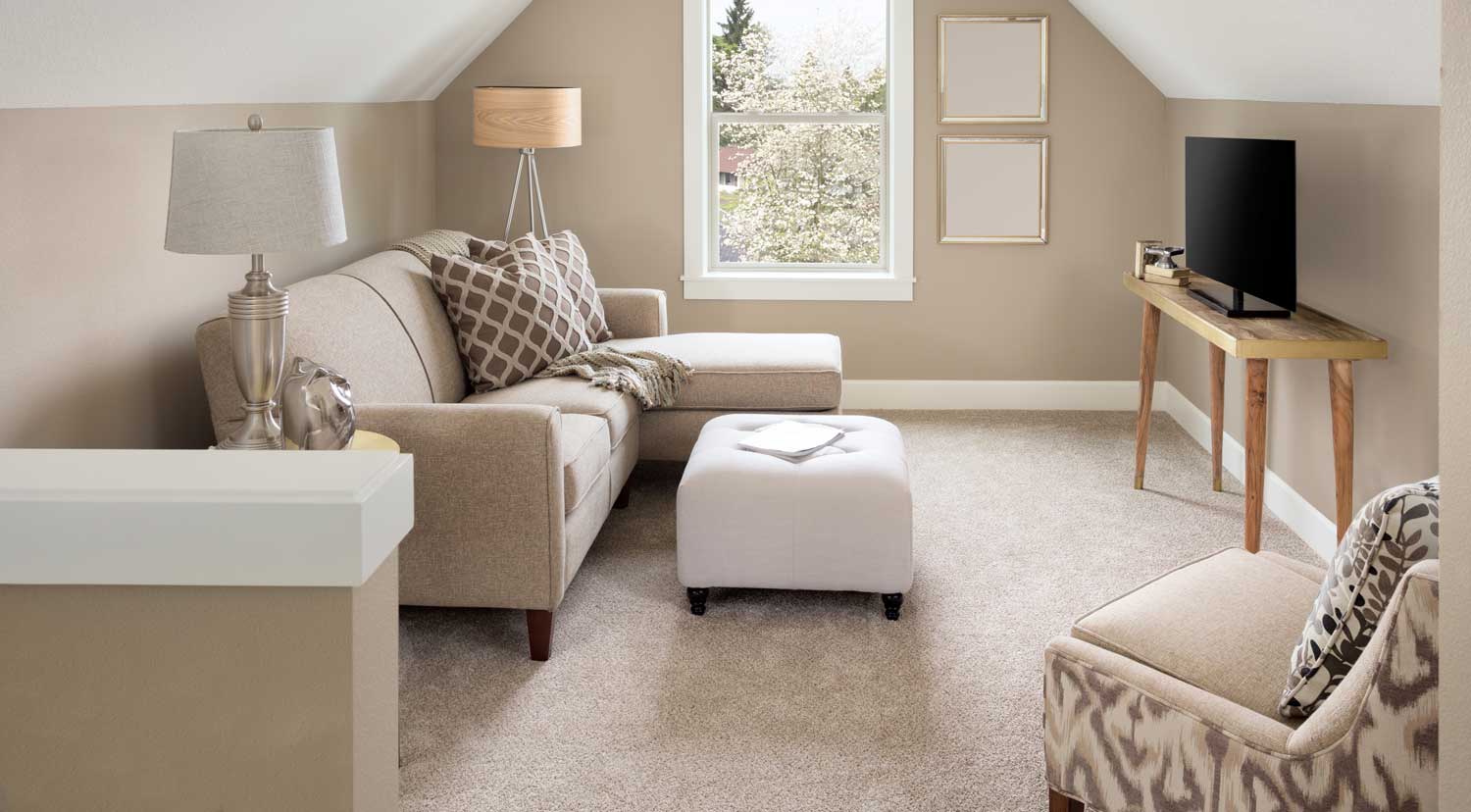 Carpet Cost Factors
The material used to make the carpet will affect its price. Natural materials are usually more expensive than synthetic materials like nylon. Keep in mind, though, that some materials like wool can last considerably longer than low-cost carpet options like polyester, which can make them a good investment.
Some natural materials are also fluffier in texture and more appealing to the eye, so striking the right balance between taste and practicality is key.
Carpet can range in price from $3 to $20 per square foot. You might need to search around to find the style and price point that suits your needs.
Foot Traffic and Durability
If you're looking to lay carpet in a room that your family only uses for special occasions, you may not need to invest in a highly durable variety. Instead, you could opt for an aesthetically pleasing one at a lower cost that would not last long in a room you use a lot.
On the other hand, if everyone in your household uses the space on a daily basis, durability and maintenance may be the factors you prioritize over softness or appearance. It's all a question of personal taste and what you are willing to sacrifice to lower your costs.
Textures and Patterns
Carpet is available in many textures and patterns, which offers limitless options for a design aesthetic. Cut and loop patterns and dense fibers like velvet textures can have higher costs than level loops or tight patterns like berber carpet.
Carpet can also have patterns and varying colors, which can add beauty to a space. While a pattern may be attractive, it can also increase the amount of material required for the project to keep the pattern consistent at the seams. Also, producing carpet with patterns is often more expensive; thus, adding a pattern can add to the price.
Carpet Padding
Carpet padding protects the flooring, adds cushioning, and is sometimes even required for the warranty of the floor. Padding usually needs to be replaced when installing new carpet and can cost $.25 to $2 per square foot.
Keep in mind that some types of carpet will need a specific type of padding; speak with the installer to make sure you are getting a good match between your chosen carpet and the padding.
Estimate How Much Carpet and Padding is Needed
To calculate how much carpet you need for your room, the first thing you need to do is measure the dimensions. The dimensions are the length and the width, and these should be measured in feet to find out the square footage.
Additionally, carpet is usually sold and installed in square yards, so finding out how many square yards there are in a room can give you more accurate cost estimates. Because one square yard is equal to nine square feet, just divide the square feet by nine to determine the square yards.
Installing Carpet on Stairs
Installing carpeting on a flight of stairs will add to the amount of carpet needed and the complexity of the installation. Stairs require carpet on the face of both the tread and the riser, so about double the square footage of the stairway.
Installing carpet on a set of stairs with a standard wall edge costs about $3 to $10 per tread. Stairs with railing spindles that go straight to the floor and need to be carpeted around are even more complicated to work around. Plan on spending $15 to $20 per step if this is going to be required.
One important thing to note is that even big box stores offering "free installation" will often charge extra for stairs.
Labor Costs
Flooring installers usually charge around $1.50 – $2.50 per square foot to install carpet. Labor rates may vary by region and the skill level of the installers. Some flooring stores also offer free installation and either absorb the cost of installation or add the price to the carpet itself.
Hiring a professional adds to the cost, but it can potentially save you a lot of money in the long run. Moreover, if you don't have experience in this area, you will likely make a mistake that will take away from the finished appearance.
Project Complexity Cost Factors
The complexity of the flooring project can impact the price of installation and, in some cases, may require more carpet material. Complexities usually add to the project installation time. Thus, they can increase the cost of the project.
Complicated Cuts
Complicated cuts and angled walls add to the installation time. In addition, complicated cuts and rooms with angled walls might also require more carpet to avoid seams. Because of these factors, complicated cuts and angles often add to the total price of carpet, both in added material and the extra labor needed.
Subfloor Repairs
If you're tearing out old carpeting and refreshing with new, you might be surprised by what you find. Old, sagging, or unstable subfloors should ideally be repaired to avoid complications in the future.
Since you cannot repair the subfloor after the flooring installation, repair imperfections before adding new carpet. Repairs to the subfloor can add unexpected costs and delay a project but are often unavoidable. If you need to repair or replace the subfloor, this can add about $500 on average to the cost of the project.
Removal and Haul-Away Costs
Flooring contractors usually charge extra to remove existing carpeting and might even charge to haul it away and dispose of it. One way to reduce the cost of the installation is to remove carpet yourself and haul it to the dump to avoid removal fees.
Carpet removal typically costs between $100 and $300 on average, including disposal fees.
Saving with Cleaning and Repairs
If your carpet has seen better days, it's sometimes possible to get several extra years of life with a professional cleaning and, if necessary, a few repairs. This option can help save on the cost of fully replacing all the flooring or by keeping existing flooring in secondary rooms and bedrooms.
A professional cleaning usually costs around $175, and repairs average around $150 to $300. This option could also allow you to put higher quality carpet in key rooms by saving the cost of installation in secondary rooms.
All pricing information on this page is based on average industry costs, and is subject to variance for project-specific materials, labor rates, and requirements.