Roof Inspection Cost – Average 2023 Prices
Do you need a roof inspection? Roof inspections may be carried out for many reasons. If you're buying or selling a home, you may want to know its condition. Or if a storm has passed through, it may be a good idea to check for potential damage.
You may even need an inspection if you're having leaks and are concerned that there is a larger problem. You might be wondering how much an inspection might cost. Keep reading to learn more about how much an inspection could set you back.
2023 Roof Inspection Costs
Calculate local project costs by entering your zip code.
National Average Price
$

225

Typical Price Range
$

75

- $

850
Get free estimates from contractors near you.
---
---
How Much Do Roof Inspections Cost?
A standard roof inspection can cost between $75 and $850, which is quite a large gap. The wide range in price illustrates that there are many factors that contribute to what a roof inspection will cost. The area you live in, the age of the roof, and even the shape of it can affect the price.[1]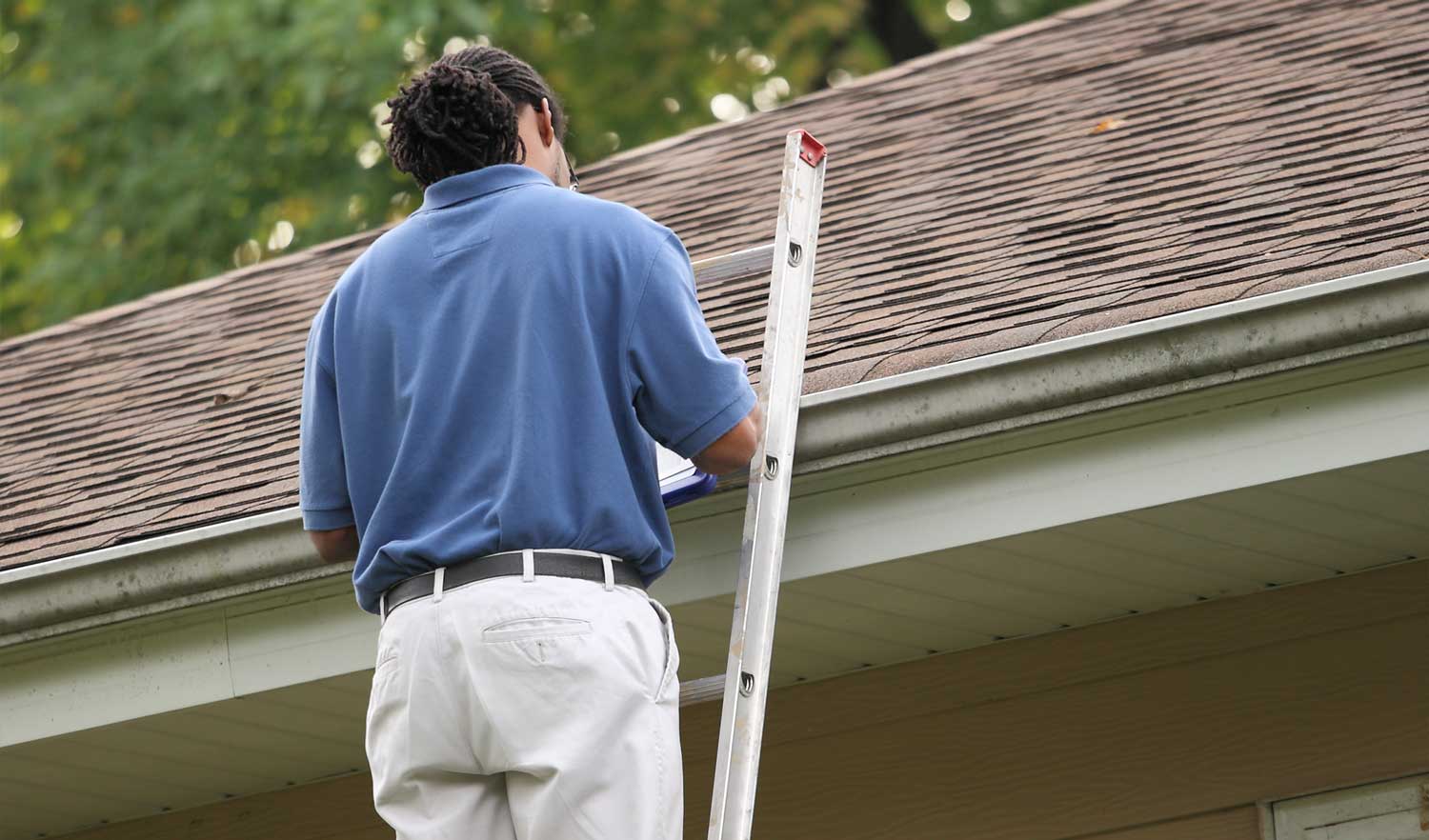 For example, a house with multiple levels and high-pitched roofing areas will take longer to inspect. Multi-level homes or homes with a steep-pitched roof inevitably cost more than a single-story house with a flat or shallow-pitched roof.
Similarly, if your roof is made of a specialty or delicate material, it will require more during the inspection, so it will likely cost more.
An inspection for the roof of the average one-story single-family home generally costs $2225.
Why Should You Get a Roof Inspection?
Your roof is an essential structural and protective component of your home. Not only does it defend your house and belongings from harsh weather conditions, but it also helps to keep your home structurally intact.
Additionally, your roof and attic area, when properly maintained, are integral to the warmth and comfort of your home. Air rises as it heats, so with correct insulation, your roof and attic will ensure this heat bounces back into your home's interior during winter months, keeping you and your family warm.
Identifying issues with the critical part of your home's structure early can prevent more significant issues down the road.[2]
What Does a Roof Inspection Cover?
You can ask the contractor to look for specific issues that you are having trouble with, such as an area that always leaks indoors after a rain shower. However, if you aren't having any particular problems with your roof and are just looking for a general checkup, your inspector will look for common problems following a standard checklist.
A roof inspection often includes an assessment of the gutters, downspouts, rooftop vents, soffits, and fascia. The contractor will also examine the condition of the roofing material itself to determine whether any repairs need to be carried out.
How Often Should You Get a Roof Inspection Done?
You don't need to have your roof inspected too often as long as you carry out inspections yourself once or twice a year.[3] A professional examination will inevitably be more thorough, and chances are they will be able to see flaws that you can't.
Professional inspections may be recommended for some roof types every three years. However, this isn't always necessary, and some roofs only need to be inspected professionally if you spot a problem or are buying a new home.
Still, as a vigilant homeowner, you can occasionally check out the condition of the shingles and gutters. Save money in the long run and avoid repairs by cleaning gutters regularly, especially when they're clogged with leaves or debris.
Moreover, if you're confident about your home improvement skills, you might be able to make small repairs yourself, such as sealing an area where water is leaking inside or repairing a cracked shingle or two.
What Happens If They Find Something Wrong?
If the roofing professional discovers a problem with your roof when they are carrying out the inspection, arrange to have it fixed as soon as possible. The inspection will help you to find the extent of the damage, learn specifics and estimate how much roofing material is needed, and provide an estimated cost of the repair job.
Tips for Hiring a Professional
When you are ready to hire a local roofing contractor, there are ways of making sure you find a good one. Talking to friends and family about who they've engaged in the past will help reassure you that the work is held to be of high quality by people you trust.
Reading online reviews is another great way to find well-rated professionals. Once you make a hiring decision, always confirm the contractor is licensed and insured, and be sure to read over the contract thoroughly before committing to anything.
All pricing information on this page is based on average industry costs, and is subject to variance for project-specific materials, labor rates, and requirements.
References
Cert-A-Roof, The Cost Of Roof Inspection For Your Home or Office, https://www.certaroof.com/resources/roof-inspection-cost/
Glenda Taylor, All You Need to Know About Roof Inspections, Bob Vila, https://www.bobvila.com/articles/roof-inspections/
Roof Revivers, How Often Should You Have Your Roof Inspected?, https://www.roofrevivers.com/blog/how-often-should-i-have-my-roof-inspected