Cost to Install Vinyl Flooring – 2023 Price Guide
Vinyl is once again a popular option for flooring due to it durability, stylish look, and reasonable cost. Keep reading to learn more about the cost to install vinyl flooring.
2023 Vinyl Flooring Costs
Calculate local project costs by entering your zip code.
Typical Price Range
$

800

- $

1,000

Minimum Price
$

400

Maximum Price
$

2,000

Typical Price Range (per square foot - installed)
$

4

- $

5
Get free estimates from contractors near you.
---
---
How Much Does Vinyl Flooring Cost?
Vinyl flooring has come a long way. It used to be available mainly in sheets, with noisy patterns and colors. Reminiscent of a by-gone era, traditional vinyl flooring is often perceived as dated or old-fashioned in today's contemporary homes.
However, the vinyl of today is not like the vinyl of the seventies or eighties. The styles available are now more attractive and water-resistant than ever before, and it is now available in tiles as well as large sheets.
Vinyl is one of the most affordable types of flooring, and the project often costs in the $800 – $1,000 range. Read on to learn more about how much it costs and what impacts the price.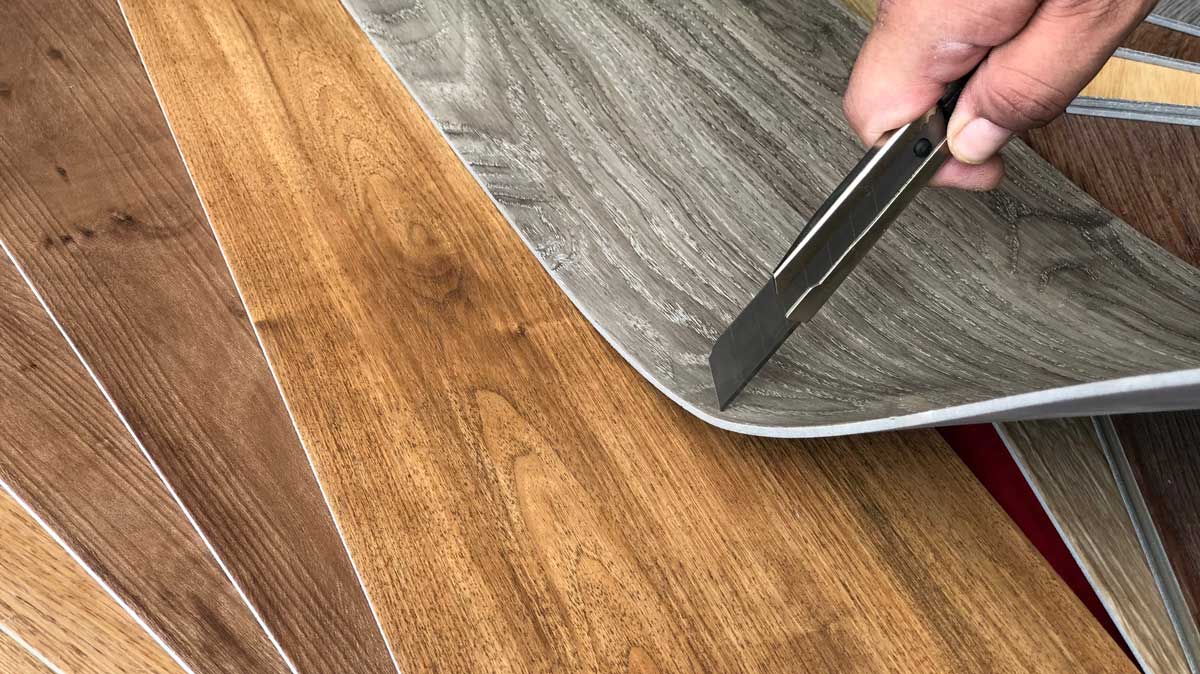 Why Choose Vinyl?
Wood look patterns are a popular choice for consumers as vinyl is the cheapest way to achieve a wood look. If you're keen to cover your floors in something that looks like wood, vinyl is almost always the most competitive in terms of price over both laminate and hardwood flooring.
Moreover, vinyl flooring, despite its unfortunate reputation, is no longer a cheap or tacky option suitable for those with the lightest wallet. Instead, it is genuinely a competitor for more expensive types of flooring due to its resurgence on the market.
One of the main problems with vinyl flooring was its relationship with water: anyone who has had old vinyl flooring knows that it tends to fade and curl when it comes into contact with water frequently. However, contemporary manufacturers have really upped their game where this disadvantage is concerned, and many new vinyl floors are being marketed on their much-improved resistance to water.
As such, if you want flooring that is affordable, durable, resistant to water, good for soundproofing, and available in tasteful colors and patterns, vinyl may be the choice for you. The only real downside to vinyl remains the fact that homeowners who are keen to achieve a sense of sophistication or authenticity with their interior decor will always turn their nose up to what they perceive to be a cheap substitute for natural materials such as wood or stone tile.
It's clear that the arguments for vinyl are quite persuasive, and the main reason you might not want to try it out is simply a matter of personal taste. If this doesn't deter you, vinyl flooring may certainly appeal to your ambition for a home that is cost effective to decorate, and easy to maintain.
Still, even though it may be more affordable than other types of flooring, you will still want to get a ballpark figure for the room, or rooms, you intend to use it in. Here are some factors and cost calculations that will help you determine the cost of a vinyl floor:
Size of the Room
The size of the floor you need to cover will always impact the overall cost no matter what flooring you choose. To estimate the flooring material needed, measure the length and width of the floor area. Rooms that have an uneven shape will require extra calculations to either subtract or add to a standard rectangle or square area.
It is much easier to treat the room as a number of imaginary squares and calculate as such. To find the rectangle square footage you once again multiply the length by the width. The result of this multiplication is known as the square footage, or area, of the floor.
Vinyl Flooring Brand and Guarantee
The brand of the vinyl floor will add to or subtract from its cost. The specific features and the length of the guarantee will also impact the overall price. Vinyl flooring with a stronger guarantee and longer warranty will often cost more. Because of this, consider the importance of brand and warranty when you're selecting a floor.
Professional Flooring Installer
One of the key elements to installing vinyl flooring seamlessly and professionally is to simply hire a professional. There are many things around the house that can be done yourself, but unless you have experience in this area, it's highly recommended you hire a contractor to install your vinyl flooring for one key reason.
The finished look of a vinyl floor depends largely on the surface underneath it. The surface underneath must be as smooth as possible, as vinyl shows up every imperfection. Even a tiny pebble will show up as an unsightly bump.
Moreover, a roll of vinyl, in particular, is very difficult to put in yourself without having air pockets or blemishes around the edging. A professional will have the skill and experience to ensure the floor is properly prepared before covering with vinyl and will be adept with the cutting tools needed to ensure a seamless edge around the perimeter of the room.
Complexity and Shape of the Room
The complexity of the project will inevitably impact the cost. Rooms with many angles and complicated cuts may take longer to install and might result in more off-cuts which can increase the price of both labor and materials.
Because vinyl is sold in rolls that are usually 12′ wide, rooms with nooks and other smaller areas might require more material. The reason for this is due to the patterns. To keep the pattern consistent the floor needs to be oriented in a specific direction, which could result in more waste in some cases. Occasionally vinyl is available in smaller dimensions for use in hallways. Because of this, it might be necessary to have a professional measure the space.
Specific Cost of a Vinyl Floor
Vinyl sheet flooring prices range from less than $5 to almost $50 per square yard. Labor typically runs $8 to $9 per square yard. Remember: 1 square yard is 9 square feet.
Using these figures, a 100 square foot room could cost from $150 to $650 to install vinyl.
Vinyl tile flooring is in the $2 to $3 per square foot price range. Vinyl tile flooring often costs less to install than sheet flooring. A 100 square foot room could cost from $120 to $150 to install vinyl tiles.
All pricing information on this page is based on average industry costs, and is subject to variance for project-specific materials, labor rates, and requirements.