Cost to Repair Hardwood Flooring – 2023 Average Prices
Compared to the cost of new hardwood flooring, repairs are a cost-effective option, especially if most of the floor is in good shape. The cost of repairs will vary based on the extent of the repair, type of wood, and cost of labor in your region.
Hardwood Floor Repair Cost Calculator
Configure your project below to estimate the cost using 2023 price data. Continue reading below to learn more about what to expect for a hardwood floor repair project.
---
---
How Much Do Hardwood Flooring Repairs Cost?
The national average to repair a hardwood floor is $900. However, it depends on what repairs need to get completed. In most cases, the entire floor will need to be refinished to avoid uneven results.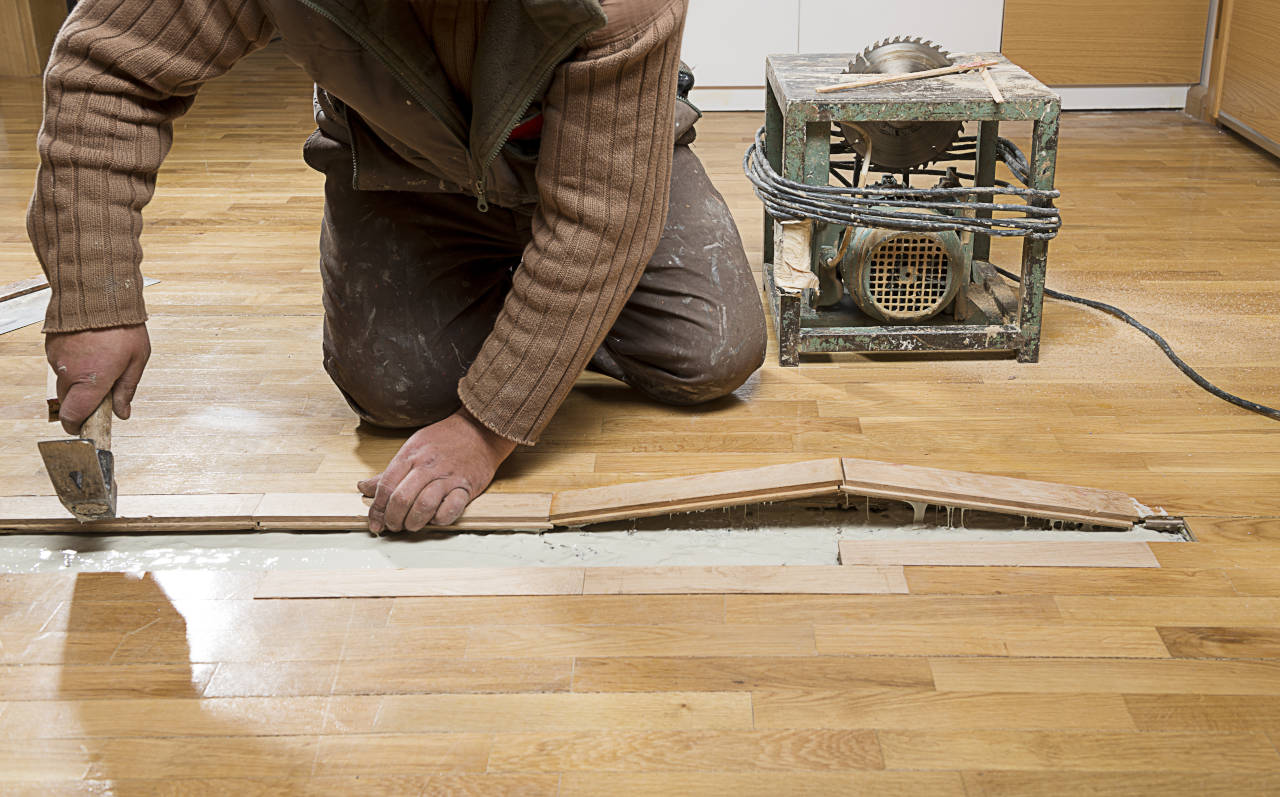 Type of Damage & Repairs to Hardwood Floors
The damage to hardwood floors is quite common, regardless of the type of wood used. Discolored areas of high traffic, deep scratches from rearranging furniture, water damage, buckled flooring caused by moisture, and once again, pet scratches.
Spot repairs, when possible cost $200 – $500 to replace boards, sand, match stains, and varnish, and then seal it. A common area of concern typically is under the refrigerator. The high heat from the motor and water drips that go unnoticed for months, or years, will cause the boards to warp and buckle.
The dimensions of the area you need to get repaired are very relevant. The typical labor charge by professional flooring contractors is $50 – $100 per hour. Replacing boards, sanding, and refinishing might take two professionals, three and one-half hours to complete. Without the cost of materials, that's $350 – $700 for labor.
If you're repairing a large area of the floor, try our flooring calculator to estimate the square feet of material needed.
Refinish a Hardwood Floor
Adding a fresh coat of polyurethane could brighten fading floors and costs as little as for a small room. The average cost to refinish the average floor, including sanding, staining, and refinishing is $1,500, or $3 to $5 per square foot.
Hardwood Floor Maintenance
Although hardwood floors are amazingly beautiful and durable, they are not indestructible. The best floor maintenance plan for hardwood floors include regular vacuuming or sweeping with a soft bristle broom, especially in high traffic areas. Removing dirt or grit from your floors will reduce scratches. Vacuums with rotary brush heads can also scratch your floors.
Wipe up spills promptly and use a specialized hardwood floor cleaner. Avoid using water, oils, and paste wax, as these build up a residue. Also, chlorine, silicon, or ammonia-based cleaners or full-strength vinegar can damage your varnished surfaces.
Keeping your pets groomed, particularly pedicures, will prevent scratching to your floor. Furniture movement causes scratches and grooves too. Always use felt under furniture legs, lift and carry, or use a dolly when moving furniture.
Other countermeasures can include covering your windows with UV-Ray protective films to prevent fading, periodically rearranging furniture to ensure your floors wear evenly and using a whole-house humidifier to maintain a consistent humidity and reduce wood shrinkage and floor buckling.
Professional Cleaning
To prolong the lifespan of your wood floors and make it less likely you will need repairs, hardwood floors should be maintained. A good maintenance routine includes cleaning up spills and dirt immediately, or at least daily.
Pet accidents on hardwood floors, if not cared for right away, will discolor the varnish. Hard bristled brushes can cause even more problems if used to clean up the mess. If not dried thoroughly, the moisture will leak down between the boards and rot or mold could start.
Hiring a Professional
Seamless flooring repairs require specialized skill and some tools such as a circular saw, flush-cut saw, air compressor, and pneumatic nailer. In most cases, hiring a talented flooring installer or carpenter for the repair will result in a nearly invisible repair.
We suggest getting several estimates for the project, as contractors have varying skill levels and might be able to complete the work in different amounts of time. The cost of the project could vary widely among different contractors as well.
All pricing information on this page is based on average industry costs, and is subject to variance for project-specific materials, labor rates, and requirements.