Cost to Install Hardwood Floor – 2023 Calculator and Price Guide
Hardwood floors are a popular choice for homeowners who prefer the authentic appearance of natural wood to laminate or vinyl flooring. Flooring of this kind can really augment the comfort and homeliness of a rustic or natural space.
We'll cover the most popular hardwood flooring options and the cost of each in more detail below.
Hardwood Floor Installation Cost Calculator
Enter the size of your project and select the material and services you're interested in to estimate the cost of the project using 2023 price data. Continue reading below to learn more about what to expect for a hardwood floor installation project.
---
---
How Much Does Hardwood Flooring Cost?
Hardwood flooring tends to be favored by homeowners who prefer cozier interior design styles such as shabby chic, country, or bohemian.
With regards to cost, it is generally assumed that authentic wood is going to cost more than laminate or vinyl. This is because laminate and vinyl both imitate the real: laminate imitates wood, and vinyl often imitates marble, stone or tile.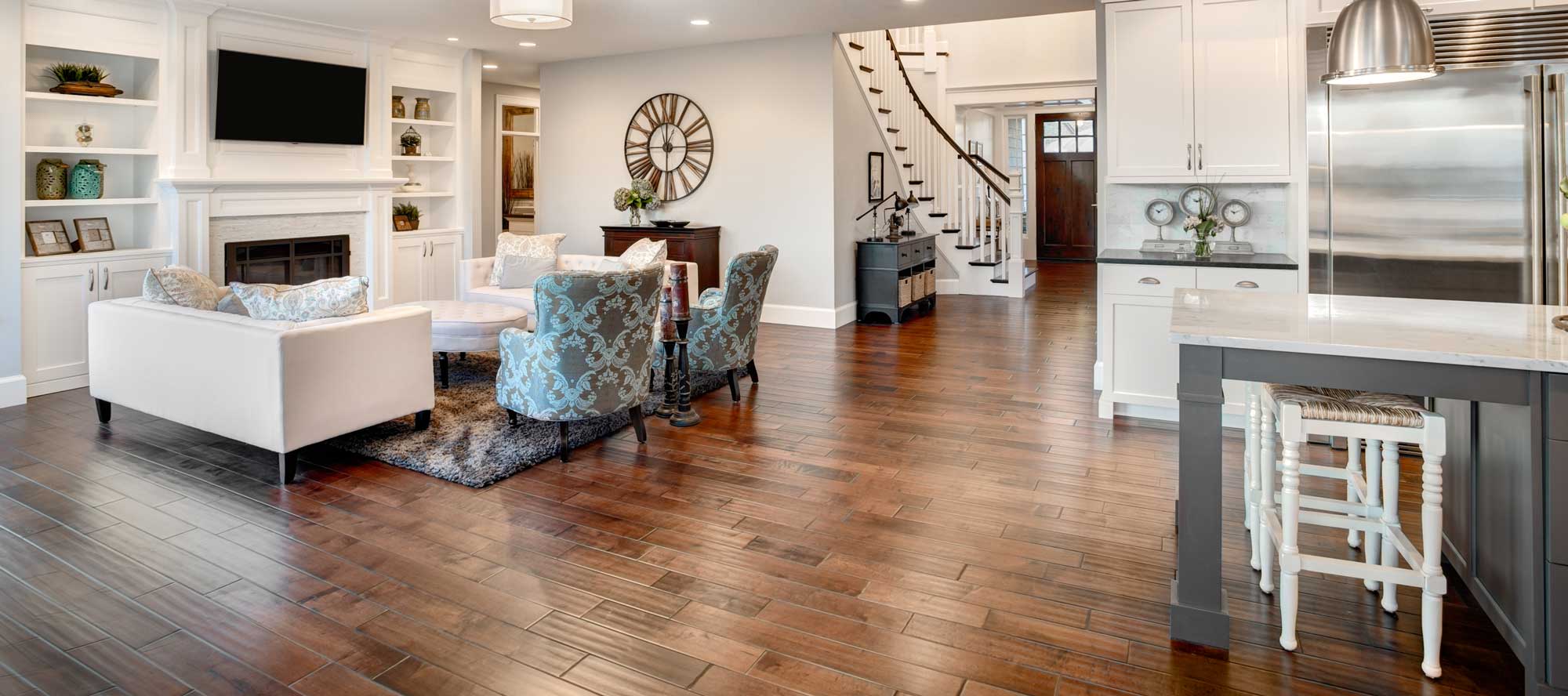 Authentic materials require a lot more preparation to be home ready, and the question of availability can also increase the price. As such, hardwoods floors can be a more expensive choice; both regarding the material itself and installation costs.
Hardwood typically costs $6 to $18 per square foot, including installation. Most spend around $2,500 – $7,500 for the project. That's a pretty wide range, let's examine some factors that determine the cost of a hardwood floor:
Hardwood Installation Labor Costs
When you're working with solid hardwood, you don't want to make mistakes during the installation process. The material is already a lot more expensive than engineered wood options, so the precision of the labor is key to avoiding unnecessary waste.
Most flooring contractors will charge $4 to $8 per square foot for installation, depending on the complexity of the project. The skill level of the contractor and geographic area can influence the cost of installation.
Variety of Wood
Some woods are more expensive than others. Pine is often the most affordable, but the range of pine prices varies greatly depending on width and appearance. Chestnut and cherry tend to be on the more expensive side of the price range, and exotic hardwoods can cost even more.
The price of hardwoods can also vary greatly by region as different varieties of tree are more common than others in different areas. The cost of transportation can significantly impact the price of certain types of hardwoods.
The width of the floorboards selected can also impact the cost. Wider boards tend to cost more for materials since they are much more rare, while thinner boards will take longer to install so might cost more for labor.
Reclaimed materials add character and beauty to a space, but they come at a significant cost. Reclaimed materials can be 50% to 100% more expensive than fresh-cut lumber. Keep this in mind if you're looking for antique or reclaimed flooring.
Average Hardwood Flooring Costs
Average cost of hardwood flooring, including installation and finishing, along with the average cost to install hardwood flooring in a 300 square foot room.

| Species | Cost per Square Foot | Average Floor Cost (300 sq. ft. room) |
| --- | --- | --- |
| Ash | $6 – $8 / sq. ft. | $1,800 – $2,400 |
| Cherry | $9 – $10 / sq. ft. | $2,700 – $3,000 |
| Hickory | $7 – $9 / sq. ft. | $2,100 – $2,700 |
| Maple | $9 – $10 / sq. ft. | $2,700 – $3,000 |
| Red Oak | $6 – $8 / sq. ft. | $1,800 – $2,400 |
| White Oak | $5 – $7 / sq. ft. | $1,500 – $2,100 |
| Walnut | $11 – $13 / sq. ft. | $3,300 – $3,900 |
| Reclaimed Cherry | $16 – $20 / sq. ft. | $4,800 – $6,000 |
| Reclaimed Chestnut | $17 – $20 / sq. ft. | $5,100 – $6,000 |
| Reclaimed Oak | $15 – $18 / sq. ft. | $4,500 – $5,400 |
| Reclaimed Pine | $15 – $18 / sq. ft. | $4,500 – $5,400 |
Size of Room
If you really want to get a good estimate of the cost of a hardwood floor, you should estimate the amount of hardwood you need for the size of your room. Or, you can simply calculate the square footage of your room.
Just measure the length and width of your room to find out how much hardwood you need. The length and width of a room in feet multiplied together will give you the square footage of a room.
Always remember to purchase a bit more than you need to account for waste and difficult corners or crevices that make require using more wood than necessary.
Durability of the Floor
Consider the durability of the material when selecting a hardwood. Some pre-finished flooring options can be difficult or impossible to refinish, especially if they have a profile. Softwoods may need to be refinished more often than hardwoods since they tend to be more prone to deeper scratches.
Learn more about the cost of refinishing a hardwood floor to see if it's a factor you should consider when selecting a new floor. If you're replacing a floor, consider refinishing as a cost-effective alternative to new.
All pricing information on this page is based on average industry costs, and is subject to variance for project-specific materials, labor rates, and requirements.