Cost to Refinish a Hardwood Floor – 2023 Price Guide
Refinishing a scuffed, scratched, or faded hardwood floor is a great, affordable way to refresh a room and restore a floor's luster. The difficulty in refinishing a floor can range from as simple as applying a new coat of finish to sanding, staining, and finishing the entire floor.
Keep reading below to learn more about the cost of refinishing a hardwood floor.
Hardwood Floor Refinishing Cost Calculator
Enter the size of your project and select the material and services you're interested in to estimate the cost of the project using 2023 price data. Continue reading below to learn more about what to expect for a hardwood floor refinishing project.
---
---
How Much Does Hardwood Floor Refinishing Cost?
The cost to refinish a floor usually costs $1,000 – $2,500, and the price ranges from $3 to $8 per square foot. Compared to the price of a new hardwood floor, this is a bargain. Let's examine some factors that impact the cost of refinishing a hardwood floor: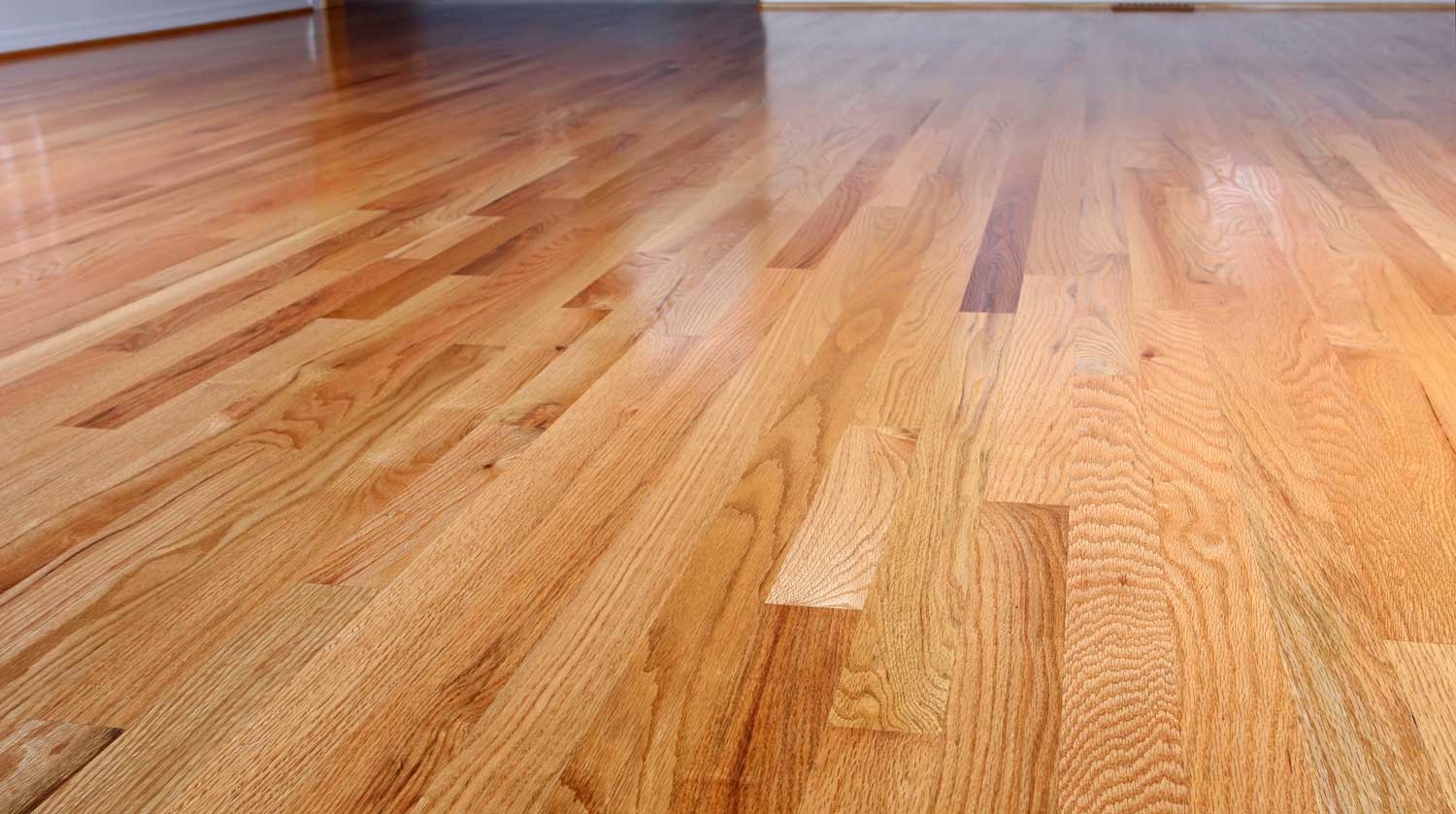 Extent of Hardwood Damage
If you have a hardwood floor that is starting to look faded in places, how bad is it? This is an important question because refinishing a hardwood floor involves revamping the entire floor space. You cannot simply do a patch job of areas that have undergone more wear and tear than others.
If the floor is dull and faded but doesn't have deep scratches, you may be able to revive it by applying a fresh coat of polyurethane over the top without the need to sand and stain. This costs about half as much as a full refinish project, so it's worth exploring if the floor's condition isn't too bad.
If you decide that your floor definitely needs to be refinished, you will have to have the entire floor done in one go. This is because sanding the current finish and adding a new stain or varnish will change its appearance significantly.
Type of Wood
The type of wood your floor is made from can also impact refinishing costs. In addition to solid and engineered hardwoods, you will also have different wood species. The harder the wood, the higher the cost to refinish it.
Therefore, a softwood like pine will be cheaper than a wood like walnut. Expect costs to climb for exotic hardwoods as well as for those with a lot of damage.
Sanding and Staining
The cost of only staining a floor starts at $1 to $2 per square foot. Sanding and top coats add considerably more to the project, especially if you opt for dustless refinishing, which has the highest starting costs at $5 per foot.
Thus, if you have the old finish and then patches of the new, your floor will look uneven and even worse than you started. As such, only opt to refinish your floor when it desperately needs it to avoid unnecessary costs.
As a general rule, a hardwood floor only needs to be refinished every seven to ten years, but many new hardwood floors are given a factory finish that may last considerably longer. Keep in mind that hardwood floors may be finished in many ways.
You cannot mix and match finishes easily, however. Therefore, if you know what the floor was originally finished with, you can more easily plan the new surface.
It's also important to remember that while solid hardwood floors can be refinished an indefinite number of times, engineered hardwood floors can only be refinished a few times due to the way they are made.
It's for this reason that many hardwood floors are now being factory-finished using materials that can last for years longer than installer-applied finishes.
Save on New Floor Installation Costs
Refinishing an existing hardwood floor is much less expensive than installing a new one. This is great news for homeowners because even if you have grown to strongly dislike the look of the wood, you can usually choose a different color of stain to get a completely new look.
For example, you can refinish golden oak hardwood with a walnut stain to achieve a more modern, dark floor. Note that it might be more difficult to go from a darker stain to a lighter color when refinishing.
Refinishing Labor Costs
Refinishing a hardwood floor isn't the easiest job, as it requires a high level of expertise and precision. If you're confident about your DIY skills and have worked with wooden floors or challenging projects before, the cost of refinishing your hardwood floor is essentially the cost of renting an industrial sander and the cost of the new stain or finish.
Yes, you can save money when you do it yourself, but most homeowners who lack the expertise will feel more comfortable hiring a professional to achieve a consistent and seamless appearance.
Room Dimensions
Room dimensions are relevant to the discussion because most flooring contractors charge by the square foot for a refinishing project. To calculate the square footage of the room you intend to refinish, you need to measure the length and the width in feet.
When you're installing a new floor, these measurements help you calculate the amount of flooring you need. When you're simply refinishing an existing hardwood floor, these measurements help you estimate labor costs.
Average Cost to Refinish a Floor
When refinishing a floor, it needs to be sanded, stained, and then finished with a protective layer. Labor costs between $3 and $5 per square foot, so let's assume labor will be the middle figure of $4 per square foot.
Make sure you have the room ready to go so you don't incur additional costs for moving furniture. Also, make sure the floor is ready to be refinished: it should be completely clean, dry, and free of any crumbs or particles. This will also save you money in the long run.
An average 300 square foot room will set you back $4 multiplied by 300 square feet. This amounts to $1,200.
Alternatively, if you're planning to do the project yourself, expect to pay a few hundred dollars to rent a sander, purchase sanding belts and pads, stain, and a clear finish.
All pricing information on this page is based on average industry costs, and is subject to variance for project-specific materials, labor rates, and requirements.