Cost to Install Gutters – 2023 Price Guide
Gutters are a crucial part of your home to control water and moisture around the home and foundation. Adding gutters is an easy way to reduce the risk of water issues in the future and to protect your foundation.
You might be wondering how much gutters cost; keep reading to learn more.
2023 Gutter Installation Costs
Calculate local project costs by entering your zip code.
National Average Price
$

2,300

Typical Price Range
$

800

- $

6,000

Minimum Price
$

500

Maximum Price
$

7,500

Typical Price Range (per linear foot)
$

4

- $

30
Get free estimates from contractors near you.
---
---
How Much Do Gutters Cost?
The average cost of a new gutter installation is $2,300, and the average range is $800 to $6,000. However, the material used and the cost of labor could vary the price. The linear feet of gutters needed, the number of downspouts, and the length of downspouts will also impact the price of the installation.
The average cost for new gutters ranges from $4 to $30 per linear foot, depending on material, style, and installation type.
Extras like gutter guards, screens, or underground drainage will also drive up the price of an installation but could also reduce the cost of long-term maintenance or improve the system.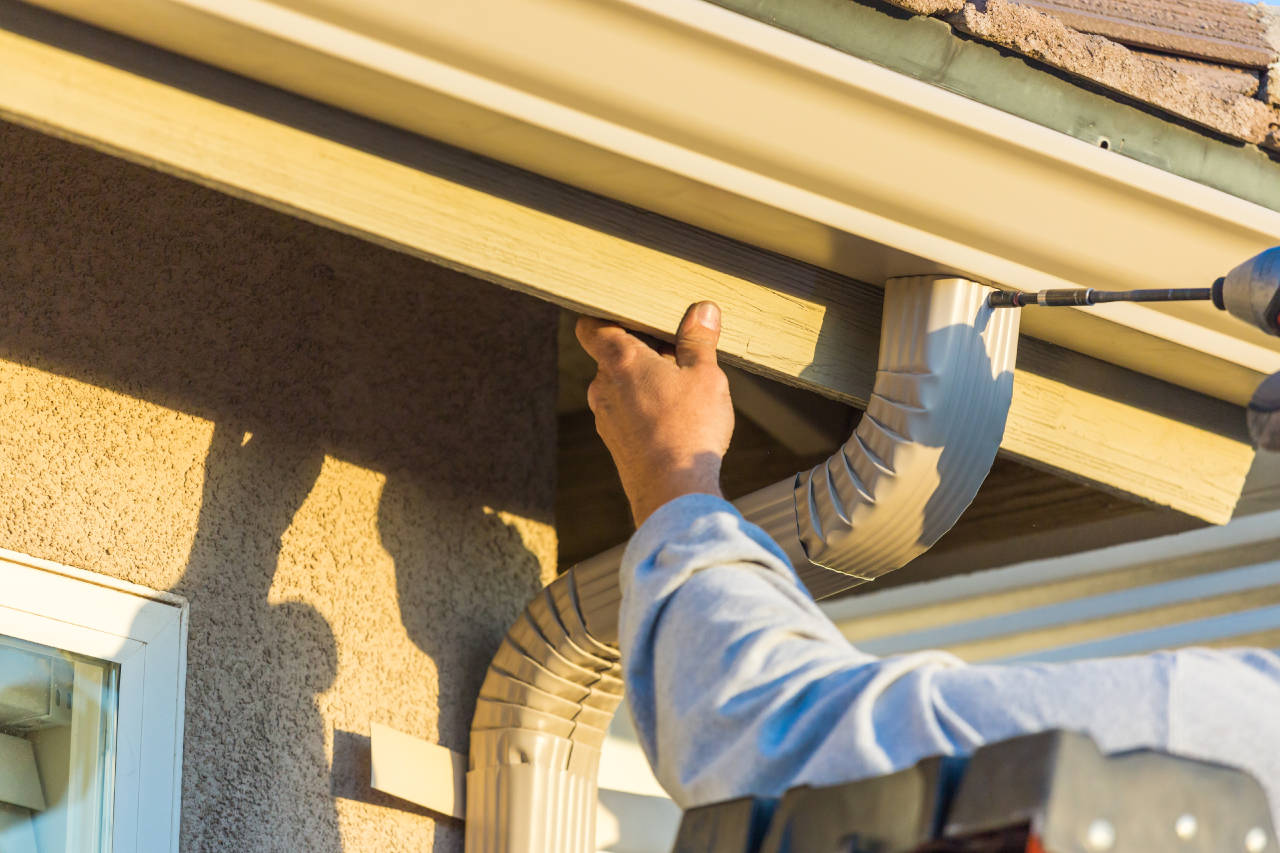 Types of Gutter Materials & Cost
The type of gutter material selected will greatly impact the price of the project, and some will require some professional help with the installation.
Along with the gutters and downspouts, you may also need hangers to hold your gutters in place, and roof flashing if the old flashing needs to be replaced. However, you could do this as a DIY project if you have the ladders, time, tools, and know-how.
Vinyl Gutters & Accessories
Vinyl gutters are probably the least expensive gutter material, and they do not rust. The downside to vinyl is that extreme cold or heat will affect it. Vinyl expands and contracts with the heat and cold.
Therefore, this material is not recommended for extreme climate areas, and even in moderate climates, you will need to replace vinyl sooner than a metal alloy gutter. Expect to pay $2 to $5 per linear foot for vinyl gutters, or about $300 to $750 for the typical project.
Aluminum
Aluminum gutters come in a variety of weights. Aluminum is more durable than vinyl but costs a few more dollars per piece. Figure $8 to $18 per linear foot for aluminum gutters, or about $1,200 to $2,700 for most projects.
Steel
Steel gutters are one of the most durable materials but are prone to rust in some areas. You can expect to pay between $18 and $27 per linear foot, and the average project runs in the $2,700 to $4,000 range.
Copper
Copper gutters will develop a unique patina as they age and look excellent, but the price can be prohibitive for some homeowners. Expect to pay $30 to $50 per linear foot for copper gutters, or about $4,500 to $7,500 for the average project.
Seamless or Sectional Gutters
Although sectional gutters are cheaper because you can get them as stock off the shelf, seamless gutters often last longer because there are no seams where leaks could spring up. Even seams that are caulked or sealed will break down over the years.
Seamless gutters are made on-site and come in most materials and styles. Their higher cost is due to the extra work involved in producing them. You cannot get off-the-shelf seamless gutters and must have them professionally installed, which does up the costs.
Over the long term, seamless gutters are less costly since they require much less maintenance.[1] If you can afford the higher initial expense, it is wiser to install seamless gutters.
Whichever you choose, seamless or sectional, vinyl, aluminum, steel, or copper, get at least three estimates, and then choose a licensed and insured installer with references.
Gutter Guards
Using gutter guards is an inexpensive method of eliminating the need to clean your gutters. There are several styles available.
One popular option is a clip-on mesh or screen. It covers the gutter so leaves and pine needles don't get into the gutters and form a dam, which will eventually cause rainwater to overflow and defeat the purpose of installing them at all.
An alternative option is a foam insert that prevents obstructions in the gutter but is still porous and allows water to flow through it.
For the price of one cleaning, you can have one of these options added.
If you forego a solution to preventing leaves and brush from getting in the gutter, be prepared to clean them regularly to prevent damage to the roof or fascia and to avoid overflowing with water.[2] The average cost of gutter cleaning is about $300, and the average range is about $170 to $425.
Another option is a pressure wash attachment that costs $25 or $30 on average. These attachments are quite long, so you won't even have to get on a ladder to keep your gutters debris-free.
You might also be interested in more roofing resources, including information about roof repairs, new roofs, and our roofing calculators.
All pricing information on this page is based on average industry costs, and is subject to variance for project-specific materials, labor rates, and requirements.
References
The SpoutOff, 5 Benefits of Seamless Gutters, https://thespoutoff.com/5-benefits-seamless-gutters/
Morgan McBride, How To Maintain And Clean Gutters: A Guide, Rocket Homes, https://www.rockethomes.com/blog/homeowner-tips/clean-gutters