Cost to Install an Outdoor Floodlight – 2023 Average Prices
A floodlight over the driveway is convenient when you get home late and you need to unload kids and groceries. Having a floodlight with an automatic timer can be valuable in completing those tasks without injury or splattered eggs along the walkway.
When coupled with motion detectors and security cameras, floodlights can scare off trespassers or assist law enforcement in catching prowlers. We'll cover the cost of installing a floodlight in detail below.
2023 Outdoor Floodlight Costs
Calculate local project costs by entering your zip code.
National Average Price
$

450

Typical Price Range
$

250

- $

800
Get free estimates from contractors near you.
---
---
How Much Does a Floodlight Cost?
Although the price will depend primarily on the floodlight chosen and the cost of electrical labor in your area, the national average to install an outdoor floodlight is about $450. Most people spend $250 to $800 on the project.
The lights themselves cost $75 to $250 each, while installation typically costs an average of $150 to $350 per light. Many people do choose to install more than one light to illuminate several areas of their yard or driveway at one time.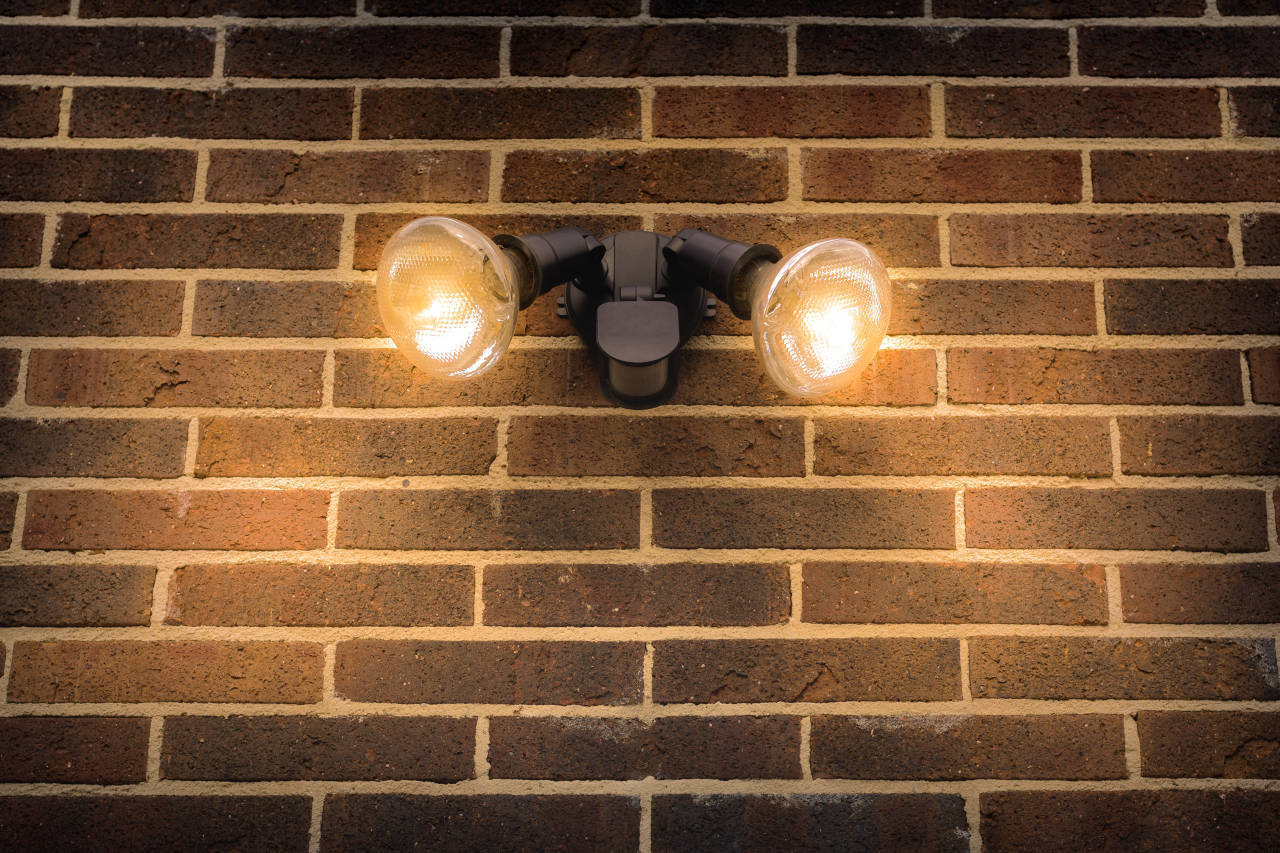 Floodlight Cost Considerations
There are many floodlights on the market and the amount you will spend hinges on the style, size, and features you require. Consumers should first determine the area they'd like illuminated, consider the lights' purpose, and figure all the required components.
LED vs. Halogen/Incandescent
Although more expensive initially, LED floodlights use less energy.[1] LED lighting lasts around 50,000 hours, or seven to ten years. The recent rise in popularity of these two technologies has lowered the price significantly.
LED fixtures usually cost between $40 and $200 for the hardware. A floodlight with integrated LED lamps also offset the cost of purchasing lamps for the fixture down the road. Learn more about LED lighting costs and savings.
Solar Floodlights
A dependable solar LED floodlight will range from $50 to $200. Solar floodlights do not require any wiring, but they do need to have good, unimpeded access to light to function well.
Many solar floods are also motion detectable, meaning that they only turn on when they sense movement. Because they need to store energy until after the sun goes down, motion detection helps conserve this energy so it's ready when needed.
Motion Sensors and Timers
Motion sensors and timers could add another $25 – $50 to the price when built into the lights in some hardwired cases. However, hiring an electrician to add one of these options later will cost significantly more, due primarily to labor costs.
Waterproof Floodlights
The IP in the waterproof rating is an acronym for Ingress Protection.[2] For instance, IP65 is a two-part formula. The first digit, in this case, 6, gives us the rating for solids, like dust. The second number provides the amount of liquid resistance.
Therefore, an IP65 rating is dust-tight and water-resistant. IP68 is considered dust tight and waterproof when submerged up to one meter continuously.
A 200-480W (600-1500W incandescent equivalent) LED floodlight with IP65 will cost between $80 and $300 before installation. Electricians will charge $50 to $200 per hour for labor.
Ground Fault Circuit Interrupter
If a ground fault circuit interrupter (GFCI) is required for outdoor fixtures, it could raise the price of installation dramatically. GFCI outlets average $325 when installed outdoors, and a new circuit panel is $1,500 – $4,500.
New Wiring
If new wiring is needed for the fixture, the cost of the project could go up depending on how challenging it will be to add wiring for the light and switch. This could be a relatively fast project if there is an outlet nearby, or a time-consuming project if adding new wiring is difficult.
The cost of this will vary from home to home since every project is unique, but expect at least one to two hours of additional time to add the wiring. Adding new wiring usually costs $100 to $300 for labor and material, or $2 to $4 per linear foot.
Permit Costs
Electrical permits usually cost between $20 to $100, depending on your project. A permit may or may not be required for your project, depending on the location and scope of work. Consult with your electrician to determine if this is necessary.
A Professional Installation is Your Safest Option
You should probably not just run a waterproof extension cord to the location you want to install the floodlight. The safest option is to hire a professional to install your floodlight permanently, which might also be a legal requirement depending on your area.
If you want to install a new light DIY, consider solar floodlights, which do not connect to your home's electrical supply, and which can be installed either by the homeowner or a handyman within a few minutes.
Try our electrician locator to find professionals in your area.
Check out some of our other electrical calculators and resources.
All pricing information on this page is based on average industry costs, and is subject to variance for project-specific materials, labor rates, and requirements.
References
U.S. Department of Energy, How Energy-Efficient Light Bulbs Compare with Traditional Incandescents, https://www.energy.gov/energysaver/save-electricity-and-fuel/lighting-choices-save-you-money/how-energy-efficient-light
Sara Ellis, Impact of environmental hazards on internal soiling within concentrator photovoltaic (CPV) modules, AIP Conference Proceedings, 2014, 1616, 246-249. https://doi.org/10.1063/1.4897071