Cost to Install LED Lighting in 2023
The price of Light-Emitting Diode (LED) bulbs, dimmers, and strips is becoming more affordable. These lights are among the most energy-efficient on the market, but the most significant factor affecting the cost is what you plan to do with them.
Project plans and electrical wiring costs, including labor, will affect your costs. Keep reading to learn how much LED lights cost.
2023 LED Lighting Costs
Calculate local project costs by entering your zip code.
Typical Price Range (per fixture)
$

100

- $

150

Typical Price Range (per bulb)
$

5

- $

7
Get free estimates from contractors near you.
---
---
How Much Do LED Lights Cost?
Replacing incandescent and compact fluorescent lamp (CFL) bulbs with LED bulbs will cost about $5 to $7 for a 10-Watt LED. Therefore, if you change 24 bulbs, it will cost $120 to $168 to replace those all at once.
You can usually find bulk discounts when purchasing multiple LED bulbs. For instance, check out the cost of this 6-pack of bulbs on Amazon. Keep in mind when doing this to check for the wattage of the bulb; lower-watt bulbs will be cheaper to operate than higher-watt ones.
As an Amazon Associate, we may earn commissions from qualifying purchases from Amazon. Learn more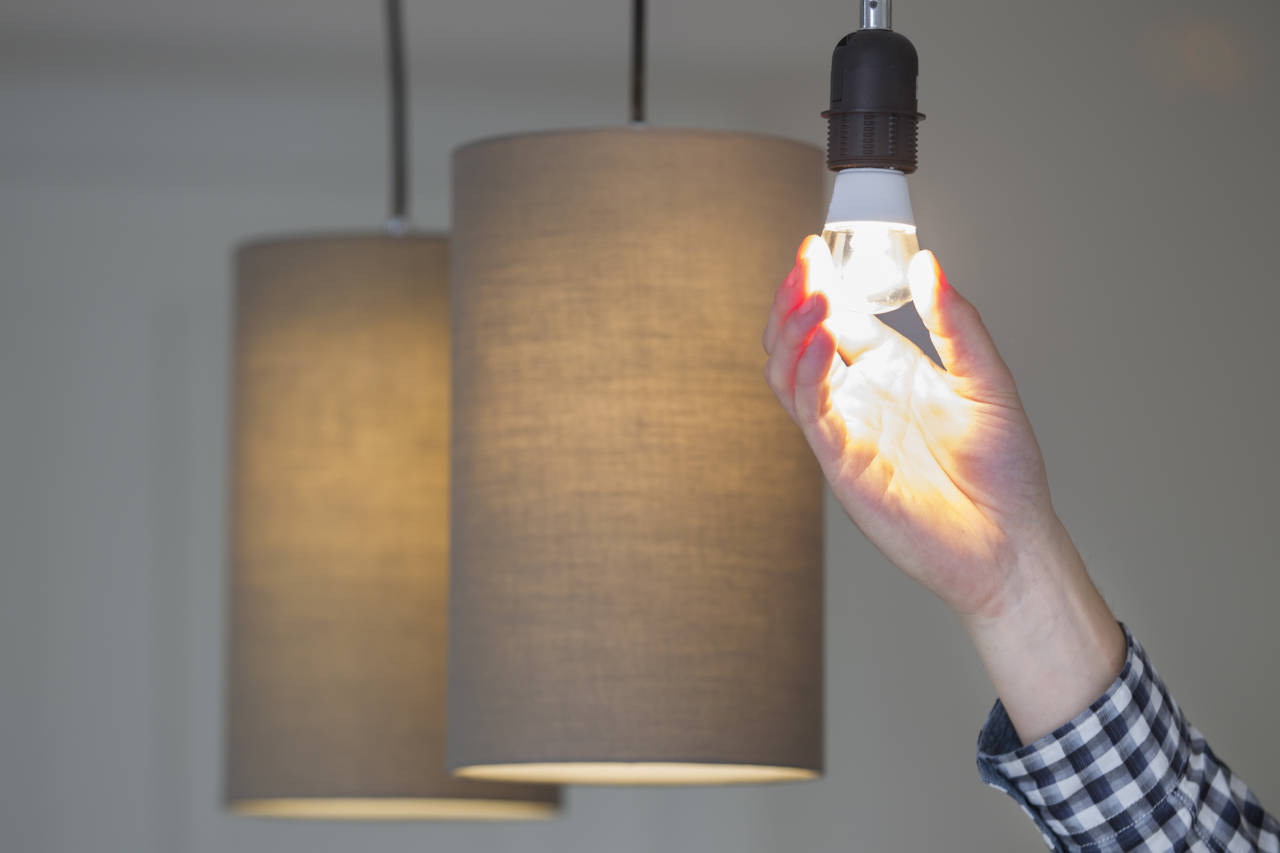 10W LED lamps are the standard bulb replacement for 60-100W incandescent lamps. LED lights use lumens rather than watts. Refer to the chart below for the appropriate LED lamp to use to replace an incandescent bulb, along with the average price.
Comparable LED lamp size and price for standard incandescent bulbs.

| Incandescent Watts | LED Watts | Lumens | Cost per Bulb (Average) |
| --- | --- | --- | --- |
| 40W | 6W LED | 450 lm | $3 |
| 60W | 8.5W LED | 800 lm | $5 |
| 75W | 10W LED | 1,000 lm | $7 |
| 100W | 15W LED | 1,600 lm | $9 |
| 150W | 25W LED | 2,500 lm | $12 |
Even though the initial cost might be more, these long-lasting and highly-durable lights will save significant energy and, therefore, money over time. Try our electricity cost calculator to calculate the energy cost of LED bulbs.
Smart LED Bulbs
The new smart LED bulbs used with voice-controlled services cost anywhere from $25 to $150 per bulb. These bulbs are capable of voice-activated color change, dimming, and on/off capabilities from a remote location.
There are even LED smart lights with built-in video recording capabilities with Bluetooth and Wi-Fi. Many call these nanny cams so you can discreetly keep an eye on the nanny or babysitter.
Color-changing bulbs will also cost a bit more than a typical LED bulb, but they offer the ability to control the mood using a smartphone or remote control.
LED Light Strips
LED light strips offer a slick way to add accent lighting in many applications. You can add backlighting for a piece of art, add under-cabinet or under-bed lighting, or add a glow to pretty much any indirect surface using the strips.
Strips often come with an adhesive backing and a low-voltage power supply, meaning nearly anyone can install them without the need for an electrician or an expensive set of tools. The strips often cost from $10 for a standard white strip to up to $50 for a color-changing variety.
If you want these installed professionally, expect to pay between $7 and $20 per foot to have them mounted beneath countertops, inside glass block walls, or in cabinet kick-plates.
Integrated Fixtures
One way to upgrade to LED lighting is to replace the entire light fixture with a new fixture that has integrated LED lighting instead of standard bulb sockets. Fixtures usually cost between $100 and $150 and require an electrician for the installation.
Track or String LED Light Install
Track or string lights are an easy method to get targeted and personal lights for any room. Track lights are particularly popular in kitchens, studies, and crafting areas so the user can point the light where they need it.
Otherwise, you could set up a string of lights to point out artwork or prints to make these a highlight for your room. Track lights usually have six or more lights on the track and cost about $50 to $200 for a simple style, but elaborate styles can cost as much as $1,500.
A handyman can install track lights with a cord that plugs into a wall socket. They will usually hang the track with sheetrock screws or the screws that came with the track lighting kit.
However, when wiring must be changed or added, an electrician must be used. Where there is already a ceiling light fixture, they can hook into those wires without installing more. Figure 2-3 hours and between $150 and $600 for labor.
DIY of LED Lights
DIY LED light projects are typically minimal for projects like changing the light bulbs or installing new fixtures. If you don't have the tools, time, or knowledge, a handyperson will charge $40 to $80 for a small project.
Most other projects likely require a permit and a licensed electrician. Licensed electricians charge $50 to $200 per hour, depending on the going rate in your area.
Quality with Energy Savings
LED lights have equal or, in many cases, better quality than comparable incandescent or CFL lights. (The comparison to CFLs is likely moot since most companies discontinued production of these due to the toxic mercury disposal problems.) LEDs will continue to save you money on your energy bills for a long time after installation.
How Much Do LED Lights Save Per Month?
Many new and repair lighting projects can use LED lighting indoors and out. These LED lights will save you nearly 85 percent on your electric bill, produce less heat, and some last up to 35 or 40,000 hours.
The estimated savings for the average homeowner by replacing 24 incandescent bulbs with LEDs is nearly $7,000 over twenty years. Likewise, you should consider using solar-powered lamps where practical, for even more savings. These are also becoming more affordable.
For that "warm cozy" feeling, choose warm-white LED bulbs. Cool white is a light blue, and natural bulbs are somewhere between those colors. New smart lights come in a variety of colors.
Calculate how much you'll save by upgrading to LED lighting using our lighting cost calculator.
Why Do LEDs Save Money?
LED lights save money because they use less energy to operate. For the same light output, LEDs use fewer watts, which means they use less energy when operated for the same amount of time as an incandescent bulb.
Not convinced of the savings? Use our watts to kWh calculator to calculate the amount of energy a 60W light bulb uses when left on for 8 hours compared to a 10W bulb. You should come up with 14.4 kWh per 60W bulb per day.
When you multiply that by 12 cents per hour, you'll see that a single 60W bulb that's used for 8 hours per day costs $1.73 per month. How many light bulbs do you have in your home?
Depending on how much you spend per lamp and how often they're used, the payback period is usually 4-8 months per bulb when you upgrade to LED.
Estimates for a Professional Install
When you choose to install new LED lights, and you need to do more than change the bulb or mount the light on the wall, you will probably require an electrician. To get estimates for wiring, circuit panels, and other electrical projects, try our contractor locator.
You might also be interested in our under-cabinet lighting cost guide.
All pricing information on this page is based on average industry costs, and is subject to variance for project-specific materials, labor rates, and requirements.