Cost to Repair a Fence – 2023 Average Prices
As Robert Frost reported, "good fences make good neighbors." A good fence also establishes property lines. It keeps out prying eyes and dampens noise levels from your pool, backyard barbecue, or family gathering.
But if your fence is broken or in poor repair, it can't necessarily do these things. So, how much does it cost to repair broken fences?
2023 Fence Repair Costs
Calculate local project costs by entering your zip code.
National Average Price
$

550

Typical Price Range
$

200

- $

700

Minimum Price
$

50

Maximum Price
$

2,500
Get free estimates from contractors near you.
---
---
How Much Does Fence Repair Cost?
The cost to repair a fence will depend on the type of fencing, whether your homeowner's insurance will cover part of the expense, if it is a shared fence, what needs repair, and how much labor is involved.
However, the average cost to repair a fence is $550, with an average range of $200 to $700. That price could further range between $50 for a DIY fix or nearly $2,500 to hire a professional to repair a large section of wood or vinyl fence.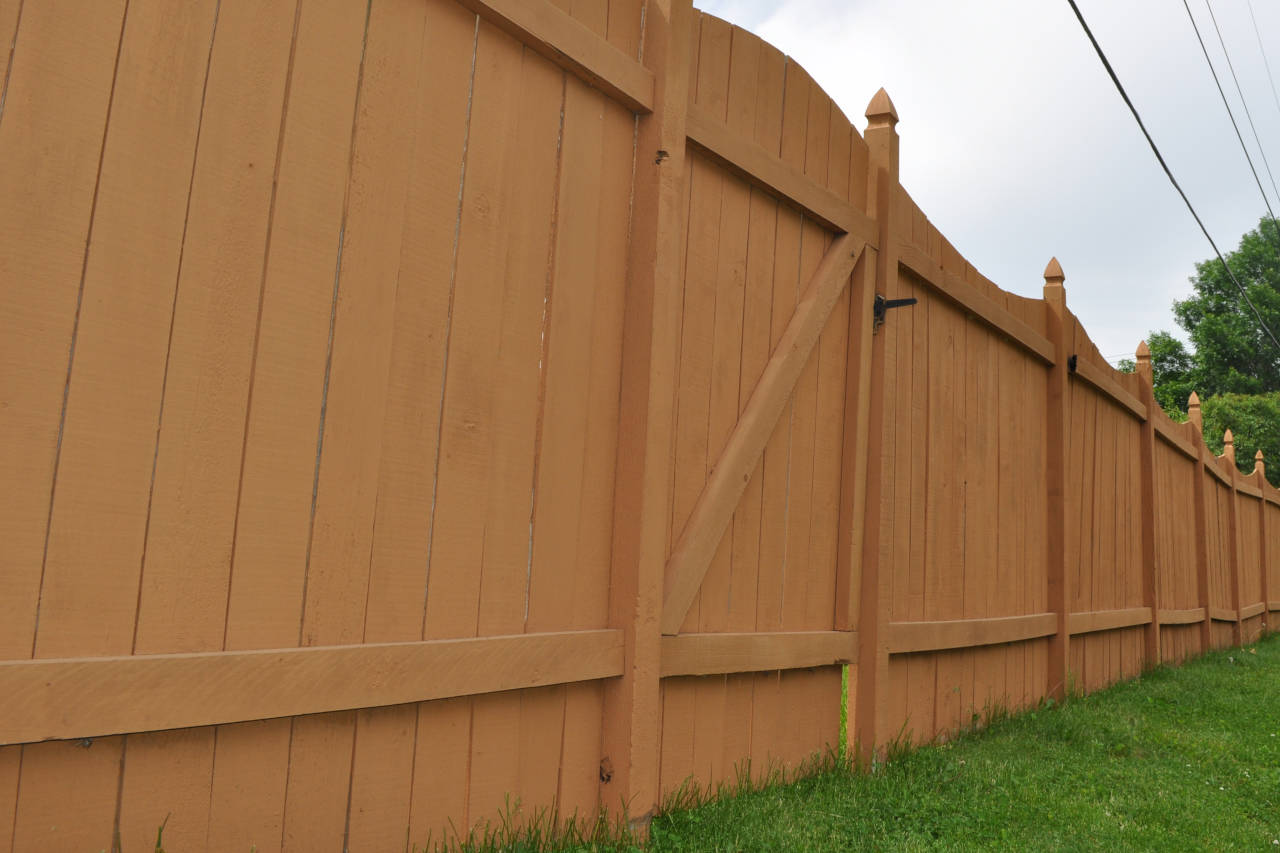 Although wooden fences look rustic and robust, when these fences get broken, the fix can be expensive. Plus, replacing a few boards on a fence sticks out. Therefore, you might need to repaint or stain and varnish the entire fence, which can be costly.
Painting or staining a fence could cost $750 to $4,000, but the price varies by the size of the fence. Also, bear in mind that something as simple as color choice can make a significant difference in the expense. Painting a dark fence white will likely take two or three coats plus a primer.
Another option many consider is installing a new fence to replace the old one. A new chain-link fence to replace the old wood fence will typically cost $8 – $40 per linear foot. Whereas a wooden fence averages $14 to $35 per linear foot installed.
Try our fence material calculator to plan out your project and materials if you're considering replacement.
Cost Considerations
Three essential factors will affect how much your fence repair will cost, height, length, and material.
Height: Fences are usually 4, 5, or 6 feet tall. The taller the fence, the more material you need to repair it. Variations from the norm, such as a 4′ 6″ fence, will probably require buying a five-foot section and cutting it down.
Length: How many feet of the fence are damaged will determine how much you pay.[1] However, it might cost less to replace a complete section of fence than to repair a small portion.
Material: The fence construction material will determine how much new supplies and materials will cost.
Type of damage: A hole may be a different repair than a cracked post. Likewise, a section of bent metal fencing will also have different costs than cracked vinyl fencing.
Types of Fence & Repairs
The type of material used generally determines what went wrong and what repairs are necessary. Sections or panels are usually kept in stock at home improvement centers and quite often cost less than what you would pay for the materials to DIY.
Wooden Fence
High winds can knock over a tall privacy fence. Usually, when this happens, you can replace the section that got knocked down, but you might need to replace a post or two. Replacing a post costs about $150 – $400. Straightening a post or section of fence will cost about $100 to $150 for labor only.
Rotten or mold-infested boards on the fence might require the full replacement of a section, which might be more cost-effective. Expect to pay $15 – $25 per linear foot to replace a part of a wooden fence. That works out to $180 – $300 for a twelve-foot section of fence, plus $150 – $400 per post.
If you need to replace a section or panel of fencing, this can cost $150 to $400 per panel that needs to be replaced.
These costs reflect the costs of pressure-treated or cedar. Hardwoods will cost more or less depending on the market prices, and contractors often charge more to work with the material.[2] Pine is usually the least expensive species, while redwood or hardwoods such as ipe might cost significantly more.
Lattice
Lattice section replacements cost about $21 – $44 per linear foot because more materials are necessary to make a section. Therefore, replacing a 12-foot section costs $250 – $500.
Vinyl or PVC
Usually, the same problems with wooden fences also happen with vinyl privacy fences, though the replacement materials are more expensive for vinyl.
Vinyl or PVC fence sections and posts are frequently more costly than wood but are nearly maintenance-free. Expect to pay $25 – $35 per linear foot for replacement sections. In most cases with vinyl fences, you must replace an entire section or panel.
Chain-link
Chain-link fences are usually the cheapest to install and repair. Likewise, they seldom need repairs because the wind blows right through. Typical repairs are due to damage caused by vehicles. Straightening a post could cost $50 – $100. Replacing a gate, $125 to $300.
Chain link fence repairs are also often easy DIY repairs.[3] You might be able to save labor costs for a typical repair if you're up for the project.
Stone/Rock or Concrete/Mortar
Fixing a stone or rock wall usually only entails labor because the rocks can get reused. Concrete and mortar fences usually require more concrete mix or mortar to repair cracks and holes, plus you might need to add paint.
Most of the cost to repair these types of fences is labor, so whatever the local market price per person-hour, plus supplies, is what you should pay for repairs. However, most general contractors and even handyperson have a minimum service call fee.
Expect repairs to start at $100, and up to $3,000, depending on the size of the repair needed.
Gate Repairs
Gates are one of the most common parts of the fence in need of repair. On top of that, repairing a gate is often more expensive than repairing a normal segment of a fence. Gate repairs are often $225 – $525 for a wood or vinyl fence.[4]
Aluminum or Wrought Iron Fences
Repairing metal fences has an average cost of $19 to $26 per linear foot. This includes aluminum, steel, and wrought iron fences. Typical issues include replacing bent or leaning panels, rust, or missing hardware.
If you need a new panel, expect costs around $300 to $600 per section. Fixing a leaning fence costs around $250 to $600, depending on its condition.
Other Considerations
Before you start repairs, contact either the homeowner's association (HOA), building inspector's office, or both. Many HOAs have rules and limitations to what repairs or replacements can get completed. If everyone in the HOA has a six-foot wooden privacy fence, changing the fence might not be an option.
Different states and municipalities regulate property division. Many states require all property owners to share the cost of fence repairs equally. However, getting it done and presenting the bill to a neighbor will likely cause problems.
Also, if you back into the fence adjoining another's property, do not expect your neighbor to share the cost of repairs. Although, your auto or homeowner's insurance might cover some of the cost.
It would be best if you spoke with your homeowner's insurance company, each neighbor, the building inspector, and tax assessor before contracting repairs. Most municipalities do not require a permit for repairs. If they do, it usually adds $20 to $100 to your costs.
Get free fence repair estimates from installers in your area and compare the work they will do to the quoted price and the information above.
All pricing information on this page is based on average industry costs, and is subject to variance for project-specific materials, labor rates, and requirements.
References
Fence Daddy, Fence Repair Costs, https://www.fencedaddy.com/pages/fence-repair-costs
Homesace, Wood Fence Repair Cost, https://www.homesace.com/price/how-much-does-wood-fence-repair-cost
Family Handyman, How to Repair a Chain Link Fence, https://www.familyhandyman.com/project/how-to-repair-a-chain-link-fence/
Fence Guides, Fence Repair Cost, How Much for Repair or Replacement, https://www.fenceguides.com/fence-repair-cost/