Vinyl Fence Calculator
Estimate the vinyl fence material needed for your project, including vinyl panels, posts, and concrete. The calculator will also generate a price estimate for the materials and locate post center measurements.
Material Estimate:
*Estimates only - costs vary by location/vendor, selected material, and quantities.
---
---
How to Estimate Vinyl Fence Materials
Vinyl fences are a durable, nearly maintenance-free alternative to wood and metal fences.
Like other materials, they are available in several colors and styles. Unlike other materials, they are most commonly sold and installed in panels, while other types of fences are more commonly built on-site.
Because panels are sold in set sizes, select the style you want first, then get the size of the installation area in order to estimate the number of posts and panels required.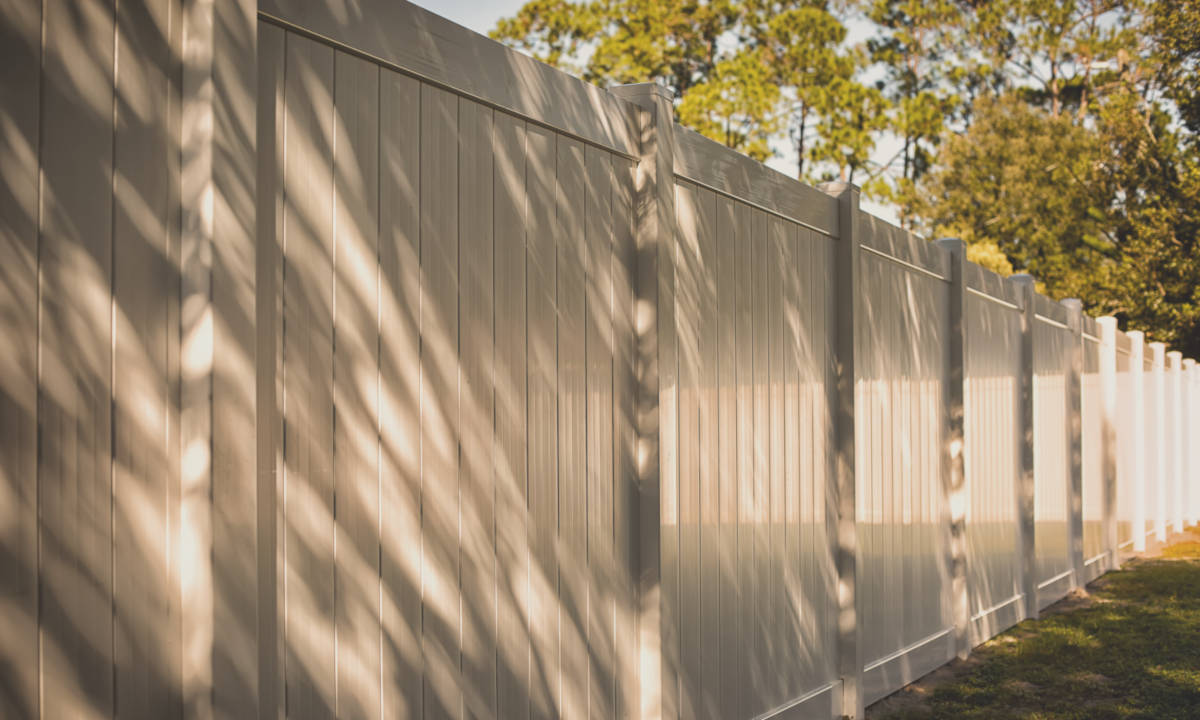 Vinyl fences are available in many of the same styles as wood fences, so you can get nearly any look you want. Keep in mind that different manufacturers may not offer all styles or sizes, and you may need to shop around to find the type of vinyl fence that you want.
Structurally, vinyl fences are assembled using the same post, rail, and board system as wood and some metal fences. The panels are installed between the posts using brackets, which can make them easier to install than some other styles.
While most vinyl fences come as readymade panels, it is also possible to purchase the loose components that snap into pre-routed holes and slots. These also need to be assembled on-site.
Because each manufacturer has its own connection system, panel systems or individual components require matching posts. Those and post caps are often sold separately from the panels.
How Many Vinyl Fence Panels Do You Need
Finding the number of panels needed for a vinyl fence installation is a pretty simple process, but you need to know the length of the panel you're using first and the length of each section of fence between each corner, if you are encompassing an area and not installing only a single row. Most vinyl fences are sold as 8 ft panels, with posts spaced 8 feet apart. However, a few companies do sell panels in 6 ft and 4 ft lengths, so always get the exact measurements of the system you are using for the most accurate measurements.
The general process of calculating materials is to find the number of panels needed for each section of fence and then add the total for each section together to find the total number of panels.
First, get your total linear footage for the area you are installing the fence. You will divide this footage by the width of each panel.
For example, let's find the number of panels for a 100′ stretch of fence using 8′ panels and 5″ x 5″ posts.
100′ ÷ 8′ = 12.5 panels
Be sure to round up to the nearest whole panel, so in this case, you'll need 13 panels.
How Many Vinyl Fence Posts Do You Need
Before estimating the number of vinyl fence posts for your installation, determine the number of ends and corners you will need. Vinyl fence posts come in 3 different types, end posts to use at the end of the fence, corner posts for joining fence panels at a 90° angle, and line posts for joining fence panels at 180°.
You will need one corner post for each corner of the fence and one end post for each end of the fence. Once you know the number of ends you need and the number of corners, the final step is to find the number of line posts needed.
The number of posts is generally equal to the number of panels plus one for the end. This is because every panel will connect to a post and then add a post to connect to the next section.
The final panel will also need an end post, which is why you need the extra post. To find the number of line posts, subtract the number of corner posts and end posts from the panels + 1 measurement.
For example, let's find the number of posts for a fence with 13 panels, 1 corner, and 2 ends.
panels + 1 = total posts
13 panels + 1 = 14 total posts
1 corner = 1 corner post
2 ends = 2 end posts
14 total posts – 1 corner – 2 ends = 11 line posts
It's important to note that you'll need a vinyl post cap for each post, which you might need to purchase separately. In our example, we would need to order 14 post caps in addition to the posts.
How Much Does a Vinyl Fence Cost
Vinyl fence materials range in price based on the style of fence, height of the fence, and quality of materials. The average 6′ vinyl privacy fence costs $25-$35 per foot. Get an estimate for your fence installation from a local installation pro.
If you know how much material you need, you can easily estimate the price of a vinyl fence. One option to get a material price estimate is to get a quote from a home center or supplier based on your materials.
Another option is to find the price of each style of post, post caps, and panels. Multiply each price by the quantity needed, then add them together to find the total cost of materials.
Keep in mind that if you are having the fence shipped or delivered, you may need to factor in applicable fees. In addition, like all fences, your fence posts will be sunk into the ground about ⅓ of the height of the fence.
You may need additional materials such as concrete to finish the posts, and if you are installing the fence yourself, remember that you may need additional brackets or post-hole digging equipment as well, and to take these into account.
Are you installing a wood fence? See our fence calculator to learn more.
Next Step
– After estimating materials, it's time to begin laying things out. Learn how to lay out a fence, including how to avoid buried utilities, center your posts and panels, and get perfectly square corners with this
guide on laying out a fence safely and efficiently
.