Cost to Install a Fence Gate in 2023
If you are considering adding a gate to your fence or replacing an old one, you have many options to choose from. A gate is a great way to add security to your property and increase the value of your home. It also makes it more convenient to enter and exit your yard while keeping children and pets safely inside.
We'll go into detail on the cost of installing a gate below.
2023 Fence Gate Costs
Calculate local project costs by entering your zip code.
National Average Price
$

400

Typical Price Range
$

200

- $

600
Get free estimates from contractors near you.
---
---
How Much Does a Fence Gate Cost?
You will want to choose a gate that matches your existing fence in color, style, and material when possible. If you have a stone or stucco surround, you can decide what material will look best with your existing facade.
Some like a wrought iron gate with a stone fence because both look strong and impenetrable. But a vinyl or composite gate in a similar or contrasting color looks excellent as well. There are dozens of composite and vinyl styles to choose from, so check your local building supplier for ideas.
Though the prices vary for different styles, most people spend around $400 to install a manual wooden gate. Gates made of other materials, security gates, and automated gates have an average cost of $2,000, and may have costs as high as $12,000 for large, automated driveway gates.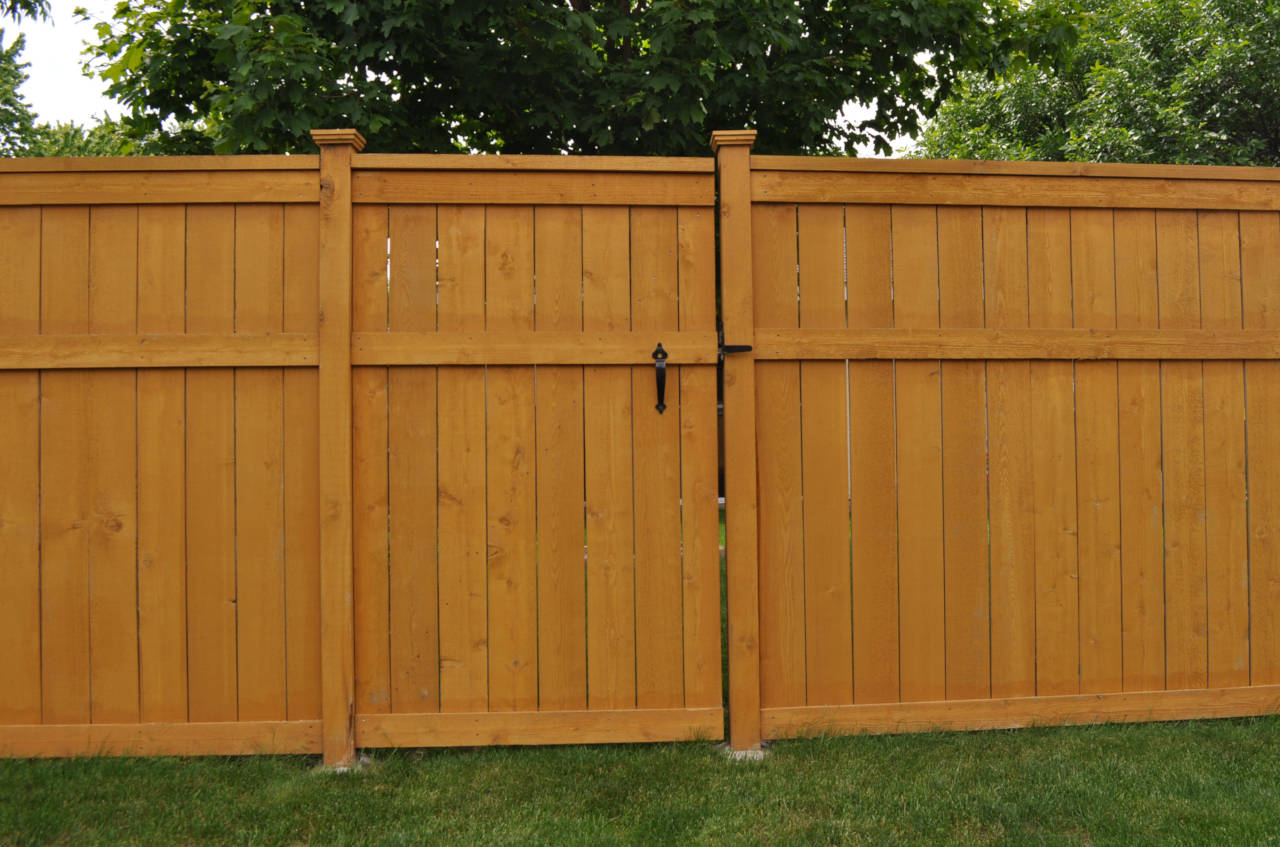 If you're doing it yourself, the first two things you should do is check with the building inspector to see if you need a permit and the utility company to see if it's OK to dig there. Just because you already have a fence, doesn't mean the utility company hasn't laid a line or pipe in the immediate vicinity.
Cost to Install a Garden Gate
A walk-thru or garden gate is typically three or four feet wide. We suggest four because a wheelbarrow barely fits through a 36″ gate. The construction and style options of gates vary, but they often cost $200 to $600 to install when using a handyman.
The price will vary depending on the material used, with exotic hardwoods, iron, and aluminum nearing the higher price range and common woods or vinyl near the lower price range.
Chain link gates and vinyl are the lowest cost at around $200 installed, while wood gates cost around $400 installed on average. Metal gates cost the most, with costs ranging from $600 to $1,000 depending on the style and metal used.
It's also possible to add two gates for a double entry. The premise is the same when determining how much material you will need to buy, except a double gate will require two, three, or four of everything depending on if you will hook pieces together or if you have two separate gates.
Fence Gate Hinges & Hardware
Besides hinges, you will need handles, latches, locks, and other hardware. You might want to install automatic openers or keyless entries for the gate as well, especially driveway gates. Strap hinges matching your house's architecture are an excellent choice for Tudor and Victorian homes.
Be careful; hinges and hardware can be very costly. For example, heavy-duty designer hinges can cost upwards of $365.[1]
Cost to Install a Chain-Link Fence Gate
Chain link gates are a popular choice since they are often the most cost-effective option with low material and labor costs for the installation.[2] Installing a gate in a chain-link fence often costs $250 to $400, depending on the height, chain link gauge, and dimensions.
One thing to consider when installing a gate in an existing chain-link fence is that it might be a challenge to terminate the fence where you will put the gate. You will need a fence stretcher, which you can usually rent, to retighten the fence before terminating it at the gate.
Cost to Install a Vinyl Fence Gate
Vinyl gates are often designed to blend seamlessly with a vinyl fence system and are usually a great choice to match a vinyl fence. Depending on the product, a vinyl gate can be usually $200 – $1,000.[3]
Cost to Install a Driveway Gate
A driveway gate could be ten to 24 feet wide, depending on whether you want a single or double-car entry. Swinging and sliding gates are standard options for driveway gates.
Swinging gates are the most cost-effective and commonly used in residential applications since they take up less space. In most cases, a driveway gate costs between $2,000 and $6,000, but adding automatic or remote control operation can increase the cost to as much as $12,000.
Custom vs. Prepackaged Gates
The simplest method for the DIY project is to buy the gate already put together if you can find one that matches your style. If you are buying supplies from a local supplier, let them know what size gate you want and the style.
Most often, iron, vinyl, and chain link gates are pre-assembled, but there are gate kits available for wood and other materials as well.
Custom fabricated gates will increase the labor time and cost of the project, but allow a custom design and perfect fit.
Estimating the Cost of Gate Material
The cost to get a gate installed can vary greatly depending on the materials you use and how much labor it takes to install it. Obviously, if you hire a general contractor, it will cost more than if you do the job yourself. Another cost consideration is high-quality materials, which will naturally cost more.
Use our fence calculator to determine how much the material will cost for your fence and gate, depending on the material used for your fence or other options. Then, add in the hardware costs, equipment rental, and supplies (cement, stain, paint, etc.) to get the total cost. Be sure to add in a little extra material for human error.
If you're working within a budget, it doesn't mean you can't get a high-quality gate installed. It might mean opting for less expensive hardware or DIY rather than hiring someone to do it for you. If that's an option, you must know your limitations.
Hiring a Contractor
What many handymen and women do is figure out the cost of materials and charge you that much for labor, depending on how big the job is. However, others will charge by the hour, and it could take two laborers a full day to install a garden gate. Therefore, a driveway gate could take twice as long to install and cost two or three times that of a garden gate.
Use our calculators and look around local suppliers for gate kits and then decide if you want to DIY or hire someone. If you choose to hire, get two or three estimates. With the information you gained from our calculators, you should be able to tell who is offering the best price.
All pricing information on this page is based on average industry costs, and is subject to variance for project-specific materials, labor rates, and requirements.
References
Gardenista, 16 in. Stainless Steel 316 Grade Heavy Duty Strap Hinges (Pair), https://www.gardenista.com/products/16-in-stainless-steel-316-grade-heavy-duty-strap-hinges-pair/
Main Line Fence, Chain Link Fence, https://mainlinefence.com/commercial/chain-link-fences/
Renee Lewis, Fence Gate Costs, https://www.ergeon.com/blog/post/fence-gate-costs