Window Air Conditioner Size Calculator
What Size Window Air Conditioner Do You Need?
Enter the length and width of your room to find the right sized window air conditioner to comfortably cool your space. Our calculator will recommend the number of BTUs needed to cool your room and will recommend an air conditioner that is the right size.
How to Find the Window AC Unit Size Needed For Your Room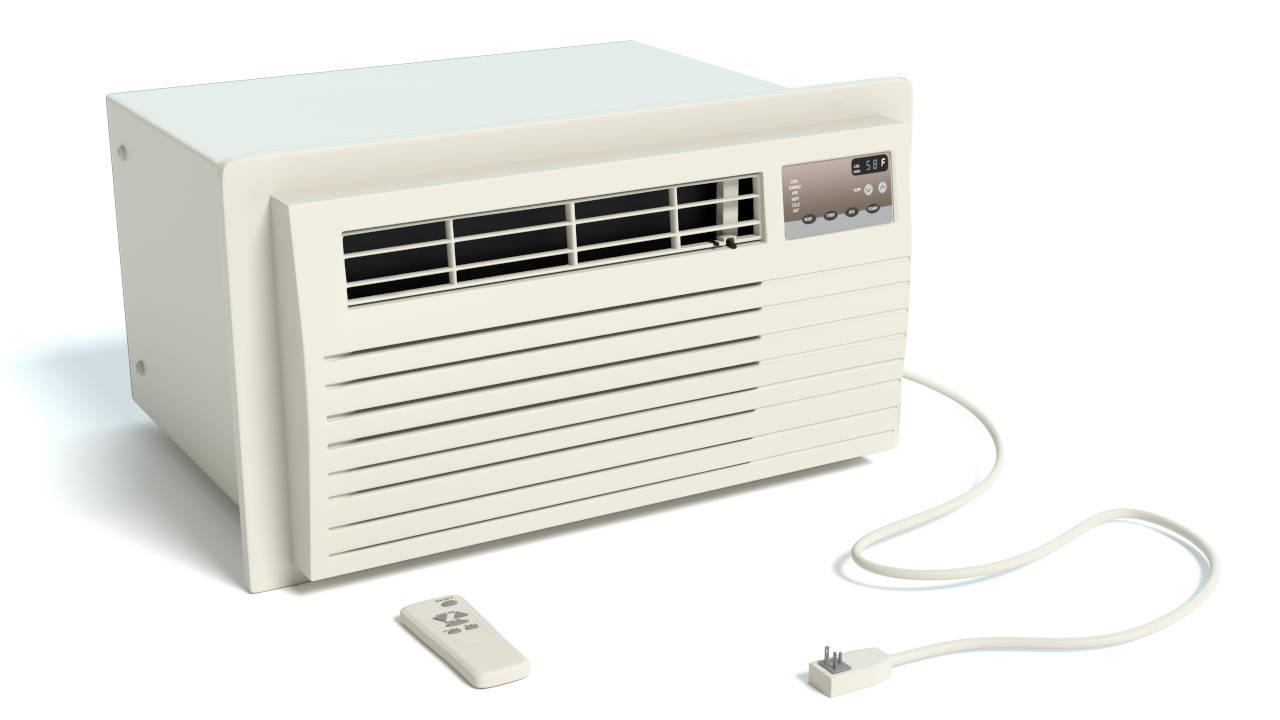 There are many window air conditioner models and sizes available on the market to help cool your home, but choosing one can be quite confusing if you don't know what size you need to cool your space. Choosing the right sized air conditioner for your room is very important.
If the air conditioner is too small then the unit will run all day and will not be able to comfortably cool the room on warm days. If the air conditioner is too big then the unit will move too much air, causing it to cycle on and off too frequently. This may cause discomfort due to frequent blasts of cool air then warm air. Frequent on/off cycles will also shorten the lifespan of the unit
Factors to Consider When Sizing an Air Conditioner
There are many factors to consider when sizing a window air conditioner. The main factor is the size of the room.
Room Size Determines Window Air Conditioner Size
The size of the room is the main factor in choosing a window air conditioner size. The chart below from Energy Star shows how many BTUs are needed for a given room size.
BTUs of cooling needed to condition various size rooms.

| Room Size (ft2) | Capacity Needed (BTUs) |
| --- | --- |
| 100 – 150 sq. ft. | 5,000 BTUs |
| 150 – 250 sq. ft. | 6,000 BTUs |
| 250 – 300 sq. ft. | 7,000 BTUs |
| 300 – 350 sq. ft. | 8,000 BTUs |
| 350 – 400 sq. ft. | 9,000 BTUs |
| 400 – 450 sq. ft. | 10,000 BTUs |
| 450 – 550 sq. ft. | 12,000 BTUs |
| 550 – 700 sq. ft. | 14,000 BTUs |
| 700 – 1,000 sq. ft. | 18,000 BTUs |
| 1,000 – 1,200 sq. ft. | 21,000 BTUs |
| 1,200 – 1,400 sq. ft. | 23,000 BTUs |
| 1,400 – 1,500 sq. ft. | 24,000 BTUs |
| 1,500 – 2,000 sq. ft. | 30,000 BTUs |
| 2,000 – 2,500 sq. ft. | 34,00 BTUs |
These air conditioner sizes assume a ceiling height of 8ft, if your ceiling is higher than 8ft consider increasing the size in BTUs by 10% to account for the added volume of the room.
The Affects of Sunlight
If the room gets a lot of sunlight it will require additional energy to comfortably cool the room. Consider increasing the size of the air conditioner by 10% if the room gets a lot of sun.
Kitchens
Kitchens require much more energy to cool and require a larger air conditioner. Appliances add a lot of extra heat to a kitchen, making them tougher to cool. Consider the added heat of the oven or stove on a warm day. When cooling a kitchen, consider adding an additional 4,000 BTUs to the size of the air conditioner.
Number of People
Body heat can warm a room significantly. The estimates above assume 2 occupants in the room. If your room has more than 2 people on a consistent basis consider increasing the window air conditioner size by 10% – 20%.
Window Size
Window size can dictate how large of an air conditioner can be added to a room. If your room has windows that do not allow for the right sized air conditioner consider using 2 smaller units if your room has 2 windows, or consider an in-room air conditioner instead of a window unit.
Electrical Power Available
Larger window air conditioners require more power. Some units require special outlets, while others require more current to the outlet. Consider the amount and type of power available to the window and choose an air conditioner that will work with the existing wiring.
If you're unsure what your electrical requirements are, consider a consultation with an electrician.
Operating Cost
It's important to also consider the operating cost of an air conditioner. Larger appliances consume more electricity and thus will cost more to operate. Use our electricity cost calculator to estimate how much it will cost to run the appliance.
If you're sizing a heating system, check out our heating system BTU calculator.
---
inchcalculator.com is a participant in the Amazon Services LLC Associates Program, an affiliate advertising program designed to provide a means for sites to earn advertising fees by advertising and linking to amazon.com.