Cost to Install Wainscoting in 2023
Wainscoting can be a quick and budget-conscious way to liven up a plain wall and add some elegance to a room. Wainscoting is a panel installed on the lower half of a wall, usually around the perimeter of a room.
It was once mainly wood, but can now be found in several materials. Size, material, and style can all give you a range of costs for this project. Let's explore the options and average prices in more detail below.
2023 Wainscoting Costs
Calculate local project costs by entering your zip code.
National Average Price
$

3,000

Typical Price Range
$

1,000

- $

5,000

Typical Price Range (per square foot)
$

7

- $

40
Get free estimates from contractors near you.
---
---
How Much Does Wainscoting Cost?
Most contractors charge between $1,000 – $5,000 to install wainscoting, which of course, varies based on room size and the style of paneling installed.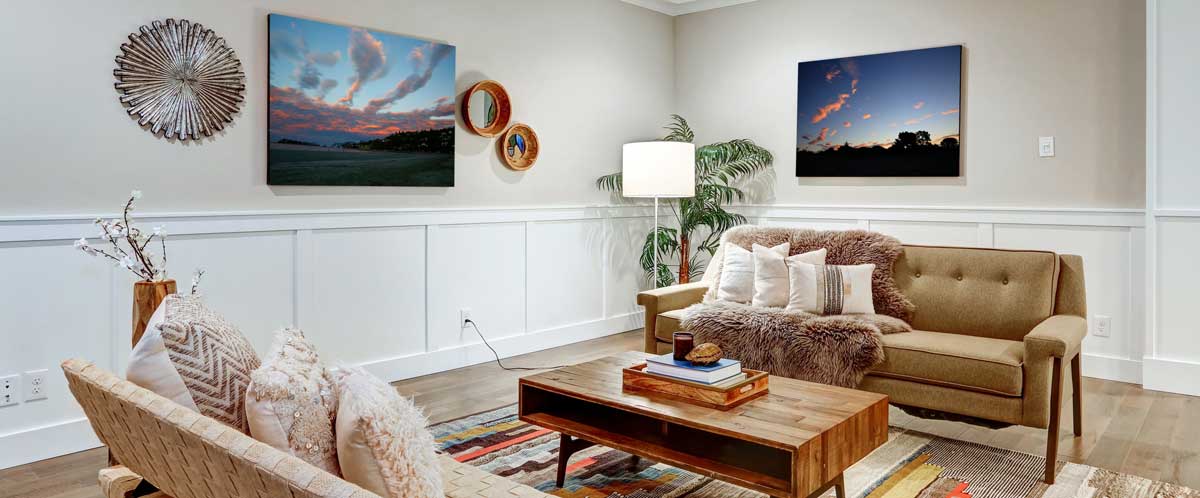 Doing the work yourself can cut this cost down significantly. Costs to install it yourself may range from $1 to $31 per square foot, while with professional installation, the project can cost $7 to $40 per square foot altogether.
To nail down how much it will cost for your project, you need to measure your walls and then calculate how much trim and other supplies you'll need. This may sound like a daunting task, but there are easy DIY project calculators that can get you on your way.
What is Wainscoting, Anyway?
To understand how to calculate the trim and board you'll need for your wainscoting project, it's important to understand how all those elements work together. Wainscoting is basically decorative wood panels (or trim placed to look like panels) applied to the lower part of a wall.
This decorative element can be as simple as a baseboard at the floor and an upper piece of trim running parallel to the baseboard called a chair rail. Wooden panels with beveled edges can be set between these pieces of trim, or more trim can be laid to create inset panels.
You can also find readymade panels in kits that include everything you need, as well as panels already trimmed out and only requiring the baseboard and chair rail moldings installed separately.
As you can see, depending on the type of wainscoting you choose, there are different elements like trim or boards that you'll need, as well as other supplies to create your paneled wainscoting. All these elements can seriously affect the cost of your wainscoting project, so plan your layout carefully.
Wainscoting Installation Pricing Explained
Let's look at some elements that can affect how much a wainscoting or panel molding project might cost.
Wainscoting Style
Clearly, the most important factor in the cost of your project is the kind of wainscoting you want to install. If doing a panel design, you'll need flat boards for your panels, and if you want a beveled edge to these panels, you'll need trim to create that effect.
Even a simple type of wainscoting will require decorative molding for the baseboard and the chair rail, as will many types of readymade panels that do not come in a kit.
Design Complexity
Some wainscoting designs can become incredibly complex, with different trims and moldings all working together to create the look you want. Inset panels can be especially costly because that design involves lots of interlocking pieces of trim, and each inset panel can also have beveled edges or other decorative elements.
Some popular styles of wainscoting include:
Beadboard: This is a simple type of wainscot made up of either individual boards or long panels with grooves between them to give the appearance of individual boards. This style will need a baseboard and crown molding, but is otherwise simple and often easy to install. It's popular in cottage-style homes.
Raised Panels: This is a more traditional and formal design made by beveling the sides of the panels so that the center is raised. There are many readymade raised panels for wainscoting; they only require a baseboard and crown molding to be complete.
Flat Panels: Sometimes called "Shaker" wainscoting, this is another classic style. It's simple and a good choice for older homes. The panels are overlaid with flat stiles to give it interest and dimension, rather than beveling. This is one of the simplest styles to create yourself, but readymade panels are also available.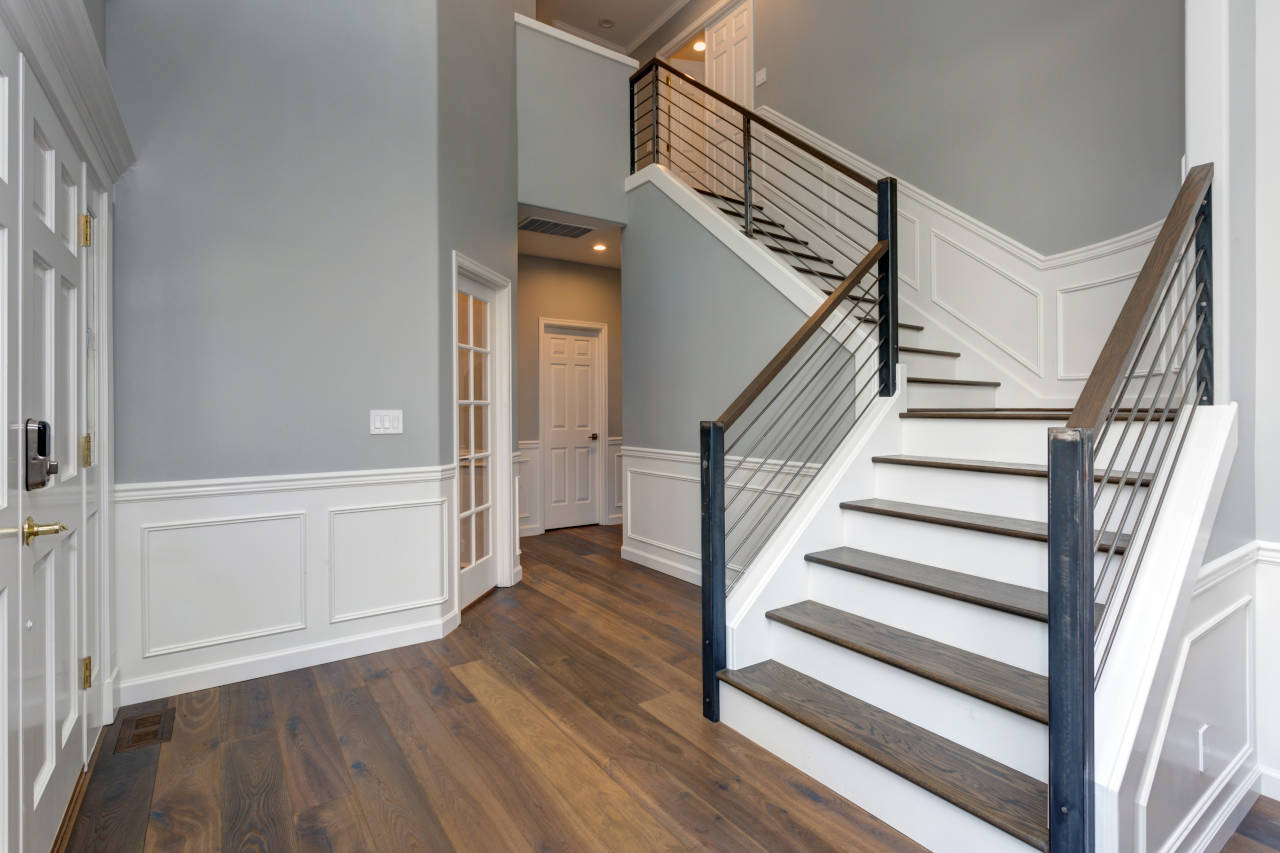 Finishes
How you will finish your wainscoting also affects how much the project might cost. If you're painting your decorative panels with one color of durable indoor paint, you might spend a little less than someone with a stained and sealed hardwood design.
Many panels come prefinished. If you are building your own panel from scratch, you will need to finish it yourself, however.
Type of Wood
Speaking of hardwood, many traditional wainscoting designs use high-quality wood panels to recreate the antique charm of older houses. Certain hardwoods like oak or cedar have a lovely look but can also be very costly. Hardwood veneers can be somewhat cheaper, but you run the risk of peeling.
In addition to woods, you can find readymade panels in MDF, vinyl, and even ceramic tile for bathrooms. These can give you a range of other options both for installation and for total costs.
Labor Costs
The cost to professionally install and paint your new wainscoting is, of course, a serious factor in your budget, and you should always get estimates and second opinions to determine a fair price.
Hourly costs are usually around $90 per hour for most installations. Knowing the total square footage of your project, as well as having estimates of trim and panel footage can help you get an accurate estimate on your professional wainscoting installation.
Hidden DIY Costs
You may be thinking, "labor costs are free if I'm doing it myself!" While you're technically not paying yourself for your time, consider all the things that go into doing a wainscoting project yourself.
You will need tools to complete the project, and many people forget things like nails or a sanding tool for finishing. You should also remember that you may mess something up, so you'll need to order extra trim, molding, and panels.
Most professionals suggest ordering at least 10% extra to accommodate waste, cuts, and other unforeseen issues.
All of these elements will affect how much wainscoting costs in your home. Whether you choose a trusted contractor or a DIY wainscoting installation, you'll still need to do some basic calculations. The square footage of the wall you want to cover is the first thing you'll need to find, then estimate supplies.
Having a good idea of the board footage of hardwoods and the amount of trim and molding you'll need is invaluable, even if a contractor is installing it for you. If you're doing it yourself, of course, this kind of information is crucial to answering the question "how much does wainscoting cost."
All pricing information on this page is based on average industry costs, and is subject to variance for project-specific materials, labor rates, and requirements.