Factorial Calculator – Solve n!
Enter a number to calculate the factorial n! using the calculator below.
How to Calculate a Factorial
In mathematics, the factorial of a number n! is equal to the product of all positive integers up to and including the number. This holds true for all positive whole numbers.
One notable case to be aware of is that the factorial of 0! is equal to 1.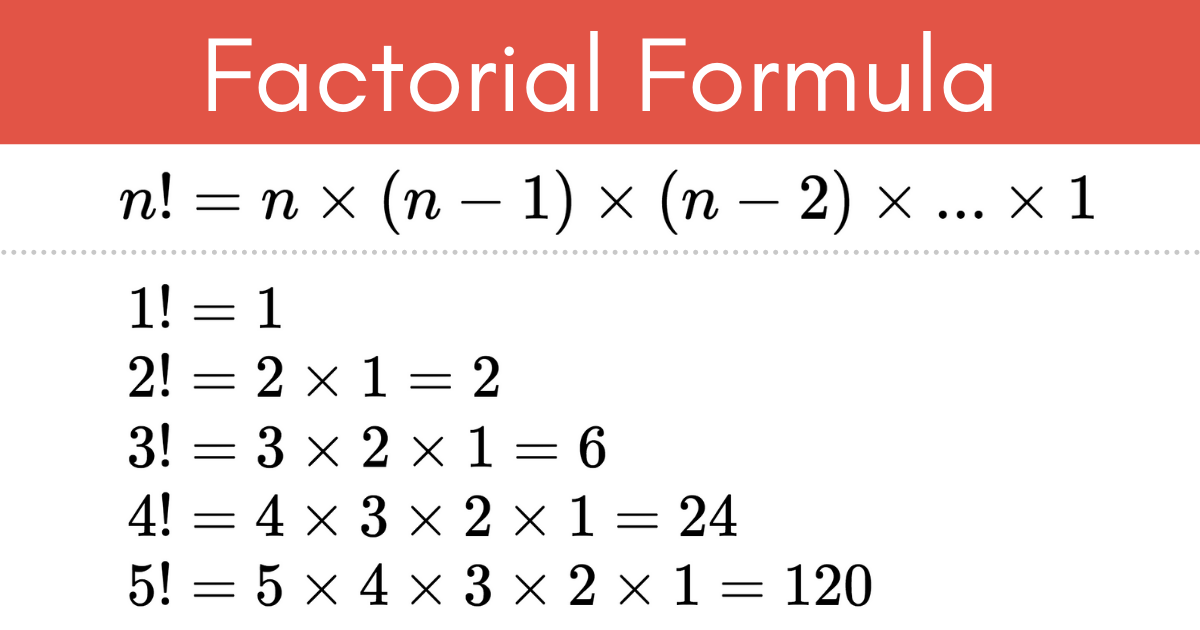 Factorial Formulas
The formula to calculate a factorial for a number is:
n! = n × (n-1) × (n-2) × … × 1
Thus, the factorial n! is equal to n times n minus 1, times n minus 2, continuing until the number 1 is reached.
We can also express the factorial formula a little differently.
n! = 1 × 2 × 3 × … × n
Written a little differently, this states that the factorial n! is equal to 1 times 2 times 3 times each number, repeating until it reaches the number n.
Product Notation
The factorial formula can also be expressed using product notation like this: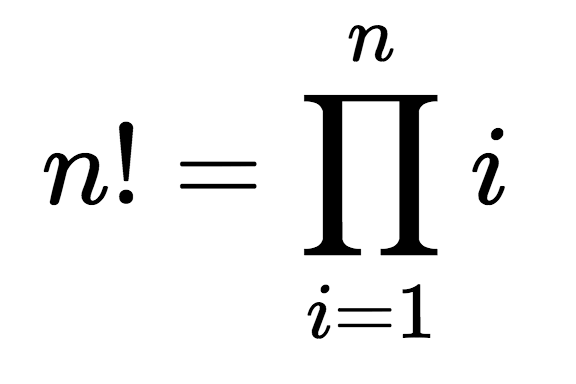 Recurrence Relation
And the formula expressed using the recurrence relation looks like this:
n! = n × (n – 1)!
So the factorial n! is equal to the number n times the factorial of n minus one. This recurses until n is equal to 0.
Factorial Table
The table below shows the factorial n! for the numbers one to one-hundred.
Factorial values for numbers one to one-hundred.


| n | n! |
| --- | --- |
| 1 | 1 |
| 2 | 2 |
| 3 | 6 |
| 4 | 24 |
| 5 | 120 |
| 6 | 720 |
| 7 | 5,040 |
| 8 | 40,320 |
| 9 | 362,880 |
| 10 | 3,628,800 |
| 11 | 39,916,800 |
| 12 | 479,001,600 |
| 13 | 6,227,020,800 |
| 14 | 87,178,291,200 |
| 15 | 1,307,674,368,000 |
| 16 | 20,922,789,888,000 |
| 17 | 355,687,428,096,000 |
| 18 | 6,402,373,705,728,000 |
| 19 | 121,645,100,408,832,000 |
| 20 | 2,432,902,008,176,640,000 |
| 21 | 5.1091E+19 |
| 22 | 1.1240E+21 |
| 23 | 2.5852E+22 |
| 24 | 6.2045E+23 |
| 25 | 1.5511E+25 |
| 26 | 4.0329E+26 |
| 27 | 1.0889E+28 |
| 28 | 3.0489E+29 |
| 29 | 8.8418E+30 |
| 30 | 2.6525E+32 |
| 31 | 8.2228E+33 |
| 32 | 2.6313E+35 |
| 33 | 8.6833E+36 |
| 34 | 2.9523E+38 |
| 35 | 1.0333E+40 |
| 36 | 3.7199E+41 |
| 37 | 1.3764E+43 |
| 38 | 5.2302E+44 |
| 39 | 2.0398E+46 |
| 40 | 8.1592E+47 |
| 41 | 3.3453E+49 |
| 42 | 1.4050E+51 |
| 43 | 6.0415E+52 |
| 44 | 2.6583E+54 |
| 45 | 1.1962E+56 |
| 46 | 5.5026E+57 |
| 47 | 2.5862E+59 |
| 48 | 1.2414E+61 |
| 49 | 6.0828E+62 |
| 50 | 3.0414E+64 |
| 51 | 1.5511E+66 |
| 52 | 8.0658E+67 |
| 53 | 4.2749E+69 |
| 54 | 2.3084E+71 |
| 55 | 1.2696E+73 |
| 56 | 7.1100E+74 |
| 57 | 4.0527E+76 |
| 58 | 2.3506E+78 |
| 59 | 1.3868E+80 |
| 60 | 8.3210E+81 |
| 61 | 5.0758E+83 |
| 62 | 3.1470E+85 |
| 63 | 1.9826E+87 |
| 64 | 1.2689E+89 |
| 65 | 8.2477E+90 |
| 66 | 5.4434E+92 |
| 67 | 3.6471E+94 |
| 68 | 2.4800E+96 |
| 69 | 1.7112E+98 |
| 70 | 1.1979E+100 |
| 71 | 8.5048E+101 |
| 72 | 6.1234E+103 |
| 73 | 4.4701E+105 |
| 74 | 3.3079E+107 |
| 75 | 2.4809E+109 |
| 76 | 1.8855E+111 |
| 77 | 1.4518E+113 |
| 78 | 1.1324E+115 |
| 79 | 8.9462E+116 |
| 80 | 7.1569E+118 |
| 81 | 5.7971E+120 |
| 82 | 4.7536E+122 |
| 83 | 3.9455E+124 |
| 84 | 3.3142E+126 |
| 85 | 2.8171E+128 |
| 86 | 2.4227E+130 |
| 87 | 2.1078E+132 |
| 88 | 1.8548E+134 |
| 89 | 1.6508E+136 |
| 90 | 1.4857E+138 |
| 91 | 1.3520E+140 |
| 92 | 1.2438E+142 |
| 93 | 1.1568E+144 |
| 94 | 1.0874E+146 |
| 95 | 1.0330E+148 |
| 96 | 9.9168E+149 |
| 97 | 9.6193E+151 |
| 98 | 9.4269E+153 |
| 99 | 9.3326E+155 |
| 100 | 9.3326E+157 |